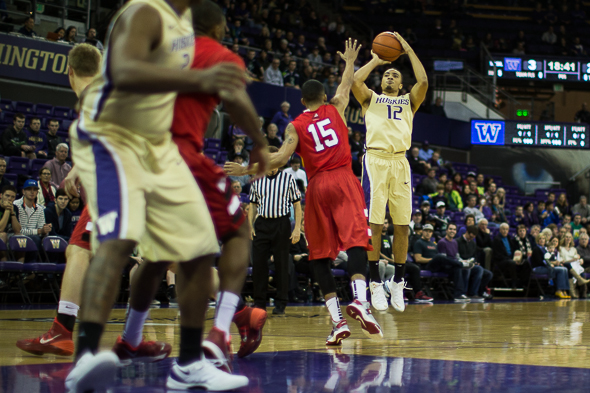 University of Washington junior Andrew Andrews has been named the Pac-12 Player of the Week after scoring a career-high 35 points and nailing the game-winning shot with three seconds left, giving the Huskies an 87-84 victory over Washington State Sunday in Pullman.
Andrews recorded his sixth consecutive double-digit scoring effort. His 35 points are most by a UW player since Brandon Roy hit 35 against Arizona in 2005 (Dec. 31). The junior is averaging 19.5 points and 5.3 rebounds over his last six outings.
Andrews was 11 of 18 from the field, including six threes, most by a Husky this season and most since C.J. Wilcox hit seven from long distance Jan. 12, 2014.
Andrews has 1,005 career points, the 38th in program history to pass 1,000.
This is the first weekly honor for Andrews and the first for the Huskies this season.
UW heads to Los Angeles this week to take on UCLA Wednesday at 8 p.m. (ESPN2) and USC Saturday at 7:30 p.m. (Pac-12 Networks).