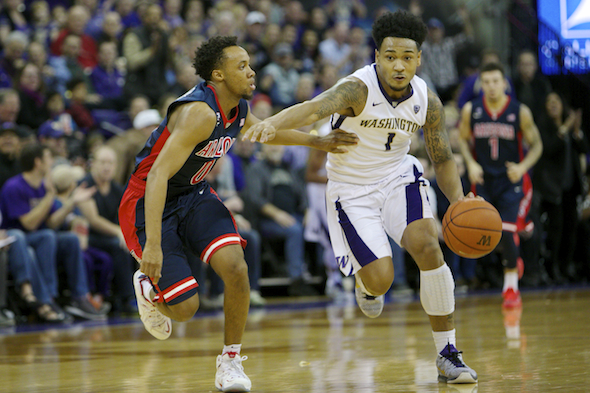 Throw the NCAA tournament bracketology out the window. That's what Lorenzo Romar has done with his freshman-heavy squad ahead of a road trip to face Oregon State Wednesday (8 p.m., FOX Sports 1) and No. 13 Oregon Sunday (5:30 p.m., ESPNU). Not that Romar isn't worried about his team's hopes for the big dance; he has more pressing concerns, in the form of shooting slumps for some of his big producers.
Romar has his hands full getting players focus on the present, rather than worry about the future.
"(Putting too much significance on a game), you don't want to create that," he said. "We need to be concerned about what we've been concerned about all year. The guys are going to hear (about the tourney) enough, from their family, their friends, social media, ESPN . . . . constantly they're bombarded with, 'Well. if you win this one and then they win that one,' they hear that enough.
"From us, we try to limit it to, 'This is what we have to do to be the best we can be.'"
The Huskies are a far cry from the "all you can be" mark. The bench scored only two points in an ugly, 64-53  win over Stanford Saturday, and those came from the free-throw line. Dominic Green and David Crisp were the worst offenders; both whiffed on all seven of their shots.
Crisp, in particular, has been relied upon to supplement Washington's bench scoring as a viable sub for Andrew Andrews or Dejounte Murray, allowing the starting guards to rest.
Lately, though, things haven't been going Crisp's way, as his three-point shot has abandoned him. Crisp is 2-of-19 from beyond the arc in his last seven games, averaging fewer than two points a game.
Andrews said that, as a captain, his job was to try to help struggling teammates.
"I just tell (someone in a slump) to keep shooting," he said. "I think it's important that all of us are supportive. Every player in history has eventually gone through a bad shooting slump . . . just make sure they have support from their teammates and the coaching staff."
Andrews is in need of a little support of his own. The senior, after a blazing start to conference play that has him perched atop the conference scoring race, has lost track of his own shot. Andrews was 0-of-4 from the field against Stanford, but will hope to return to the 19.5 points per game that he averaged during the Huskies' losing streak.
The news is not all bad for Washington, even as they go to face Oregon State (15-10, 6-8 Pac-12) which has lost three times at home. Malik Dime, now a starter, is displaying much more confidence on both sides of the ball, and Murray appears to have resumed his traditional flashy ways.
If the Huskies pull out of their funk, Romar will be right not to worry about tournament concerns. If the shooting woes continue, pressure on other players to carry the burden may prove too much.