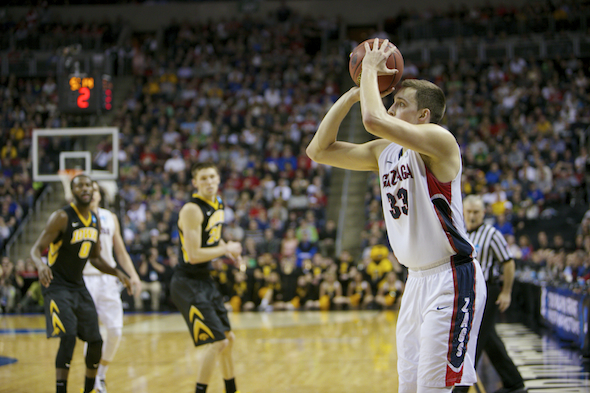 The Zags of Gonzaga were zig-zagging early in the season, losing close games to good teams and barely hanging on to beat ordinary teams. Freshman point guard Josh Perkins said all that ailed the Bulldogs amounted to "easy fixes."
Kids. They say the darndest things.
As it turned out, it took almost an entire season for the Bulldogs to figure things out. Gonzaga's amazing string of consecutive NCAA tournament appearances might have ended at 17 if not for an impressive title run last week at the West Coast Conference tournament.
On Sunday, Gonzaga joined Oregon and Oregon State as the Pacific Northwest's representatives in the NCAA tournament. Oregon is the No. 1 seed in the West Region, and the fourth seed overall (tourney bracket here).
In other national tournaments, the University of Washington, Seattle University and Eastern Washington University will play home games.
Long Beach State visits the Huskies on Tuesday in the National Invitation Tournament (NIT); the Redhawks face Idaho Wednesday in the College Basketball Invitational (CBI); and Eastern Washington is host Wednesday to Pepperdine in the CBI.
Gonzaga, 26-7 with five consecutive wins, is the No. 11 seed in the Midwest Region. The Bulldogs face sixth-seeded Seton Hall (25-8) of South Orange, N.J., Thursday in Denver (6:57 p.m., truTV). The Pirates have won four in a row and eight of nine.
Seton Hall, a strong defensive team with good size, upset third-ranked Villanova in the championship game of the Big East Conference tournament.
"They really come at you on the defensive end," Gonzaga coach Mark Few said. "They do a nice job turning guys over.
"It's pressure D. They're up into you, after you pretty good and can really disrupt you in the half court."
Point guard Isaiah Whitehead, a 6-foot-4 sophomore, leads the Pirates in scoring (18.4), assists (5.0) and blocked shots (1.5).
"We know it's going to have to be a team effort to try to limit him," Gonzaga forward Kyle Wiltjer said.
Whitehead is ranked the No. 40 prospect for the 2016 NBA draft by Chad Ford of ESPN. Gonzaga sophomore forward Domantas Sabonis is No. 22 on Ford's list. ESPN college basketball analyst Dick Vitale said Sunday he believes Sabonis might be a lottery pick.
Wiltjer, who played on Kentucky's national champions in 2012, said prior to both his seasons at Gonzaga that the Bulldogs had the talent to win it all. The Zags lost to eventual champion Duke in the Elite Eight last year, and Wiltjer sounds confident about this team's chances even though the Bulldogs (like Seton Hall) are not in The Associated Press Top 25. Both teams did receive votes last week in the latest poll.
"We can definitely make a run," Wiltjer said.
Former Gonzaga coach Dan Monson brings his Long Beach State 49ers to Alaska Airlines Arena Tuesday for a first-round NIT contest. The Huskies (18-14) are seeded third, the 49ers (20-10) sixth in the 32-team field (6 p.m. ,ESPN2).
The Niners won five in a row and 10 of 11 before bowing to Hawaii in the championship game of the Big West Conference tournament. Long Beach State is 0-3 against Pac-12 opponents this season (road games with Oregon, Arizona and UCLA) and 0-4 all-time against Washington.
"Long Beach State is a quality team and they were probably 20 or 30 seconds away from being an NCAA tournament team themselves," said Washington coach Lorenzo Romar, whose squad was not included in the record, seven-team delegation to the NCAA field from the Pac-12. "They're very good, we've played them in the past and coach Monson and his staff have done a great job with their team so it will be a fun challenge."
The 49ers' best player is All-Big West guard Nick Faust. The 6-6 senior, a transfer from Maryland, leads the Niners with 17.1 points, 6.1 rebounds and 1.4 steals.
Strong performances in the Pac-12 tournament moved up Washington freshmen Marquese Chriss and Dejounte Murray a few spots on Ford's NBA draft prospects list. Chriss is now No. 8, and Murray is 23rd. Like Sabonis, both players say they haven't decided if they will enter the draft.
Washington earned its first postseason berth since the 2013 NIT.
SU (14-16) opens CBI play against Idaho (21-12) in a game that will be streamed live but won't be televised at 6 p.m. Wednesday from the newly renovated Connolly Center on campus. The Vandals are led by a pair of Northwest guards, Victor Sanders (16.2 ppg) from Portland's Jefferson High School and Perrion Callendret (13.9) from Bothell High.
The 3-point gunners of Eastern Washington (17-15) face Pepperdine (18-13) in another 6 p.m. Wednesday CBI contest that won't be televised. The Waves can be a handful when forward Stacy Davis (15.2 ppg, 9.0 rpg) and swingman Lamond Murray Jr. (16.3 ppg, 5.3 rpg) are playing well.
Oregon (28-6) takes on 16th-seeded Holy Cross (14-19) of Worcester, MA., or Southern (22-12) of Baton Rouge, LA., Friday at the Spokane Arena. Holy Cross and Southern meet in a "First Four" game Wednesday in Dayton, OH.
Obviously, the eighth-ranked Ducks will be heavily favored to stretch their winning streak to nine regardless of Friday's opponent. However, Holy Cross is riding a tidal wave of momentum after winning the Patriot League tournament as the No. 9 seed. Spokane fans are well aware of Southern, since the Jaguars gave top-ranked Gonzaga a huge scare as a No. 16 seed three years ago in the NCAA tournament.
Friday's other games in Spokane match California (23-10) and Hawaii (27-5), Maryland (25-8) versus South Dakota State (26-7) and Saint Joseph's (27-7) of Philadelphia against Cincinnati (22-10). Games will continue Sunday in Spokane.
The Oregon State Beavers (19-12) play their first NCAA tournament game since 1990 when they face Virginia Commonwealth (24-10) Friday in Oklahoma City. The Beavers are seeded seventh in the West. VCU is a 10 seed.
Oregon and Oregon State are playing in the NCAA tournament together for the first time. The Ducks won the inaugural Big Dance in 1939.
Kansas (30-4), playing in the East Region, is the No. 1 overall seed.