At halftime of Thursday's men's basketball game between the Seattle University Redhawks and Washington Huskies at KeyArena, members of the 1953 teams will be honored in recognition of the 60th anniversary of the first meeting between the schools. It occurred March 13, 1953 in the NCAA Division I West Regional semifinals in Corvallis, OR., and at the time was one of the most anticipated sporting events in state history. This is how it unfolded:
By David Eskenazi and Steve Rudman
Few college basketball games in state history have generated as much pre-tip excitement and debate as the March 13, 1953 matchup between the Bob Houbregs-led Washington Huskies and Johnny O'Brien's Seattle University Chieftains. Fans, especially those supporting Seattle U., had clamored for three years to witness the pairing, and it was only due to outside intervention that they finally had it.
Up until the NCAA West Regional showdown in Corvallis, OR., the schools never faced each other in a basketball game. Seattle U. frequently petitioned the Huskies to get on their schedule, but UW always concocted a reason — or an excuse — not to play the Chieftains.
Truth was, Washington saw no advantage in such a contest: a win over the Jesuit school would do nothing to enhance its reputation, but a loss would constitute a tremendous blotch on the program. At least that's the way Washington coach Tippy Dye figured it.
But fans and media saw it as a natural: two big-time programs  just a few miles apart, both featuring All-America players. The clamor for the dream matchup started almost from the moment Johnny and Eddie O'Brien left South Amboy, NJ., and enrolled at Seattle U., and Houbregs graduated from Queen Anne High and entered Washington.
The freshman teams, the Seattle U. Papooses and UW Pups, played twice in January 1950, Washington winning both, 65-52 and 71-61, the latter  in which Slippery Joe Cipriano scored 19 points, Houbregs 18 and Mike McCutcheon 12 for Washington to Johnny O'Brien's 29 and Eddie's 10. But only a smattering of fans had seen those games, and no one could have predicted what was to unfold.
The Chieftains quickly developed into a national power after the O'Brien twins joined the Seattle U. varsity and so did the Huskies with Houbregs shooting that magnificent hook, taught to him by coach Tippy Dye (See Wayback Machine: Tippy Dye's Life Well Lived).
In the three years after the Papooses played the Pups, the Chieftains went 90-16 with a number of marquee victories, including an epic Jan. 21, 1952 upset of the famed Harlem Globetrotters in which Johnny O'Brien scored 43 points.
Ten months later, Seattle U. posted a 102-101 victory over New York University at Madison Square Garden in the first college basketball game in which both teams scored more than 100 points (see Wayback Machine: Seattle U. Shocks Globetrotters).
Over the same span, the Houbregs-led Huskies went 74-14 and won the 1951 Pacific Coast Conference playoffs, earned an NCAA Tournament berth and narrowly missed making the NCAA Tournament in 1952.
For 1953, the NCAA set its tournament field at 22 teams (vs. 68 today). Washington needed to defeat California in a best-of-three playoff to qualify, while Seattle U. needed to defeat Idaho State in a play-in game to receive an at-large berth.
If Seattle U. officials listened to their head coach, Al Brightman, the Chieftains would have accepted a bid to play in the National Invitation Tournament in New York even if they made the NCAA Tournament field.
Brightman wanted no part of the Huskies – too tall, bad matchup for his team – but Seattle U. athletic director Bill Fenton and athletic department liaison Father Robert Carmody, S.J., opted not to take Brightman's advice, out of allegiance to the NCAA and because Seattle U. alumni and students wanted to see the Chieftains play Washington.
When Washington took two in a row from Cal in the Pacific Coast Conference playoffs, the second by a score of 80-57 March 7 with Houbregs scoring 31, it not only qualified to play in the NCAA West Regionals in Corvallis, it did so with the endorsement of oddsmakers, who immediately installed the Huskies as favorites to win college basketball's biggest prize (see Wayback Machine: Bob Houbregs & The '53 Final Four).
Three nights later, at Hec Edmundson Pavilion, the Chieftains polished off Steve Belko's Idaho State team 88-77 as Johnny O'Brien went for 42. With that victory, the Chieftains removed the last barrier to playing Washington.
"It was a game that had been building for four years to a crescendo, once the O'Brien (Johnny and Eddie) twins came there," said Houbregs. "We had played them twice as freshmen and they started having success, dramatic success. Seattle U. was right there with us in record (28-3).
"The media built up the game probably more than it should have because the players (Huskies and Chieftains) got along really well. The game also got taken over by the fans at each university, and some of what was said (on both sides) was not very nice."
"The whole town was excited about the fact we were going to play Seattle U.," said Jim Coshow, who played on UW's freshman team that year and helped prepare the varsity players in practice for the Chieftains. "The whole town was anticipating this game."
"Now, three years of hopes and dreams will be realized for the Seattle U. Chieftains and their most ardent supporters," Eugene Russell wrote in The Seattle Times. "Just when it appeared most futile to hope for such a game, the tremendous success of both teams landed them in the NCAA Tournament.
"The result will not end the arguments, for the rabid supporters of the losing team will refuse to accept the score as conclusive. There will be plenty of ifs in the post-mortems and that will continue months after the game.
"The Chieftains will enter with one psychological advantage. Their requests for a game were always scorned by the Huskies. Now the Huskies have been forced into the contest by the NCAA draw. The Chieftains will take the court with the nonchalance of the underdog. It could have a strong bearing on the outcome."
Washington entered ranked No. 2 nationally with a record of 27-2, Seattle U. at No. 14 with a mark of 28-3. In 29 games, Washington scored 2,078 points, an average of 71.1. The Chieftains, in 31, scored 2,746, an average of 88.5. So Seattle U., statistically, appeared to have the stronger offensive team.
But Washington seemed stronger defensively. The Huskies had allowed 1,669 points, an average of 57.6, to Seattle's 2,078, an average of 71.1.
The Huskies and Chieftains had one common opponent, the University of Oregon. Washington took four games from the Ducks, 79-73 and 76-60 in Eugene and 84-67 and 86-72 in Seattle, for an average win of 81-68. The Chieftains defeated Oregon at Eugene 81-79.
Most of the talk, though, wasn't about numbers or records vs. common opponents. It was about bragging rights, finding out which of the two city powers had the superior program, and the tactics Dye and Brightman might employ (See Wayback Machine: Odd Saga Of Al Brightman).
How could the Chieftains possibly contain Houbregs, an NCAA Player of the Year candidate who averaged 24.4 points per game? How successful would Dye be at devising a defensive strategy to slow down Johnny O'Brien (first college player to score 1,000 points in a season), scoring at a rate of 28.2 per?
During Washington's practices before the game, Dye used his UW freshman team as the Seattle U. scout squad, and had Bob Dunn, who also played football, play the role of Johnny O'Brien, since Dunn was close to O'Brien's 5-foot-9 height. Dye assigned 6-foot-8 Doug McClary, an Olympia native, to guard "Dunn/O'Brien."
"With Bob Dunn playing the part of Johnny, he didn't get many shots off against McClary in practice," said Coshow.
After newspapers declared the contest "the most anticipated sporting spectacle in state history," a bold statement considering, for one, such events as the Al Hostak-Freddie Steele world title fight (see Wayback Machine: Freddie Steele vs. Al Hostak), and recognizing grandstand lather when it saw it, KING-TV became the first Seattle television station to air a local sporting event outside the state.
On the night of the game, 10,214 jammed Gill Coliseum on the Oregon State campus only to watch Seattle U. deflate early. The Chieftains seemed tight and couldn't do a thing with Houbregs, who simply had his way around the basket, just as Brightman feared he would.
The Chieftains' planned to front Houbregs first with Joe Pehanich and make the Huskies use McClary as their primary scorer, figuring McClary couldn't shoot well enough to beat them.
"The Huskies just lobbed the ball over his (Pehanich's) head and Houbregs scored on layups," said Coshow.
"Five to six times nobody picked up Bob," said Johnny O'Brien. "After that, it was gym rat."
Washington ran up a 24-11 lead at the end of the first quarter. SU reduced the margin to 11 points near the end of the half, but Dean Parsons and Houbregs hit quick layups before intermission to send the score to 47-32. In addition to being overmatched, Seattle U. gave Washington some easy baskets when the Chieftains failed to get back on defense.
The Chieftains battled hard through the first six minutes of the third period, but the air-tight Washington defense and accurate shooting of Houbregs and Chuck Koon kept the margin from dropping below 11 points. The Huskies ultimately built a 33-point lead at 90-57 before Dye inserted his reserves with three minutes to go. When the game ended, Washington had a 92-70 victory.
"We took them out of it pretty early," Houbregs recalled. "They (Seattle U.) didn't do it right. Most of my teammates got me the ball in the right place at the right time. Stupid me, I missed my first layup."
"It wasn't that we got beat, we just didn't go with the game plan and we played badly," O'Brien explained.
Houbregs and the Huskies established three NCAA Tournament records. Houbregs' 45 points broke the previous single-game record of 44 by Clyde Lovellette of Kansas, set in 1952. Houbregs' 20 field goals broke the old mark of 17 by Johnny O'Brien three nights earlier against Idaho State.
Houbregs would have scored 50 if he hadn't missed five free throws, and it actually took an alert scorekeeper for him to score 45 and break Lovellette's record. Shortly after Dye removed Houbregs near the end of the game, Dick Garver, a UW student manager and that night's scorekeeper, informed Dye that Houbregs' point total stood at 43, two shy of Lovellette's mark. Dye promptly re-inserted Houbregs so he could score one more basket and get the record.
Washington's 92 points were also five more than the previous single-game record of 87 scored by North Carolina State in 1959, and its 39 field goals bettered the 38 scored by Illinois in 1951.
Johnny O'Brien scored 25 points, Stan Glowaski 22 and Eddie O'Brien eight to lead Seattle U., but, according to The Times, "Johnny had a net woven around him by Joe Cipriano, Mike McCutcheon and Doug McClary. He was held to six field goals and the remainder of his 25 points came from the foul line."
"He didn't get most of his points until the end," said Coshow.
One night after eliminating Seattle U., Washington defeated Santa Clara 74-62 to win the West Regionals and advance to the Final Four, where the Huskies finished third. In a West Regionals consolation game one night after losing to the Huskies, Johnny O'Brien scored 30 points in a win over Wyoming in the final game of his college career.
The O'Brien twins almost immediately embarked on careers in the major leagues. They played for the Pittsburgh Pirates from 1953-58, and Johnny spent time with St. Louis and Milwaukee in 1958-59 before finishing his athletic career with the Seattle Rainiers in 1960.
Houbregs had a 281-game NBA career with the Milwaukee Hawks, Baltimore Bullets, Fort Wayne and Detroit Pistons and entered the Naismith Hall of Fame in 1987.
Washington and Seattle U. did not meet again until 1970, played every year after that through 1980, and then did not face off again until 2009 when Seattle U. began its comeback as a Division 1 program as the Redhawks. Now, the Huskies and Seattle U. play each other every year, although with none of the hoopla of the original meeting.
The next meeting is Thursday night at KeyArena, and at halftime several of the players who met nearly 60 years ago, March 13, 1953, will be introduced and honored, most notably Houbregs, now retired and living in Olympia, and the O'Brien twins, both retired and living in Seattle.
Northwest broadcast legend Rod Belcher, who called many Seattle U. games during his on-air heyday (see Wayback Machine: Broadcast Legend Rod Belcher) will serve as master of ceremonies.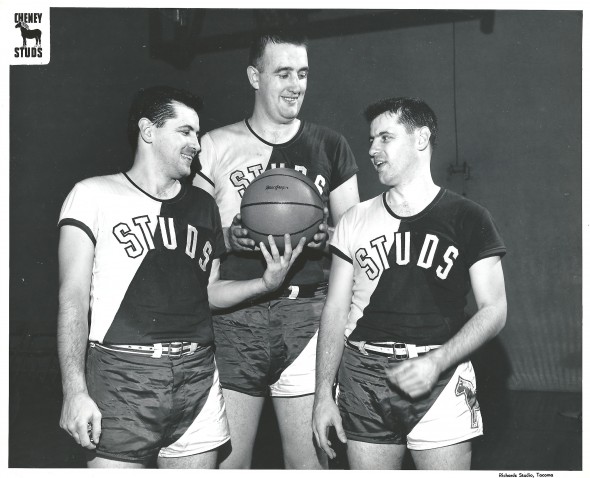 ———————————————-
Many of the historic images published on Sportspress Northwest are provided by resident Northwest sports history aficionado David Eskenazi. Check out David's " Wayback Machine Archive." David can be reached at (206) 441-1900, or at seattlesportshistory@gmail.com