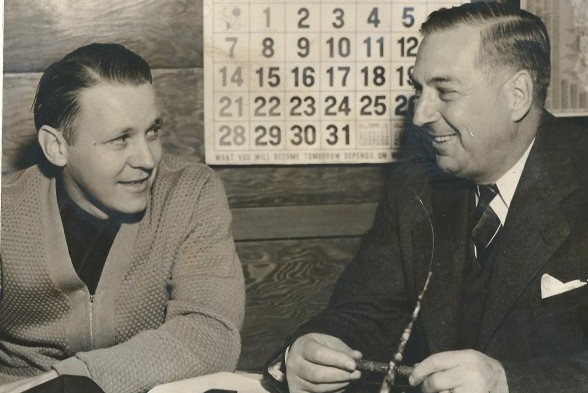 By David Eskenazi and Steve Rudman
After Alan Strange extended his hitting streak to 23 consecutive games during an Aug. 21, 1939, doubleheader victory over the Sacramento Solons, a Seattle Post-Intelligencer reporter asked the popular Rainiers shortstop to comment on a newspaper report that Strange had become a strong candidate for selection in major league baseball's annual minor league draft (today's Rule V draft). Strange's response would probably baffle a modern baseball fan.
"If I'm drafted, I don' think I'll report," Strange advised the reporter. "I'd be satisfied to finish my baseball days right here in Seattle. This is a good baseball town. I'm playing for a great manager (Jack Lelivelt) and a fine owner (Emil Sick). I'm with a swell team and you sports writers are more than fair.
"Suppose I go to the majors . . . there's no use kidding myself. I'd get perhaps $100 per month more in salary for a couple of years and then I'd be shuffled off to the Texas League or someplace like it. I'm also not young anymore, my wife's family lives here. What more could I ask?"
A few months later, on Oct. 4, 1939, the woeful St. Louis Browns selected Strange in the draft, prompting this reaction from the Seattle shortstop: "I don't know what to say right now. Being drafted from Seattle by the Browns is like going from the big leagues to the minor leagues instead of the other way around."
Strange spent only three of his 15 professional seasons in Seattle. He arrived in 1937 after his purchase by Seattle Indians owner Bill Klepper (from Albany of the AA International League) and departed following the first of three Pacific Coast League championships won by the Rainiers (1939).
But he made enough of an impression during his brief tenure that in 1954 Rainiers fans made him one of 10 players voted to the club's all-time Roll of Honor.
Only two of the 10 Roll of Honor members had shorter playing stints in Seattle than Strange, Fred Hutchinson (1938) and Jim Rivera (1951) each representing the franchise for one season. Hutch was the Sporting News Minor League Player of the Year in 1938 and Rivera the 1951 Pacific Coast League MVP (see Wayback Machines Hutch – A Man And An Award and Rajah, Rivera, '51 Rainiers).
While Rainiers' fans best recalled Strange as the shortstop on the first of three PCL champions, Hutchinson remembered him most for his work in 1938, the year that the 19-year-old Hutchinson dominated the PCL with a 25-7 record and 2.48 ERA, effectively forcing the Rainiers to sell him to the Detroit Tigers for four players and $50,000, a transaction that set the Rainiers up to win the titles.
A year after his trade to Detroit, Hutchinson found himself pitching in AA Toledo, the top minor league franchise in the Tigers' system. A reporter asked Hutchinson to talk about the biggest difference in pitching for the Mud Hens vs. Seattle in 1938.
"I have no Alan Strange behind me here to give me advice and no Bill Lawrence out there in center to snag everything hit anywhere near him," Hutchinson said.
"That's the difference. I'm on my own without those two fellows. Any time the going got tough while I was with Seattle, I could turn around to Strange and get the advie that I needed to weather the storm. Alan thought many a situation out for me and saved my bacon doing it."
Born Nov. 7, 1906 in Philadelphia, Alan Cochrane Strange was the youngest of nine children of English immigrants who came to America through Ellis Island and set about to make their way in the textile business.
As a youth, Strange hauled ice and coal through the Philadelphia tenements, played baseball and rugby, and served as a Phillies batboy (he once saved a bat broken by future Hall of Famer Rogers Hornsby as a memento).
Strange attended Philly's Northeast High School and Penn State University, and began his professional career in 1929 with Class C Durham of the Piedmont League. After averaging .270 over three seasons, he moved up to the AA Hollywood Stars of the PCL.
After Strange hit .324 in 490 at-bats in 1933, the Stars elected to cash in and traded him to the St. Louis Browns Dec. 9 that year for Wally Herbert, Smead Jolley and Jim Levey. In possession of a $2,250 first-year contract, Strange made his MLB debut April 17, 1934 as the Browns' starting shortstop and went 1-for-4 playing alongside third baseman and future Rainiers' manager Hornsby, who also went 1-for-4.
Strange had a 133-game run with the Browns, who traded him to the Washington Senators June 29, 1935 for infielder Lyn Lary, married at the time to actress Mary Lawlor, who had been part of the original cast in former Red Sox owner Harry Frazee's Broadway musical No No Nanette (Frazee sold Babe Ruth to the Yankees to finance his various Broadway productions).
It was during his time with the Browns that Strange picked up his unusual nickname, "Inky," a moniker given to him by St. Louis teammate, future rival, lifelong friend and Yakima rancher Harlond Clift.
"Clift gave him the nickname because he worked for a printer in the offseason," said Strange's son, Alan Strange, Jr.
Because Strange struggled at the plate (he hit .185 in 54 at-bats in 1936), except for his ability to execute the hit-and-run, the Senators farmed him to AA Albany, where Klepper found him on an eastern scouting trip to restock the Indians. Klepper signed his future shortstop Dec. 6, 1936.
Strange hit .280 for the 1937 Indians, managed by Spencer Abbott and Johnny Bassler, but just .245 for the 1938 club, renamed the Rainiers after their purchase by Sick, before going on a rampage in 1939. Representative of Strange's breakout season:
April 8: Had a double, single and three RBIs in a 7-4 victory over the San Diego Padres.
April 11: Hit two doubles, a run-scoring triple and scored twice in an 8-5 win over the Oakland Acorns.
April 16: Delivered a double and a single in a 5-3 win over the Acorns.
May 5: Produced a double and a home run in support of Hal Turpin in a 4-3 loss to the Hollywood Stars.

Strange (right) with Seattle Indians manager Spencer Abbott at spring training in March of 1937. Strange had just been been purchased from Albany of the International League. / David Eskenazi Collection
May 9:  Had three doubles, a single and four RBIs in a 12-5 win over the Los Angeles Angels.
May 20: Smacked a walk-off home run in the 11th inning to beat the Portland Beavers 4-3.
May 30: Went 3-for-4 with an RBI in a 7-4 victory over Sacramento.
June 2: Had a double and four singles in five trips, drove in a run and scored twice in an 8-4 win over Sacramento.
June 8: Hit two doubles and a single in a 4-3 loss to the San Francisco Seals.
June 25: Had three singles and a walk in a 9-3 victory over San Francisco.
June 29: Went 3-for-5 and turned two double plays in an 8-3 victory over Sacramento.
July 2: After Strange went 3-for-6 in a 3-2 in over Oakland, Times reporter Alex Schults wrote, "Pardon the self-asked question, but what does a shortstop have to do to stick in the major leagues? For three seasons now, Alan Strange has gobbled up everything in sight around the shortpatch for the Seattle Rainiers, after being kicked downstairs from the St. Louis Browns and Washington Senators. Al Schacht, the clown prince of baseball, brought up the subject last night after watching Strange. 'I don't know why they ever let Strange out of the majors,' he said. 'And after watching him last night I don't know why someone doesn't take him back.'"
July 19-24: Had 13 hits in 33 at-bats (.394) in a seven-game series against the Oakland Acorns.
Aug. 9: Hit three singles, drove in a run, scored twice and sent Jo Jo White from first to third on a perfectly executed hit and run in a 9-6 victory over Portland.
Aug. 17: Had three hits, including two doubles in support of Turpin, in a 7-1 victory over San Diego.
Sept. 6: Collected doubles in both ends of a doubleheader against San Francisco, stretching his PCL lead to 52.
Strange led the 1939 Rainiers with a .335 average, drove in 90 runs, produced 223 hits and stole 18 bases in 173 games as Seattle went 101-73. Strange, who topped the PCL with 54 doubles (broke Dick Gyselman's franchise record of 53) and produced a league-best 28-game hitting streak, was barely nosed out for the league Most Valuable Player award by San Francisco's Dom DiMaggio.
Five players from the 1939 Rainiers, led by Strange, batted .300 or better, including George Archie (.330), Edo Vanni (.325), Gilly Campbell (.313) and Coffee Joe Coscarart (.300).
The Rainiers also had five pitchers with at least 16 wins, including Turpin (23-10), Dick Barrett (22-15), Les Webber (17-7), Paul Gregory (18-11) and Bill Walker (16-18) (see Wayback Machines Jack Lelivelt's Seattle Rainiers and Farmer Hal Turpin).
The 1939 Rainiers were built around pitching, defense, speed and timely hitting, and Strange was in the thick of it all.
"Alan and Jo Jo White were one of the best hit-and-run combinations around,"  Vanni recalled for the Post-Intelligencer. "He was a good shortstop, good on the double play. He was like a captain on the field. He'd go in and calm the pitchers down. He was very instrumental in that first pennant we won."
It was the only one of the three straight Rainiers pennants (first PCL team to win three in a row since the 1918-20 Vernon Tigers) that Strange was able to enjoy. And as he predicted, he had a relatively short return to the majors (118 games between 1940-42), and didn't play professionally again until after World War II.
During the war, Strange toiled in a Seattle shipyard as a sheet metal worker and managed the shipyard's ballclub, the Sea-Tac Destroyers (former Rainiers teammate Coscarart served as his bench coach).
After the war, Strange played part of a season (1946) with the Portland Beavers and then became general manager and manager of the Bremerton Bluejackets of the Western International League, a team for which he set a professional baseball record in 1947 by getting ejected 26 times (John McGraw of the New York Giants holds the major league single-season record with 13 ejections in 1905).
"As a family man, Dad did not have a temper," said son Alan Jr. "And as a neighbor, no. But when he was on the field, he was a different person. I can remember one time sitting on the bench during a game when he was ejected. Dad had some great tantrums."
Strange moved to the Spokane Indians as their GM and manager in 1950 and in 1951 led the Indians to a 93-49 record and the Western International League championship, a title made possible in large part by former Rainiers teammate Edo Vanni, who hit .332 and led the league with 195 hits.
Strange resigned his Spokane job after the 1951 pennant, returned to Seattle and, after turning down an opportunity to join the Rainiers staff under manager Bill Sweeney, opened a dental lab on First Avenue near the entrance to the Pike Place Market.
"He took the money he made in baseball and put it into that," explained Alan Jr. "Dad hired a dentist and he (Strange) did all the lab work. I used to go there. The dentist would take the impressions and dad would make the dentures and gold teeth."
Strange might have continued to run his lab, but the dereliction of a dentist in Strange's employ led to a lawsuit.
"Unfortunately," said Alan Jr., "they lost the business."
So, when asked, Strange returned to the Rainiers for a season for Hutchinson's 1955 PCL pennant winners (see Wayback Machine: Hutch & The 1955 Rainiers). When that job ended, Strange opened a mail-order sporting goods business.
When Hutchinson returned to run the Rainiers in 1959, Strange again joined the club as a coach, taking over as manager July 8 when Hutchinson departed to manage the Cincinnati Reds. Hired on an interim basis, Strange was named permanent manager after the Rainiers won five of their first eight games.
He had hoped to continue with the Rainiers in 1960, but after the club finished 74-80 the club decided not to retain him. Strange's last day in professional baseball was Oct. 15, 1959.
The back story to Strange's second go-around as a coach/manager with the Rainiers is that he never figured to be in a position to manage the club after Hutchinson left for the Reds.
"Hutch promised to take dad with him to the Reds," said Alan Jr. "He was going to be a coach for Hutch, but that didn't pan out."
Strange's managing job with the Rainiers didn't pan out, either. Due to falling attendance at Sicks' Stadium, Strange proposed that he club move home plate closer to the outfield fences in order to boost home run production.
"(Dewey) Soriano (Rainiers general manager) took that and ran with it," said Alan Jr. "He used that idea and took all the credit for it. Dad didn't like that and had words with Soriano and that was the end of his career. Dad was just not political, and he did not circle well with Soriano."
Born in 1948, Alan Jr. came along too late to see his dad play.
"He didn't talk much about his early career," said Alan Jr. "He didn't brag about it and he didn't try to capitalize on it. But he had a real passion for baseball. I don't think there was anything in life he wanted to do but play baseball. He loved baseball."
After baseball, Strange worked in the King County auditor's office, run by former football/basketball referee Bobby Morris (the Seattle Post-Intelligencer's first Man of the Year in 1935) as a cashier in the driver's license division.
"He worked until he was 72 to get a pittance of a retirement," said Alan Jr. "He had no other income except for meager Social Security. But he owned his own house (in Wedgewood) and got by."
Throughout the remainder of his life, Strange received regular requests to autograph his old baseball postcards, and he followed baseball – "religiously," according to Alan Jr.
In June of 1994, Strange suffered a stroke and, according to Alan, it wasn't long before he went. The end came in Seattle June 27 at the age of 87. Roll of Honor member Alan Strange is buried at Calvary Cemetery in Seattle.
—————————————–
Many of the historic images published on Sportspress Northwest are provided by resident Northwest sports history aficionado David Eskenazi. Check out David's " Wayback Machine Archive." David can be reached at (206) 441-1900, or at  seattlesportshistory@gmail.com