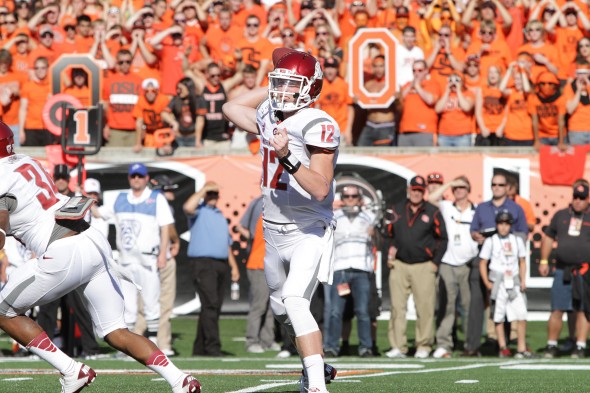 PULLMAN — Coach Mike Leach's most pressing need entering Washington State's first spring practice  Thursday will also be his most difficult to achieve — creating clarity at quarterback.
Freshman Tyler Bruggman won't arrive in Pullman until June. Meanwhile, the evaluation process is muddled since redshirt junior Connor Halliday and redshirt freshman Austin Apodaca have a pint-sized share of combined experience.Then again, what good does playing on a team that's posted a 7-17 record the past two years do for an upperclassman like Halliday?
A little, according to Leach.
"Connor's got more (experience) than Austin does but both of them are hard-working guys and competitive, so I like that aspect of it," he said. "I do think they both have some talent and I think they're both getting better."
Both will need to be if either plans to win the starting job. Leach said he will split the  repetitions for the first few practices of spring. The better performer will then take two-thirds of the snaps the rest of the way.
Or at least until Bruggman, a four-star recruit out of Arizona's Westwind Prep Academy, finds his way to Pullman this summer.
"We'll find out. Early in (fall) camp we'll kind of check and see where everybody is at," Leach said when asked if he could play right away.
Though he won't admit as much, the current depth chart is Halliday, Apodaca, Bruggman. In that order.
"They're not always as complicated as everyone makes them out to be," Leach said of the position battle. "You go out there and rep 'em and the guy who plays the best, you play him more than the other guy."
Though it may be hard to ascertain who is more fit, given Apodaca's role last season on scout team and Halliday's inconsistent play (he completed 52 percent of his passes, threw 15 touchdowns and 13 interceptions).
Leach said he didn't receive many chances to watch Apodaca in practice because he primarily coached the first- and second-team offense. He did, however, call him the most accurate passer he had seen coming out of high school.
Now comes refining the Colorado native's mental approach — a process Halliday appeared to struggle with last season.
"He needs to get out of this I'm-a-backup, I'm-a-scout-team guy," Leach said of Apodaca. "He needs to get into a hey-this-is-my-position-and-I'm-going-to-take-it mentality and really maximize reps.
"He's been better than most of them I've had and I think that switch has probably been turned."
S0 there you have it. The setting for arguably the most intriguing quarterback controversy in the conference rests in Pullman for the second year in a row. At least until University of Washington quarterback Keith Price fumbles the opening snap against Boise State, forcing coach Steve Sarkisian to explain to outraged boosters sitting in Husky Stadium's new luxury suites.
As far as Halliday, how fair is it judge his performance during a season when WSU quarterbacks were sacked 57 times?
Brett Favre could not have won behind that offensive line.
After seeing him squeeze throws into double- and triple-coverage last year, it should shock no one that Halliday's favorite player is the former Packers great. "Throwing guys open" — as he once called it during a press conference — either resulted in spectacular touchdowns or stroke-inducing interceptions.
A revamped offensive line should lighten the pressure. Leach said he expects Rico Forbes — a left tackle expected to start in 2012 — to return from a knee injury he suffered during his first fall camp. Riverside Community College transfer Jacob Seydel will also likely see see playing time, after turning down an offer from UCLA.
Dissing the Dawgs
Nary a press conference passes without a reporter grilling Leach about a topic unrelated to football. Wednesday was no different. Leach was asked whether he would participate in an NCAA March Madness pool. It provided him the perfect chance to take a parting shot at his cross-state rival. Hint: Think former football coach Rick Neuheisel and former AD Barbara Hedges.
"I did not," Leach said when asked if he filled his bracket.  "Bill (Stevens, WSU football
sports information director) asked me to fill out a pool. Not really in the University of Washington fashion where they fill out basketball pools, but kind of a friendly between me and Bill and all the rest of the NCAA type of pools. I just don't have the expertise on it this year."