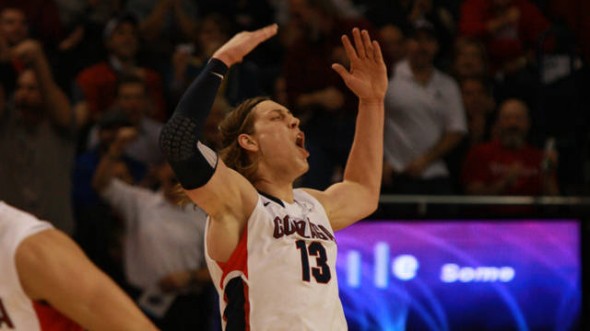 Which state's Division I men's basketball coach had the worst ending to the season: Seattle University's Cameron Dollar at 8-22, Washington's Lorenzo Romar at 18-15 and a first-round NIT exit, or Gonzaga's Mark Few, at 32-3 a serious success, yet ousted in the second round after being seeded No. 1?
Obviously, each team was operating at different levels of expectations. But they are united in major disappointments.
Some may think the Redhawks aren't a part of the discussion given their fledgling Division I status, but that perspective lost traction Friday, as soon as the Florida Gulf Coast Fighting Tangerines, or whatever, beat Georgetown 78-68. In their second year of eligibility for the NCAA tournament from the Atlantic Sun Conference (who knew?), the 15th-seeded Citrus Products beat the No. 2 Hoyas. Then Sunday, they beat the No. 8 seed, San Diego State, 81-71, to become the first No. 15 seed to make the round of 16.
It's true that the Hoyas have lost to a double-digit seed four years in a row, becoming a tourney tradition at least as great as former Purdue coach Gene Keady's comb-over. But FGCU, which, again, is not a credit union, has been in the big time about a minute and a half. That flash was enough to get most of North America to google Fort Meyers, FL., over the weekend, and induce applications that are probably choking the school's servers as you read.
That is, of course, the goal of SU's return to Division I — cheap publicity of the kind that helped grow Gonzaga's enrollment, donations and profile over the last decade to the point where the little Jesuit school in Spokane can make loans to the Vatican.
But that kind of eminence for SU at the moment is hard to see, much less achieve, from the bottom of the Western Athletic Conference (3-15), whose membership is undergoing a wholesale makeover. It would be just SU's luck to have FGCU in the WAC next year (or for that matter, have SU move to the Atlantic Sun). But clearly, The Redhawks' worst record under Dollar has the arrow pointing the wrong way.
But Dollar's lower lip is no closer to the ground than Few's. Gonzaga's decade-long seat of eminence in college ball took a hit Saturday night when it was eliminated from the tourney by the eighth-seeded Wichita State Shockers 76-70, the second of two sub-par tourney performances, following a narrow win over 16th-seeded Southern.
The blow was not decisive in the long term, but it does empower the hecklers who don't take Gonzaga seriously with the always powerful told-you-so argument regarding strength of schedule in the mid-major West Coast Conference.
Before the game, Few finally acknowledged this was his best team at Gonzaga, and at a national-best 32-3, that is undoubtedly true. Just as true is that none of his teams have gone beyond the round of 16, suggesting that there is something of a ceiling to the Zags' capacity for achievement.
Just after I was persuaded that Gonzaga's underrated defense was the key to reaching its first Final Four, the Zags allowed Wichita to shoot 50 percent, including a remarkable 14 of 28 beyond the arc — just after Southern on Thursday hit on 10 of 24 treys. The Zags were obviously limited Saturday by a foot injury to Gary Bell, their best perimeter defender, early in the game, but it was clear the Zags lack sufficient athleticism to cover the ground out to the arc, where much of the college game is played these days.
The Shockers also emulated what Southern established — pushing Gonzaga back on its heels a bit with physical play. It's not fair to say the Zags are soft, but they aren't sharpening their elbows to, say, Big 10 Conference pointiness by playing in a mid-major league. Absent a change in conferences, what they need is, well, John Stockton — who during his long NBA Hall of Fame career was known to be one of the game's dirtiest players. But his Gonzaga eligibility expired some time ago and they haven't found his equivalent.
As for Washington's tepid season, the 9-9 conference mark is looking a little better in view of the success of Oregon and Arizona, each reaching the tourney's round of 16. But the hecklers of Romar will remind that the Huskies were 0-5 against those teams — 0-7 if the pair against UCLA is added.
But the hecklers tend to forget that two of Romar's players from a year ago, when the Huskies were regular-season Pac-12 champions, left early to enter the NBA draft, where Terrence Ross and Tony Wroten went in the first round. While some around the program will say Romar was happy to see Wroten go, there's no doubt he had the the talent to win a few games single-handedly. That could not be said this season of any Husky, especially after C.J. Wilcox was double-teamed, then faded.
The Huskies were ordinary, but for many — too many — in the overwrought world of college basketball, an ordinary year is intolerable. Even a good year is intolerable. UCLA Sunday night fired Ben Howland despite the fact that his team won the Pac-12 regular-season championship. The sixth-seeded Bruins were 25-10 and ousted from the NCAA tourney in the first round, but had a decent excuse, losing star freshman guard Jordan Adams to a broken foot in the final game of the Pac-12 tournament.
Howland took UCLA to Final Fours in 2006, 2007 and 2008 and won more conference championships (four) than any Bruins coach since John Wooden. But his program last year was described in a Sports Illustrated as out of control. It will cost UCLA $3.2 million to buy out his contract.
Speculation began last night that Romar, a Los Angeles native and a former Bruins assistant, is on the short list to replace Howland. Despite his hecklers, Romar is no trouble at Montlake.
What is in some trouble is college basketball. The one-and-done rule is approaching its seventh anniversary, and is probably the biggest contributor to the randomness that is increasingly a part of seasonal outcomes.
Forcing superior high school players into a year of useless college before entering the NBA may be a hoot for fans who love the 15-over-2 upsets, and a plethora of close results — which explains how CBS and Turner justified the $10.8 billion, 14-year deal with the NCAA — but it does little for coaching and program stability, virtues that are in the long-term best interests for program success.
Even for a single year, it is fun to have around premier players such as Anthony Davis, Kevin Durant, Greg Oden, Derrick Rose, Kevin Love and Shabazz Muhammad. But it doesn't do much for the game except make money.
"It certainly brought in a little more star power to the game and maybe a little more initial notoriety for the individual classes," Indiana coach Tom Crean said. "But unless a player comes in and really wants to impact the team, the team doesn't necessarily get better."
Gonzaga has had few early entries and as a partial consequence a better team concept. The flip side is it also lacked that NBA-caliber talent that makes them a Final Four team. Washington has had more NBA talent, but as this season attested, had a hard time coming together.
As far as which state coach had the most disappointment, it has to be Few, because it's so hard in college basketball now to get as close to the pinnacle as Gonzaga was, only to find out the Zags weren't really that close.