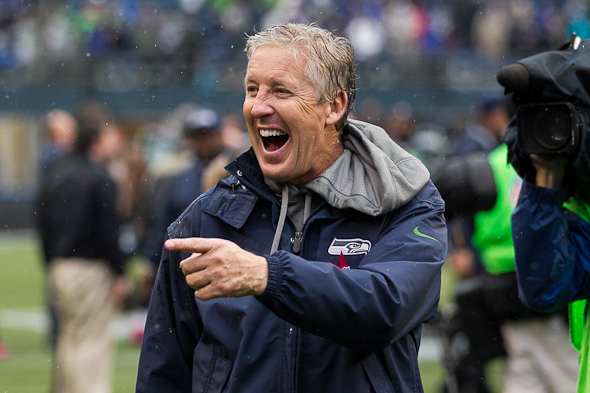 The red circles go around Sept. 15 and Dec. 8. The Seahawks games against the defending NFC champion 49ers will hold, as Bill Walton might exaggerate, the fate of the known world.
The anticipated release of the NFL schedule Thursday booked the Seahawks for four national games, most since five in 2006, but it's the rivalry with their NFC West rivals that has Seahawks fans sufficiently amped to give Seattle City Light those weekends off.The 2012 eminence of the teams, their dynamic young quarterbacks the disdain between the coaches all makes for the kind of juiciness that no reality show can match. The first game is a Sunday night affair on NBC at the Clink, the second game in San Francisco at 1:30 on Fox.
Also for the first time since 2006, the post-Super Bowl season, the Seahawks are on Monday night twice, Oct. 28 at St. Louis and Dec. 2 at home against New Orleans — the Saints' first visit since the Beastquake playoff game after the 2010 season. The Seahawks have won six Monday games in a row and their .692 winning percentage on Monday is tops in the NFL.
The fourth national game is a Thursday night game Oct. 17 at Arizona.
The hardest part of the Seahawks schedule is a five-game stretch between Sept. 29 and Oct. 28 that includes four road games, starting with back-to-back 10 a.m. PT starts in Indianapolis and Houston. The dreaded early road games appear three more times — the season opener at Carolina Sept. 8, at Atlanta Nov. 10 and at the New York Giants Dec. 15.
The Seahawks have the NFL's latest bye in Week 12 around Thanksgiving, then close with division rivals in three of the final four games, including the final two at home against Arizona and St. Louis.
The Seahawks report 85 consecutive sellouts, and a franchise-high 98 percent season ticket renewal rate. So scarcity has emboldened them to ask fans to pay a $100 deposit to become a member of Blue Pride, guaranteeing a spot in line to purchase season tickets when they become available, including 2014.
Q13 FOX will carry all preseason games in the Seattle area except at Green Bay (8/23), which will be televised nationally on CBS. For regions outside the Puget Sound area, check seahawks.com for a list of  affiliate stations.
2013 Seahawks Preseason Schedule
| Date | Opponent | Time | TV | W/L | Score | Rec. |
| --- | --- | --- | --- | --- | --- | --- |
| 8//8/13 | at San Dkego | 7 p.m. | Q13 | — | —– | — |
| 8/7/13 | vs. Denver | 7 p.m. | Q13 | — | —– | — |
| 8/23/13 | at Green Bay | 5 p.m. | CBS | — | —– | — |
| 8/29/13 | vs. Oakland | 7 p.m. | Q13 | — | — | — |
2013 Seahawks Regular-Season Schedule
| Date | Opponent | Time | TV | W/L | Score | Rec. |
| --- | --- | --- | --- | --- | --- | --- |
| 9/8/13 | at Carolina | 10 a.m. | FOX | — | —– | — |
| 9/15/13 | vs. S. Francisco | 5:30 p.m. | NBC | — | —– | — |
| 9/22/13 | vs. Jax | 1:25 p.m. | CBS | — | —– | — |
| 9/29/13 | at Houston | 10 a.m. | FOX | — | —– | — |
| 10/6/13 | at Indy | 10 a.m. | FOX | — | —– | — |
| 10/13/13 | vs. Tennessee | 1:05 p.m. | CBS | — | —– | — |
| 10/17/13 | at Arizona | 5:20 p.m. | NFLN | — | —– | — |
| 10/28/13 | at St. Louis | 5:40 p.m. | ESPN | — | —– | — |
| 11/3/13 | vs. Tampa Bay | 1:05 p.m. | FOX | — | —– | — |
| 11/10/13 | at Atlanta | 10 a.m. | FOX | — | —– | — |
| 11/17/3 | vs. Minnesota | 1:25 p.m. | FOX | — | —– | — |
| 11/24/13 | ——— | BYE | —– | — | —– | — |
| 12/2/13 | vs. N. Orleans | 5:40 p.m. | ESPN | — | —– | — |
| 12/8/13 | at S. Francisco | 1:25 p.m. | FOX | — | —– | — |
| 12/15/13 | *at NYG | 10 a.m. | FOX | — | —– | — |
| 12/22/13 | vs. Arizona | 1:05 p.m. | FOX | — | —– | — |
| 12/29/13 | vs. St. Louis | 1:25 p.m. | FOX | — | —– | — |