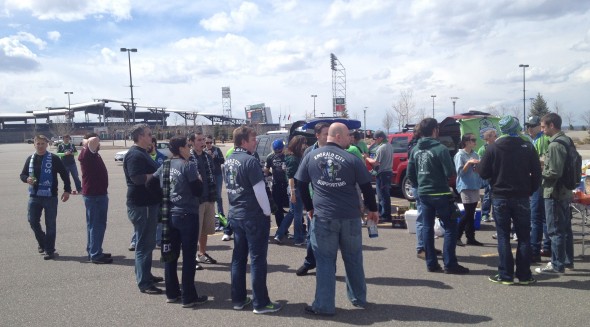 COMMERCE CITY, CO. — Was it a quirk of fate? A brilliant joke implemented by an MLS intern? Or a subtle yet genius marketing gimmick to create a buzz around an ordinary soccer match?
No one at the MLS will admit why the two clubs from the states that legalized marijuana this year were scheduled to play in the Mile High city on 4/20. But here we are.
It was interesting enough for one Arsenal supporter to travel from Tallahassee, FL., to meet the Sounders faithful and experience what all the fuss is about.
"I hear a lot about the support the Sounders bring with them," said Alex Ghio. "It's great to see fans support a team this way."
Dick's Sporting Goods Park is about 20 minutes outside Denver, in the middle of a giant field of nothing.  There's no Fuel, F.X. McRorys or Elysian Fields to hit pre-game.  But thanks to the Emerald City Supporters forums, Sounders fans have congregated en masse at a tailgate. It's 3 hours before first kick, and the 75 to 100 Sounders supporters are the only inhabitants of the parking lot.
Dave Kresczko is multi-road trip participant.
"I just like coming down to support the boys," he said. "I like to find affordable trips to head to, and I'm trying to go every stadium at least once."
This is Lucas Walters' 15th away game, including Cascadia Cup games.
"It's camaraderie, really," he said. "Getting to your fellow supporters in a new city.  People you may not know that well, but get to know better by exploring a new city,"
Right now, some conversation is focused on the fact that the Rapids' website specifically mentions a restroom on the edge of the parking lot.  However, the doors are locked, causing concern.
Dave Laslie has been to all but five MLS stadiums since 2009.
"Away games are just a great way to meet people," he said. "You are supporting the team with 40-50 people, not 35,000.  It makes it a little more intense."
If an MLS road-trip adventure appeals, Laslie recommends Portland, Kansas City and Montreal.
"Portland has a great environment, of course," he said. "Kansas City is a great stadium and the fans are really respectful to other supporters' groups. Montreal is just a great city with friendly people and a fun stadium in the middle of the city."
Andy Boyer is a sports fan, co-founder of Seattle start-up Relaborate and a lecturer at the University of Washington's Foster School of Business.