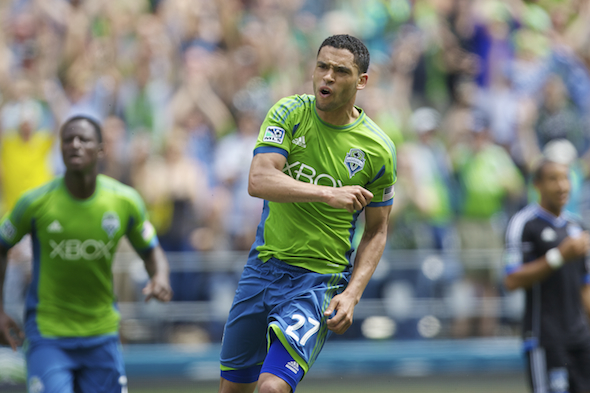 MATCH: FC Dallas (7-1-3, 24 points, 1st, MLS West) at Seattle Sounders FC (3-3-3, 12 points, T7, MLS West). TYPE: MLS. WHEN: Saturday, 7:30 p.m., CenturyLink Field. MEETING: 10th (Sounders lead 4-1-4). TV: KING 5. RADIO: 97.3 KIRO FM; SPANISH: KOMO2 (Comcast Ch. 114) and La Gran D 99.3 FM.
Seemingly recovered from an early-season stretch in which they were vexed by injuries, national team commitments, suspensions and personal problems, the Sounders host Western Conference leader FC Dallas Saturday night riding a five-match unbeaten streak (3-0-2) with four shutouts and an 8-2 goal advantage in that span. Dallas, though, hasn't lost since March 10, its nine-game undefeated streak the best in MLS this season.
Coming off a 2-1 win over DC United, Dallas leads the West with 21 points (7-1-3), six ahead of second-place Portland. Dallas is tied for the league lead with a plus-seven goal differential (18-11). Although Dallas is unbeaten at home (6-0-1), it is just 1-1-2 on the road with a minus-one goal differential.
Dallas FC doesn't have one big scorer but nine players have hit the net, led by Brazilian international Jackson, who has three goals and two assists. Forwards Blas Perez, who led the team with nine goals last season, also has three goals. Kenny Cooper, the  2012 Golden Boot runner-up with 18 goals for New York, has added two.
Left back Michel has three assists. Peruvian goalkeeper Raul Fernandez has four shutouts in nine starts with 44 saves. He ranks 10th in MLS with a 1.11 goals against average.
"Dallas is in first in our division, and one of the things we talked to our team about is we want to win season series against teams," said coach Sigi Schmid. "This is our first game with them and it becomes a really good measuring stick for us. They're a good team, they're an exciting team, they score goals They've played a good amount of games at home as well, so us catching them here is good for us."
The Sounders have listed Lamar Neagle as a probable starter against Dallas, following his two-goal effort in the club's 4-0 win over San Jose last week.
"He's finding his confidence," said Schmid. "He's one of those guys that's a gamer. Sometimes at practice, you sort of scratch your head and you say, 'What's going on?' But it's his game performances that keep getting him on the field."
SOUNDERS PROBABLE LINEUP: Goalkeeper — Michael Gspurning. Defenders — Leo Gonzalez, Djimi Traore, Zach Scott, DeAndre Yedlin. Midfielders — Brad Evans, Servando Carrasco, Osvaldo Alonso, Mauro Rosales. Forwards — Eddie Johnson, Lamar Neagle.
FC DALLAS PROBABLE LINEUP: Goalkeeper — Raul Fernandez. Defenders — Jair Benitez, Matt Hedges, London Woodberry, Zach Lloyd. Midfielders — Fabian Castillo, Je-Vaughn Watson, Michel, Jackson. Forwards — Eric Hassli, Blas Perez.
INJURIES: Seattle — GK Josh Ford, out. FC Dallas — None. SUSPENSIONS: None.
SERIES: Dates to May 16, 2009,  a 1-1 draw, Seattle receiving its goal from Jhon Kennedy Hurtado. The Sounders have won four of the past five matches between the clubs across all competitions. In the last eight MLS meetings, Seattle has recorded 13 goals, FC Dallas eight. Seattle earned a 3-1 home win in the last meeting Oct. 21, 2012 behind a pair of goals by Brad Evans.

SOUNDERS STATS / NOTES
REGULAR-SEASON SUMMARY (MLS): Overall: 3-3-3. Last 5: D-W-D-W-W. Home: 0-1-2. Road: 2-2-1. Vs. East: 1-1-2. Vs. West: 2-2-1. March: 0-3-1; April: 1-0-1; May: 2-0-1; June: 0-0-0; July: 0-0-0; August: 0-0-0; September: 0-0-0; October: 0-0-0. Goals For: 10. Goals Against: 7. Differential: +3.
MLS TEAM RANKS: Goals: 10 (T15). Goals Scored Avg.: 1.11 (12th). Goals Allowed Per Match: 0.78 (2nd). Shots: 102 (16th). Shots On Goal: 31 (T18). Fouls Committed: 115 (T14). Fouls Suffered: 110 (19th). Yellow Card Cautions: 9 (T18).
 2-0-2 when leading at the half, 1-0-1 when tied at the half, 0-3-0 when trailing at the half.
 3-0-2 when scoring first, 0-3-0 when conceding first.
10-7-0 all-time in May, including 3-2-2 last season.
Unbeaten in 37 consecutive matches when they score first.
Four-goal output vs. San Jose was the most since Aug. 12 in a 6-2 win over Chivas USA, and matched the largest margin in club history.
Scored eight goals in their past four matches, four times the output of the first five matches of the season.
Goalkeeper Michael Gspurning has 12 shutouts in his first 30 career MLS starts, tied for the top mark in league history.
Osvaldo Alonso made his 120th MLS appearance last Saturday, becoming the club's all-time leader in games played.
Djimi Traore's winning goal in the 94th minute at Kansas City marked the latest goal scored in club history, besting Jeff Parke's 93rd-minute winner versus Kansas City in 2011.

Used 13 lineups in 13 matches across all competitions.

The Sounders play their first match (third round) in U.S. Open Cup competition May 29 against the winner of the Tampa Bay Rowdies (NASL) vs. VSI Tampa Bay (USL-PRO). Those sides meet May 21. The Sounders would either visit the Rowdies at 4:30 p.m. at Al Lang Stadium in St. Petersburg, FL., or host VSI Tampa Bay at 7 p.m. at Starfire Stadium in Tukwila.

SOUNDERS MLS LEADERS
| Category | Skinny |
| --- | --- |
| Starts | Gspurning 9, Hurtado 8, Yedlin 8, Traore 8 |
| Goals | Johnson 2, Rosales 2, Martins 2, Neagle 2 |
| Assists | Rosales 3, 6 tied with 1 each |
| Shots | Johnson 16, Neagle 14, Alonso 12 |
| Shots On Goal | Johnson 6, Neagle 5, Rosales 3, Evans 3 |
| Fouls Caused | Alonso 15, Yedlin 14, Evans 11 |
| Fouls Suffered | Johnson 15, Rosales 13, Alonso 13 |
| Offsides | Johnson 9, Evans 4, Neagle 3 |
| Corner Kicks | Rosales 31, Martinez 11 |
| Cautions | Johnson 3, 4 tied with 1 each |
| Ejections | Lamar Neagle, DeAndre Yedlin, 1 each |
FC DALLAS NOTES: Dallas' nine-match unbeaten streak matches the second longest in club history. Dallas went 19 matches without a loss in 2010 . . . Head coach Schellas Hyndman has coached six years in Dallas with a record of 58-48-50. Head-to-head against Schmid, he is 1-6-4 . . . Dallas has 18 goals, ranked T2, has a plus-seven goal differential (T2), ranks 9th in shots (136), third in shots on goal (56). By contrast, Seattle has taken 102 shots and 31 shots on goal.
COMING UP:  Sounders will take back-to-back trips to Los Angeles to face the Galaxy and Chivas USA.
Seattle Sounders FC 2013 Schedule / Results

(3-3-3, 12 points, MLS; 1-1-0 CCL; 0-0-0 U.S. Open Cup)
| Date | Opponent | Time | TV | W/L | Score | Rec. |
| --- | --- | --- | --- | --- | --- | --- |
| 3/2 | vs. Montreal | 7:00 | KING | L | 1-0 | 0-1-0 |
| 3/6 | *at Tigres | 7:00 | Fox Soccer | L | 1-0 | 0-0-0 |
| 3/12 | *Tigres | 7:00 | NBCSN | W | 3-1 | 1-0-0 |
| 3/16 | ^Portland | 5:00 | NBCSN | D | 1-1 | 0-1-1 |
| 3/23 | ^at San Jose | 7:30 | KING 5 | L | 1-0 | 0-2-1 |
| 3/30 | ^RSL | 6:00 | KONG | L | 2-1 | 0-3-1 |
| 4/2 | *Santos | TBD | NBCSN | L | 1-0 | 1-0-0 |
| 4/9 | *at Santos | TBD | NBCSN | D | 1-1 | 1-1-0 |
| 4/13 | ^N. England | 1:00 | KONG | D | 0-0 | 0-3-2 |
| 4/20 | ^at Colorado | 3:00 | KONG | W | 1-0 | 1-3-2 |
| 5/4 | ^at Phila. | 4:30 | KONG | D | 2-2 | 1-3-3 |
| 5/8 | ^at KC | 5:30 | KONG | W | 1-0 | 2-3-3 |
| 5/11 | ^San Jose | 1:00 | KONG | W | 4-0 | 3-3-3 |
| 5/18 | ^FC Dallas | 7:00 | KING | — | — | — |
| 5/26 | ^at LA Galaxy | 8:00 | ESPN2 | — | — | — |
| 5/29 | #vs. TBD | —- | —– | — | — | — |
| 6/1 | ^at Chivas | 7:30 | KING/KONG | — | — | — |
| 6/8 | ^Vancouver | 7:30 | NBCSN | — | — | — |
| 6/22 | ^at RSL | 6:30 | KING/KONG | — | — | — |
| 7/3 | ^DC United | 7:00 | KING/KONG | — | — | — |
| 7/6 | ^at Vancouver | 8:00 | NBCSN | — | — | — |
| 7/13 | ^at San Jose | 7:30 | KING/KONG | — | — | — |
| 7/20 | ^Colorado | 1:00 | KONG | — | — | — |
| 7/28 | ^Chivas | 6:00 | KING/KONG | — | — | — |
| 8/3 | ^FC Dallas | 7:00 | KING/KONG | — | — | — |
| 8/10 | ^at Toronto | TBA | KING/KONG | — | — | — |
| 8/17 | ^at Houston | 6:00 | KING/KONG | — | — | — |
| 8/25 | ^Portland | 7:00 | ESPN2 | — | — | — |
| 8/31 | ^at Columbus | 4:30 | KING/KONG | — | — | — |
| 9/4 | ^Chivas | 7:00 | KONG | — | — | — |
| 9/7 | ^Chicago | 7:00 | NBCSN | — | — | — |
| 9/13 | ^RSL | 7:00 | NBCSN | — | — | — |
| 9/21 | ^at LA Galaxy | 7:30 | NBCSN | — | — | — |
| 9/29 | ^New York | 6:00 | ESPN | — | — | — |
| 10/5 | ^at Colorado | 7:00 | NBCSN | — | — | — |
| 10/9 | ^ Vancouver | 7:00 | KING/KONG | — | — | — |
| 10/13 | ^at Portland | 6:00 | ESPN | — | — | — |
| 10/19 | ^at FC Dallas | 1:00 | NBCSN | — | — | — |
| 10/27 | ^LA Galaxy | 6:00 | ESPN | — | — | — |
*=CONCACAF; ^=Major League Soccer; #=U.S. Open Cup