By David Eskenazi and Steve Rudman
Two years ago February, Baseball Prospectus published a list of what it titled, "The 101 Hottest Prospects" in major league history. In a companion piece, BP writer Steven Goldman added, "The Top 50 Busted Prospects,"  an eye opener for this reason: Six of the 50 "busts" played – or attempted to play — for Seattle teams, including the Giants in practically the Cretaceous period, the Pilots and the Mariners.
The most recent Top 50 Baseball Prospectus bust to toil for a Seattle team left town only three years ago, pretty much on the end of a cleat. Acquired to add pop to the middle of the Mariners' order, Casey Kotchman, once one of Baseball America's "Hot 100," responded with a .217 batting average and nine home runs in 125 games. A .616 OPS guaranteed he would become a one-year, non-wonder.
Half a decade before Kotchman, catcher Ben Davis appeared in 174 games for the Mariners. He was touted by Baseball America as the best prospect at his position since Roger Bresnahan, or something like that, but he was nothing like that and the Mariners shipped him to the White Sox in early 2004 along with Freddy Garcia. The trade gave the Mariners their first up-close look at Michael Morse, one of three players Seattle received.
Chris Snelling (2002, 2005-06) probably never would have achieved epic bust status if he could have avoided injuries. The Aussie possessed a world of talent but just couldn't get established due to time he spent on the disabled list.
Two decades before Snelling, the Mariners selected LF/1B Al Chambers first overall in the 1979 draft. He proved to be a pedestrian hitter, even at the minor league level, and the Mariners buried him, giving him only 141 major league plate appearances spread over three seasons.
Steve Whitaker came along too soon (1966-70) to play for the Mariners, but he spent one of his five seasons, 1969, with the Pilots. The Tacoma native hit .250 that year and .230 for a career that ended when he hit .111 for the 1970 San Francisco Giants.
Long before Whitaker, in fact 26 years before Whitaker was born, Paul Edward Strand pitched for the Dan Dugdale-owned 1917 Seattle Giants. He produced a 9-7 record and hit .285, hardly bust numbers.
But he did go bust, not once, but twice. Ironically, in between bookend flops, Strand developed into one of the greatest minor league hitters of all time, which is why he is a member of the Tacoma-Pierce County Hall of Fame (1961) and Pacific Coast League Hall of Fame (2004).
His story began Dec. 19, 1893, in tiny Carbonado, WA., a Pierce County coal town in the shadow of Mt. Rainier. Strand grew up on a farm in nearby South Prairie, where his parents settled soon after arriving from Sweden. Strand attended Buckley High School and became determined to play professional baseball as a young teen.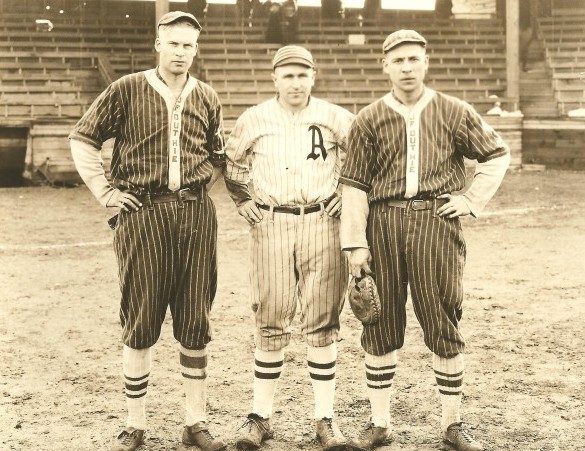 "My parents were opposed to my plan to become a professional ball player," Strand told the News Tribune in 1955. "My mother cried at first, but afterward consented, telling me to be a good boy when away from home. Father intimated he would not spare the strap if I failed, so I just had to make good."
Strand made good, first as a pitcher, as the Grand Forks (South Dakota) Herald noted May 16, 1911, in the first substantial newspaper article written about him.
"Paul Strand, southpaw pitcher on the Spokane team of the Class B Northwestern League, just sold to the Boston Americans for $5,500, is the youngest player in organized baseball," The Herald reported. "He is native to the state of Washington and there are several interesting incidents in young Strand's brief career.
"In the second game here (Grand Forks) against the Victoria team, he struck out the first three men with nine pitched balls. Strand is a trifle more than six feet in height and weighs 180 pounds. He has developed unusual speed. His playing with the South Prairie team last summer attracted the attention of Joe Cohn, manager of the (Spokane) Indians, who secured the signature of Strand's parents on a contract before the other leagues could get to them."
"When I reported to Spokane in 1911 (one of his teammates was Earl Sheely, future general manager of the Seattle Rainiers), I was a green kid, just lucky enough to grab the final pitching post," Strand told John Mooney of The Salt Lake Tribune.
"Six weeks later I was in the big leagues – at 16 years of age. They pitched me so much my arm went bad and at 17 I was sent to the San Francisco Seals. The ball club was pretty well set with veterans, too, so a bunch of us were sent back to the Northwest – Spokane and Walla Walla."
Strand had a 16-game stint with the Walla Walla Bears of the Class D Western Tri-State League in 1912, played another 19 games with Spokane, and received his first chance to pitch with Boston in 1913, making his debut May 15 at the age of 19. He worked 17.0 innings in seven appearances and didn't factor in a decision, although he had a 2.12 ERA.
Strand then played a role on Boston's 1914 "miracle" team, going 6-2 with a 2.44 ERA down the stretch as the Braves rallied from last place July 4 and won the pennant by 10½ games. The key man on Boston's pitching staff, Bill James, went 26-7, 1.90, just two years after going 26-8 for the 1912 Seattle Giants (see Wayback Machine: 'Seattle' Bill James And The 1912 Giants).
A year later, Strand went 1-1, 2.38 in two starts, hurt his arm and was sold off to Toledo of the American Association, the Braves believing that his career was likely over. Toledo came to the same conclusion after Strand, trying to make the conversion to the outfield, hit just .215 in 61 games. The Iron Men sold Strand, who showed some defensive ability, to the Seattle Giants prior to the 1917 season.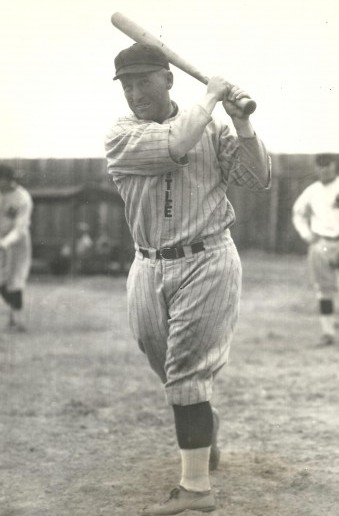 Managed by Rube Gardner, the Giants were not as convinced as the Braves and Iron Men that Strand's pitching career was finished. They pitched him in 19 games and he went 9-7, his crowning moment coming May 13 when he threw a perfect game against Spokane, his former ball club, winning 1-0. Strand also appeared in 48 games in the outfield, batting .285.
Between 1919-21, Strand bounced from Seattle to the Class B Peoria Tractors of the Indiana-Illinois-Iowa League, to the Class A Joplin Miners of the Western League, to the Class B Yakima Indians of the Pacific Coast International League and back to the Seattle Giants.
He didn't stay long in Seattle, now a member of the Pacific Coast League, leaving April 29, 1921, when manager Duke Kenworthy sold him and Monroe Schwartz to Salt Lake City Bees to bring the club to the 20-player limit.
In retrospect, Strand's sale ranks among the most ill-advised transactions in Seattle sports history.
With Salt Lake City (Pacific Coast League), Strand took advantage of the lengthy PCL schedule to set some huge records. In 1922, in 178 games, Strand hit .384 with a league record 289 hits, including 28 home runs. In 1923, Strand had what many consider the greatest minor league season of all time. In 194 games, Strand batted .394 with a record 325 hits and 43 home runs.
His .394 average not only led the PCL (Paul Waner of San Francisco finished second at .369 with Seattle's Brick Eldred third at .353), he drove in more runs (187) than any hitter, scored 180 runs, had 66 doubles, 13 triples and stole 22 bases. He also made nearly 600 putouts, another league mark.
With Strand collecting 614 hits with 71 home runs over the two seasons, Philadelphia Athletics manager Connie Mack figured he could use some of that and made a special trip to Salt Lake City to see if he could pry Strand away from the Bees.
"Connie stalked up and down the larger avenues of Salt Lake City, enlarging a little on each offer until, it is said, he struck $100,000," reported The Trenton (NJ.) Evening Times. "Salt Lake City said no. Connie pleaded to be separated from his money."
Eventually, Mack sent three players and cash, reportedly as much as $100,000, west in exchange for the 30-year-old Strand's services for 1924.
On Feb. 24, 1924, The Seattle Times reported: "Paul Strand of South Prairie, better known as the Coast League's best hitter for the past two years, was a Seattle visitor yesterday. The famous Paul has been sold to the Philadelphia Athletics and leaves in a day or two for the Mobile (AL.) camp of the Athletics.
"Strand is confident he can hit major league pitching. He will have every chance, for Connie Mack is taking only four outfielders – Strand, Bing Miller, Al Simmons and Curt Welch – to camp and expects to start Strand in center field. Coast League fans will be pulling for him, for he has been one of the league's most popular players."
Strand refused to sign the contract Mack sent him and held out for several weeks. When he finally signed, he strained to justify the deal by hitting .228/.254/.329 in 47 games. At that point, Mack traded Strand to AA Toledo, one of his previous stops, along with pitcher Rollie Naylor for outfielder Bill Lamar.
"Acquisition of Strand by Toledo came as a surprise in baseball circles," reported Salt Lake City's Deseret News. "The ex-Salt Lake slugger has been playing regularly in the Athletics' outfield, but his hitting has been feeble."
Certainly the major leagues featured a higher quality of play than the Pacific Coast League, but Strand's complete inability to produce in Philadelphia after his success in Salt Lake City confounded Mack and the man who scouted Strand on behalf of Mack, Ira Thomas.
"Paul Strand came to us with a record as impressive as that of any man who ever came out of the Pacific Coast league," Thomas told The Salt Lake Tribune. "But in the American League, Strand tried too hard. The columns in the newspaper and the cheers of the fans got on his nerves and affected his playing.
"Paul proved a complete bust and ever since then whenever a club has purchased a Coast Leaguer and laid down a fancy price on the line, some skeptic would up and remark, 'Bought another Paul Strand.'"
Strand never returned to the major leagues and, between 1925-28, played for Toledo (1925), Portland (PCL, 1926-27), Columbus (American Association, 1926), Atlanta (Southern Association, 1928) and Little Rock (Southern Association, 1928). In all of those stops, he batted a combined .330 and had his last big year with Portland in 1927, averaging .355 with 221 hits, including 18 home runs.
Strand married Esther Carbis Jan. 14, 1925 in Salt Lake City and returned to her home town following his baseball career to enter private business. He eventually became president and treasurer of a Salt Lake-based plumbing and heating company and spent many nights at the ballpark, watching the team for whom he had starred in 1922-23.
When the 50th anniversary of Strand's 325-hit, 1923 season approached, The Salt Lake Tribune decided to publish a major piece looking back on what many regarded then as the greatest minor league season (Tony Lazzeri's 60 home runs for the Bees in 1925 ranked No. 2 in a Tribune poll).
At the time of the anniversary, Strand had reached 80 and his apartment, just north of downtown Salt Lake, was filled with baseball memorabilia –photos, old gloves, bats, trading cards. Strand also had a stack of scrapbooks – seven in all – filled with newspaper articles, photos and old game accounts and box scores about his time in the majors and minors.
"Not bad for a green kid from Carbanado, huh?" Strand asked.
He died one year later, at age 81, of natural causes.
————————————-
Many of the historic images published on Sportspress Northwest are provided by resident Northwest sports history aficionado David Eskenazi. Check out David''s "Wayback Machine Archive." David can be reached at (206) 441-1900, or atseattlesportshistory@gmail.com