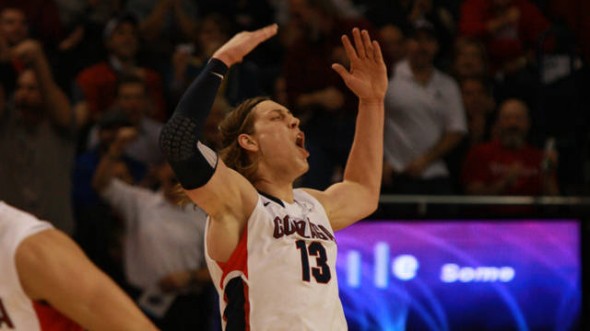 Much like the 2012-2013 college basketball season, the NBA draft shifted its regional attention from Seattle to Spokane when the Dallas Mavericks selected with the 13th pick Gonzaga center Kelly Olynyk, then promptly traded him to the Boston Celtics for the No. 16 pick and two future second-rounders, according to multiple reports.
Olynyk's selection and subsequent move Thursday was hardly the biggest news in the wildest draft in recent memory. The Cleveland Cavaliers surprised many by choosing fellow Canadian Anthony Bennett (UNLV) No. 1 overall.  Kentucky's Nerlens Noel fell to sixth to New Orleans before being traded to the Philadelphia 76ers. Most mock drafts correctly foresaw Olynyk as a middle-first round pick and whiffed on nearly everything else.
Boston's decision to trade up and take the Kamloops, BC native continued Olynyk's meteoric rise from a backup center buried on coach Mark Few's depth chart to a Wooden Award finalist and first-team All-America selection. Olynyk actually redshirted as a junior in 2011, taking a season to work on building strength and low-post moves — not to mention growing hair that rivals only the Hanson Brothers.
ESPN NBA draft analyst Chad Ford said Tuesday Olynyk projects at a different position at the next level. Olynyk impressed NBA teams during private workouts with above-average ball handling and shooting touch from the perimeter.
"He's probably going to be more of a 4 than a 5 in the NBA," Ford said. "He can create off the dribble, he can shoot the 3. Olynyk might have been the most efficient big man in basketball this year."
The numbers can attest. Dominating WAC opponents who were often dwarfed his 7-foot, 235-pound frame, Olynyk averaged 18.1 points and 7.3 rebounds in 31 games prior to Gonzaga's third-round NCAA Tournament exit. His greatest challenge as a pro will come when he has to defend more physically gifted front-court opponents, Ford said. The Eastern Conference alone includes Roy Hibbert, Tyson Chandler and Anthony Davis.
"He's not an elite athlete but he's a good athlete," ESPN analyst Jay Bilas said shortly after the selection.
Olynyk will likely receive big minutes from whomever Celtics president Danny Ainge chooses to replace coach Doc Rivers. Boston made the first definitive move in its long-rumored rebuilding project Thursday, sending Paul Pierce, Kevin Garnett and Seattle native Jason Terry to the Brooklyn Nets in exchange for Gerald Wallace, Kris Humphries and three future first-round picks while agreeing to a sign-and-trade for Keith Bogans.
Meanwhile, the bottom-feeding Detroit Pistons took Franklin High School (Seattle) graduate Peyton Siva in the second round with the 56th overall selection. Siva played four years at Louisville and led the Cardinals to the 2013 NCAA National Championship.
"He's undersized and he's not a very good shooter," Ford said earlier this week. "I think he's offensively challenged in a lot of ways, so he's not necessarily a guy that is going to be drafted because a team thinks he is going to be a full-time point guard."
Ford's forecast for the University of Washington would have been equally gloomy.
Coach Lorenzo Romar didn't have a player taken for the first time in five years. Guard Abdul Gaddy and center Aziz N'Diaye had only a small chance of being selected, according to most projections.
Washington State Cougar Brock Motum can empathize.
He lead the Pac-12 in scoring for the second consecutive season, (18.7 ppg) but never received serious consideration as a late selection. Fifth on WSU's all-time scoring list, the six-foot-10 southpaw presented matchup nightmares for college opponents but wasn't able to do enough to nudge into the top 60 players. The WSU sports information department said Thursday Motum had worked out with 10 NBA teams leading up to the draft.