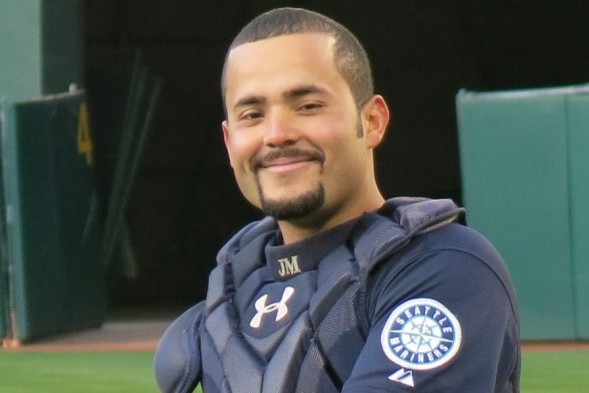 In an ideal world, Jesus Montero would be blossoming for the Mariners, as are Nick Franklin, Brad Miller and Mike Zunino, into a productive major league player. But Montero's career, which flew off the tracks in May when the Mariners demoted him with a .208 batting average, and took another hit when he suffered a torn meniscus in his left knee, reached nadir Monday.
Along with a dozen others, Montero received a 50-game suspension from Major League Baseball for his connection to the Miami-area Biogenesis clinic. Ex-Mariner Alex Rodriguez (1995-2000) took a landmark 211-game blow, which he appealed, allowing him to play with the Yankees while an arbitrator determines his fate.
Montero began the 2013 season as Seattle's starting catcher, and one of its brightest prospects. He made Baseball America's top prospects list four times from 2009-12. Last year, as a rookie, Montero showed a bit of promise as a hitter with a .260/.298/.386 slash line, although not much as a catcher.
Last February, Montero officially became linked to Biogenesis, but the issue quickly ebbed into the background as the season began and as the Mariners hoped he would develop as a slugger and catcher.
Didn't happen. By May 20, Montero was hitting .208/.264/.327 in 29 games, necessitating a demotion to AAA Tacoma so he could begin the transition to first base, a move made inevitable by his poor play behind the plate and Zunino's rise in the system.
But after just a week with the Rainiers, Montero suffered the knee injury and underwent surgery, sidelining him until July 5. When he returned to the Rainiers, after a rehab stint in Arizona, Montero played 19 games and hit .247/.317/.425 before the Biogenesis shoe dropped.
With Kendrys Morales and Justin Smoak covering first base and DH and Henry Blanco and Humberto Quintero serving as adequate plug-ins behind the plate for the remainder of the season, Montero's Tacoma performance suggested he did not have much hope of returning to the Mariners this season.
Now he has none, as this season is lost for the 23-year-old. At 23, Montero can still salvage his career. But whether he has any future in Seattle remains to be seen. Please take our poll and let us know how you feel.
[polldaddy poll=7300587]