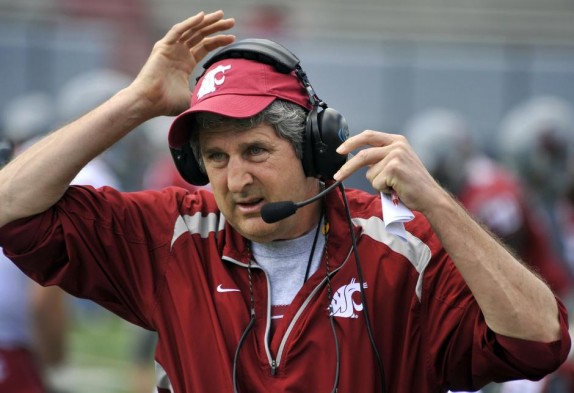 Never shy to elicit controversy, Washington State football coach Mike Leach Wednesday declared that he would strip access to any reporter who dares write about practice injuries. The policy, he said, was actually implemented last season, but that he "just didn't catch" those who violated the rule.
Christian Caple, the Cougars beat writer at The Spokesman-Review, tweeted the news after Wednesday's practice.
Mike Leach said after practice today that access to the program will be denied to those who report about injuries that occur at practice.

— Christian Caple (@ChristianCaple) August 22, 2013
Leach is actually late to the paranoia party, where college head coaches use their sports information departments as bouncers. USC coach Lane Kiffin is the frat guy who slowly pours a Natural Light on your head, then steals your girlfriend.
It was Kiffin who in 2012 banned LA Daily News reporter Scott Wolf from practice for two weeks after he wrote that USC kicker Andre Heidari underwent surgery to repair a torn meniscus.
Former Oregon coach Chip Kelly, in addition to participating in shady recruiting, was notoriously dodgy when it came to discussing injuries in press conferences. If a player had to be carried off the field in a stretcher earlier in the day, he was unlikely to acknowledge it.
UW coach Steve Sarkisian has installed a comparable media policy, but last week he told reporters that TE Austin Seferian-Jenkins suffered a broken pinky finger and needed surgery. UW, as with its cross-state rivals, closes practices to the media during the regular season.
Last year, Leach allowed the press to speak with three players he selected every Monday. Most everyone else was available after games.
When asked last year about injuries, Leach would at least provide reporters with an entertaining quote that completely sidestepped the question. Now, he's threatening them. What happened to being quirky?