Sportspress Northwest photographers Drew McKenzie and Drew Sellers captured a stormy celebration of Seahawks football Sunday as Seattle clobbered the archrival 49ers 29-3.
RB Marshawn Lynch never exactly broke loose — his longest run was 21 yards — but he methodically wore down the 49ers' defense by rushing 28 times for 98 yards and two  touchdowns. He caught three passes for 37 yards, including his first receiving score of the season.
Wilson was eight of 19 for 145 yards, one touchdown and one interception. In a way, he reverted to a game-management style, mixing in a few big plays while leading the Seahawks.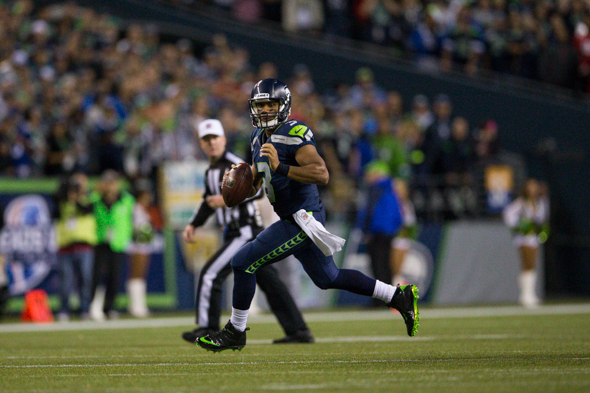 Lynch brings a new twist to "Beast Mode":
WR Sidney Rice had a night he would rather not relive. He caught one pass for 13 yards, and drew a personal foul for taunting when he spun the ball on the ground after a catch.
The 12th Man overcame thunder, lightning, heavy rain and a one-hour delay to set a Guinness World Record as the loudest crowd ever.
Defense was king, and no more significant play was this one when Seahawks newcomer Cliff Avril made a strip-sack of Kaepernick.
Kaepernick was more effective with his legs, rushing for 87 yards in nine carries, including a long of 28.
Lynch's 28 rushes were eight more than the Niners' runners had combined. He and linebacker Aldon Smith met frequently.
Seahawks SS Kam Chancellor didn't have to work hard for the final interception. Kaepernick threw it right to him with 4:26 left in the game.
Russell Wilson ran 10 times for 33 yards, mostly on scrambles as opposed to designed plays or his choice to keep on the read option.
The indefatigable, irrepressible Richard Sherman salutes the 12th Man after his interception brought him to the sidelines. Moments later, he joined the SeaGals for an impromptu dance move or two.