The Northwest had a football weekend in which the three most popular teams (Huskies, Cougars and Seahawks) outscored opponents by a number I could never count to while eeking through remedial college math class. Thankfully, calculators are easily accessible on laptops (the combined total was 143-17). Sportspress Northwest photographers Drew Sellers and Drew McKenzie captured the 45-17 Seahawks win over the Jaguars Sunday at CenturyLink Field.
Doug Baldwin made his only catch of the game a dandy, a one-handed, falling-down snag at the the goal line for a 35-yard touchdown in the third quarter that upped the Seahawks advantage to 38-7.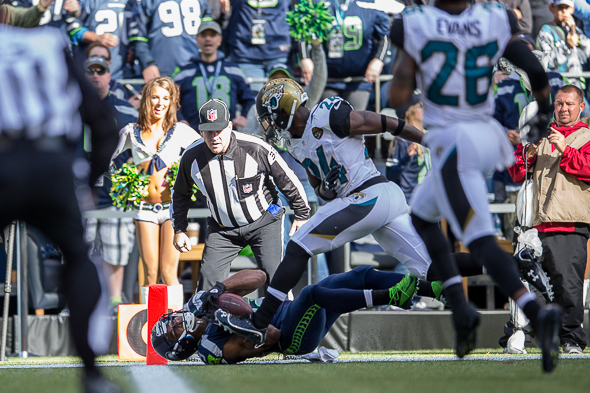 DE Chris Clemons made his season debut, failing to record a tackle while playing about 15 plays in pass situations. Nonetheless, props for the return, and the sweet visor.
Wide receiver Sidney Rice was terrible versus the 49ers (one catch, three penalties), but Sunday he made five catches for 79 yards and two touchdowns.
Running back Marshawn Lynch was solid if not spectacular against Jacksonville. He ran 17 times and gained 69 yards, though he fell inches short of the end zone on two occasions. No matter. He and Clemons are in the same sweet visor club.
Lynch had a 27-yard burst and also was crafty in selling play-action, for which the Jags defense frequently bit.
Seahawks coach Pete Carroll didn't have a lot to be mad about. The Seahawks out-gained the Jaguars 479-265, and his team committed only four penalties. It looks here, protesting a call of illegal block in the back, as if he thought it should have been three.
Quarterback Russell Wilson, gathering teammates in the huddle, went 14 of 21 for 202 yards, four touchdowns, one interception and a fumble. He helped the Seahawks build a 31-7 lead before giving way to Tarvaris Jackson late in the third quarter.