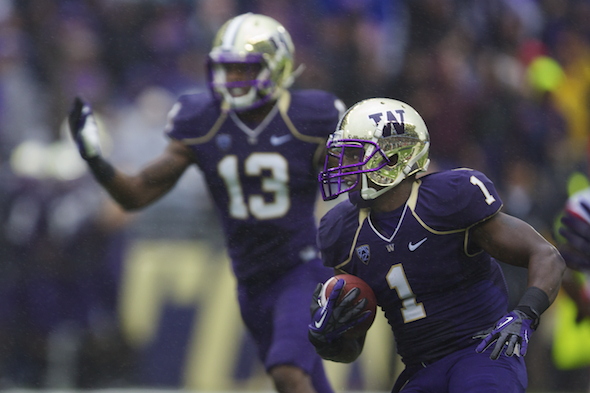 Quarterback Keith Price threw two touchdown passes and Bishop Sankey ran for 161 yards and a touchdown on a school-record 40 carries as Washington, with a big second half, defeated Arizona 31-13 in its Pac-12 Conference opener Saturday in soggy Husky Stadium. The 16th-ranked Huskies improved to 4-0 for the first time since the 2001 season.
Washington, which hasn't trailed this season, avenged a 52-17 loss to Arizona last year, its worst setback of the season, and won its fifth consecutive conference opener. Two wins shy of bowl eligibility before Oct. 1, The Huskies face the hardest part of their schedule. They meet No. 5 Stanford Saturday and No. 2 Oregon Oct. 12.
Price completed 14 of 25 passes for 165 yards with two touchdowns and an interception as the Huskies turned an 11-6 halftime lead into a late walkaway in the final two quarters.
The key play occurred midway through the fourth quarter with Washington nursing a 25-13 lead. A Marcus Peters interception allowed the Huskies to consume a clock and finally bury the Wildcats with a touchdown run by Jesse Callier.
The Huskies assumed an 11-0 lead on a seven-yard touchdown pass from Price to Kevin Smith following a Sean Parker interception. They added a safety and a 42-yard field goal by Travis Coons. Sankey figured prominently, rushing for 78 yards on his first 16 carries. Price's touchdown pass was his eighth of the season.
The Huskies seemed poised to take that lead into halftime, but Arizona quarterback B.J. Denker orchestrated a superb drive in the final two minutes of the half. The key play: a 33-yard read option run with 15 seconds left by Denker to Washington's three-yard line. Ka'Deem Carey scored one play later, trimming Washington's lead to 11-6 after the Wildcats missed the extra point.
Price went 3-for-3 on Washington's first drive, but closed out the the half 1-for-9 with an interception.
On Washington's first drive of the second half, Price threw a one-yard TD pass to TE Austin Seferian-Jenkins. Denker answered with a seven-yard TD run at 5:14 to cut the Huskies' lead to 18-13.
As the third period closed, Sankey scored on a one-yard run, boosting Washington's lead to 25-13.
Arizona mounted an impressive drive in the fourth quarter that reached the Washington 42-yard line, but Peters intercepted Denker and returned it 11 yards at the 7:47 mark.
UW scored its final touchdown at 3:34 when Callier scored from four yards out.
Sankey's 40 carries broke the record of 38 by Corey Dillon against Washington State in 1996.