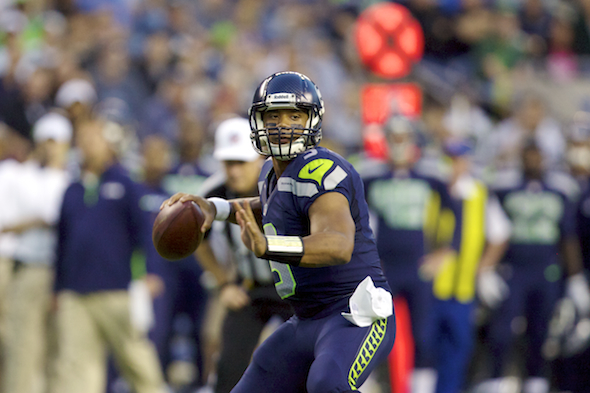 SCOREBOARD, BABY
Seahawks 23, at Houston Texans 20, OT
TERSE TRUTH
The only way the Seahawks could have been deader at halftime was finding 53 toe tags in the locker room. Overwhelmed in all phases by the hyper-aggressive Texans and a rowdy crowd in Houston, the Seahawks were still down 20-6 with eight minutes left.
But the dead men, behind Mr. Preposterous, quarterback Russell Wilson, walked, ran and then exulted, stunning the Texans with a rally to tie in regulation and an overtime field goal to win a game Sunday that will be chiseled into Seattle sports history for a day past forever.
"We call that grit," said a still-breathless Pete Carroll afterward. "That's what that game had."
The Seahawks have never before been 4-0, and no 4-0 team has reached that benchmark in a more flabbergasting manner.
FISTS TO SKY
Because of injuries, the Seahawks started a rookie, Michael Bowie, at right tackle, an inexperienced center, Lemuel Jeanpierre, and at left tackle Paul McQuistan, and lived to tell about it.
After foundering all day, the offense put together in the fourth quarter a seven-minute, 14-play, 98-yard touchdown drive — it began with a fumbled snap at the two-yard line — that actually covered 113 yards, counting ground lost via penalties. The score was a three-yard pass from Wilson to a wide-open Marshawn Lynch in the flat, cutting the Houston lead to 20-13 with 7:43 left.
*With 2:40 remaining, CB Richard Sherman, executing on a pass defense practiced all week, intercepted a weak throw in the flat from pressured Texans quarterback Matt Schaub and returned it, minus a right shoe, 58 yards for the game-tying touchdown.
In overtime, PR Golden Tate, defying all convention that mandates taking a touchback, caught a Texans punt a yard deep in the end zone and returned it to the 32-yard line, setting up the drive that resulted in a 45-yard FG from Steven Hauschka that was the triumphal margin in the Seahawks' ninth consecutive regular-season win.
In the fourth quarter, Wilson, responding to the weakness of his overmatched line, began to run from the pocket, scrambling five times for 53 yards. He finished the game with 77 yards in 10 carries, and was sacked five times for 32 yards in losses.
Lynch, who finished witgh 98 yards in 17 carries, had a mini-"Beastquake " run of 43 yards in the second quarter in which at least five defenders had hands on him and failed to bring him down.
PALM TO FOREHEAD
Inside three minutes, on third-and-4 at the Seattle 40-yard line, needing only a first down to perhaps wrap up the game, Texans coach Gary Kubiak, declining to run the ball, called for a swing pass to the tight end. Seahawks SS Kam Chancellor blitzed, forcing Schaub to throw across his body and off his back foot, and Sherman made his pivotal interception. Said Kubiak: "I take responsibility. I could have called a helluva lot better play." It was Schaub's third pick-six of the season.
In the Seahawks final drive in OT, Wilson completed a seven-yard pass to WR Doug Baldwin that became a 22-yard gain when DB Kareem Jackson was penalized 15 yards for unnecessary roughness after picking up Baldwin and slamming him to the ground. It was the biggest yardage play in the drive.
Lynch lost his first fumble of the season when LB Brian Cushing caught him behind the line of scrimmage, lifted him up and slammed him to the ground.
On Houston's second possession, Schaub threw to TE Owen Daniels, who bobbled the tipped ball. It went airborne and was tipped by two more Seahawks before FS Earl Thomas made a leaping interception inches before the ball hit the ground.
The Seahawks did not convert a third down until midway through the second quarter and had only four first downs and 88 yards of offense at the half. The Texans had 367.
WILSON!
Overall: "We didn't start the way we wanted. We had three offensive line starters out, we were against one of the best defenses and one of the best defensive linemen ever in J.J. Watt. We kept playing one play at a time and found a way. I told the guys on the sideline they're giving us a shot. They're not getting first downs like they were. We found  a way to make big-time plays in big-time situations. It wasn't the prettiest win in the world, but it sure does look pretty now."
On his running game: "Their defensive line is so good, I was just trying to find enough time. Our line did a great job, I'm so proud of them to step in like that. I just had to find a way to move the chains."
On Sherman's pick: "Their formation looked kinda funny. They were going to throw. Our defense is so intelligent and they had practiced that play. Kam (Chancellor) forced him to make a tough throw, Richard stepped in front and took it to the house."
At halftime: "The mood was great. We knew if we could stay in the moment, in the now, and just played one play at a time, we could do it. That resilient attitude showed up."
On running the ball late: "Marshawn and I talked about it. He told me, 'Russ, just take over.'"
On the impact of the win: "Our confidence stays the same. We never get too high. We're in close games,. and we find a way. We believe in each other all the time, no matter what the circumstances."
CARROLLING
On Houston's first half: "The Texans handed it to us in every way in the first half.  We were running in sand. The best thing going was to be able to go in the locker room at halftime."
On the shutout pitched by the Seattle defense in the second half: "To go for the final half and overtime and not give up a score against that team was crazy good."
On the big yardage given up in the first half: "We didn't get any pressure on the quarterback, and a few plays got away from us. We settled down in the second half."
On the interception by Sherman: "It was a fantastic call by (d-coordinator) Dan Quinn. We practiced exactly for that play this week. When he caught it, the world stopped for a second. It was really cool that it happened."
On the rally: "As the game went on, we got stronger. I love that about our team. It was a fantastic win over a very difficult football team."
On Wilson: "He was off the charts. His numbers don't matter. He kept saying, 'Just gimme a chance. Just gimme a chance.'"
On the newbies in the offensive line: "You could tell we were having a hard time picking guys up. Russell was running for his life. They had a great pass rush. For us to do this this with Bowie, Lemuel and Paul, that's at fantastic accomplishment."
Halftime: "We had one specific thought: It was about coming back one play at a time, being patient and keep believing."
On the change from last year's defense that had trouble closing out some games: "We were unable last year to end drives and get the ball back to offense. Now we are. It's a tremendous sign of growth. Big improvement for us. Last year we probably left three wins out on the field."
On persevering: "So many times, we could have said, 'Not today.'"
THE CLOSER
As the offensive line's problems piled up in the first half, it was plain that Houston's defense had the game won. And since the Seahawks' defensive coverages were a mess against the Texans — Seattle had given up more in a half against Houston that in any of the three entire games on the schedule so far — the best hope was to get home without being blown back to Boeing Field.
But no. Where there is Russell Wilson, there is always a way.
As Wilson recounted it, the sideline conversation between him and Marshawn Lynch said it all: "Marshawn and I talked about it. He told me, 'Russ, just take over.'"
With guts, wit and legs, Wilson took over, leading a 98-yard drive when nothing had been working. He took a beating with five sacks and numerous hits, but never was consumed with the shortfalls around him.
Yes, the Texans made a bushel of dumb plays late in the game that helped. But they were the home team, and the Seahawks were the ones playing with holes in the O-line.
There will be other wins and probably a few losses, but no game this season, and few in Seahawks history, will resonate like this one. Rarely is there a team about which it can be said, sincerely and accurately, that anything is possible.