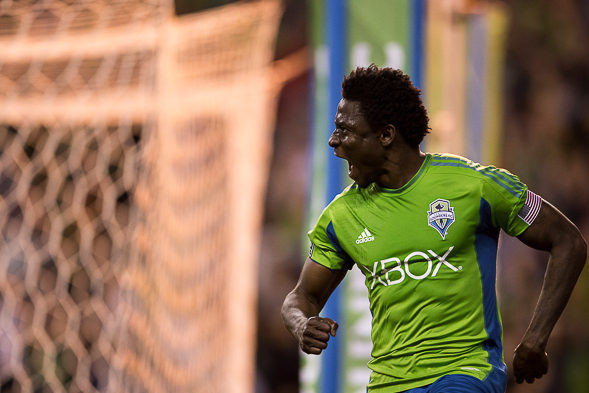 MATCH: Vancouver Whitecaps (11-11-8, 41 points, 7th, MLS West) at Seattle Sounders FC (15-9-6, 51 points, 2nd, MLS West). TYPE: MLS. WHEN: Wednesday, 7 p.m, CenturyLink Field. MEETING: 132nd all-time (Sounders lead 63-47-21); 8th MLS (Sounders lead 3-1-3). TV: KONG. RADIO: 97.3 KIRO FM; SPANISH: KOMO2 (Comcast Ch. 114) and La Gran D 99.3 FM.
As far as Sounders head coach Sigi Schmid is concerned, the only good news about losing 5-1, as his club did Saturday in Colorado, is that it won't have long to dwell on one of the worst debacles in franchise history. The Sounders are back at it Wednesday, hosting the Vancouver Whitecaps, and a favorable result will secure a fifth consecutive MLS Cup playoff appearance and the Cascadia Cup for the second time in three years.
"The quick turnaround from Saturday actually makes it easier for us," Schmid said. "Instead of thinking about what happened (at Colorado), we can get on with our next task and we know what that is, to secure a playoff spot and wrap up the Cascadia Cup in front of our fans.
"We want to come back and show who we are and what we are, and that the night in Colorado is not who we are. One game can't define your whole existence. Day in and day out, we've been a pretty consistent team. We had a game that didn't fit with what we normally do."
The Sounders, allowing the most goals ever in league play, respond well after setbacks. Following Seattle's previous two MLS losses, the club went on four-game (3-0-1) and seven-game (5-0-2) unbeaten streaks. After a 3-1 defeat at Houston Aug. 17, the Sounders won their next five. After a 1-0 loss at San Jose July 13, they won three of four.
Seattle has lost by three or more goals four times in franchise history, including 4-0 at Los Angeles May 26. After that rout, the Sounders responded with three wins in four outings.
"It's good to get your butt kicked at this time of the year, just to remind you that this is the real thing," said Schmid. "And if you don't come out completely prepared mentally and ready to give everything you have, you're going to get your butt kicked."
Making "getting on with our next task" difficult is that Schmid's club took another major roster hit Monday when coach Jurgen Klinsmann summoned forward Eddie Johnson and defender Brad Evans to the U.S. Men's National Team for World Cup qualifying matches against Jamaica and Panama. Johnson and Evans will miss the Vancouver match Wednesday and Seattle's duel with Portland Saturday.
Schmid will also be without Zach Scott, who drew a suspension for receiving double yellow cards in consecutive matches. Scott won't play against either Vancouver or Portland.
"Four cards in two games, that's way too many," said Schmid.
Midfielder Clint Dempsey (hamstring) and forward Obafemi Martins (ankle) remain game-to-game, although Martins is probable Wednesday. Midfielder Steve Zakuani and defenders Djimi Traore and Leo Gonzalez all missed the Colorado match but could be ready on either Wednesday or Sunday. Zakuani, in fact, is listed as a probable starter, as is rookie Dylan Remick, the club's second-round selection in this year's SuperDraft who made his MLS debut Saturday.
The Sounders, who play two of their final three regular-season matches on the road, are working on a club-record 14-game home unbeaten streak. If they extend that Wednesday (the Sounders have gone three games without a victory), they will become the second club to clinch a playoff berth (New York Red Bulls). Seattle can also qualify with a San Jose loss or draw. In Cascadia Cup play, a loss to Vancouver would force Seattle to win in Portland Sunday to capture the Cup.
Vancouver (11-11-9, 42 points) is in a desperate situation. The Whitecaps, who earned a 2-2 draw with Portland  Sunday, will suffer playoff elimination with a loss to the Sounders or a Colorado win at San Jose. Vancouver has proven to be a poor road team, going 3-8-4 with a minus-seven goal differential.
Vancouver will also be without two top players Wednesday. Defender Johnny Leveron (Honduras) and forward Darren Mattocks (Jamaica) have joined their national teams for World Cup qualifiers.

Key Vancouver player to watch Wednesday: Camilo Sanvezzo has scored his team's last four goals, including a twisting volley Sunday against the Timbers. Sanvezzo is tied for second in MLS with 18 goals, one behind Golden Boot leader Marco Di Vaio.
MLS Cup Playoffs

Ten clubs qualify for playoffs, including the top five in points from each conference at the end of the regular season. Sounders FC could become the second team to clinch a berth in the 2013 MLS Cup Playoffs with a win against the Vancouver Whitecaps Wednesday night. Seattle could also qualify with any result if the San Jose Earthquakes lose or tie against the Colorado Rapids Wednesday. If neither result happens, Seattle could clinch with a win against Portland Sunday. The New York Red Bulls became the first team to clinch a berth with a late 2-2 draw with the New England Revolution Saturday.
The fourth- and fifth-place teams will play a single knockout game, the winner advancing to the conference semifinals where it will face the first-place team.
Conference semifinals will be decided by a two-game, aggregate-goal format.
Conference championships will be decided by a two-game, aggregate-goal format.
MLS Cup will be hosted by the finalist that finished the regular season with the most points.
SOUNDERS PROBABLE LINEUP: Goalkeeper — Michael Gspurning. Defenders — DeAndre Yedlin, Djimi Traore, Jhon Kennedy Hurtado, Marc Burch. Midfielders — Osvaldo Alonso, Mauro Rosales, Adam Moffat, Steve Zakuani. Forwards — Obafemi Martins, Lamar Neagle.
WHITECAPS PROBABLE LINEUP: Goalkeeper — David Oustad. Defenders — Jordan Harvey, Jay DeMerit, Carlyle Mitchell, Lee Young-Pyo. Midfielders — Jun Marques Davidson, Nigel Coker, Matt Watson, Daigo Kobayashi. Forwards — Camilo Sanvezzo, Tommy Heinemann.
INJURIES: Seattle — Out, GK Josh Ford (right patella fracture). Questionable, MF Clint Dempsey (hamstring), GK Marcus Hahnemann (right knee), MF Shalrie Joseph (right knee sprain), D Leo Gonzalez (hip/groin). Whitecaps — Out, Davy Armstrong, Kory Kindle. SUSPENSIONS: Seattle — Zach Scott. Whitecaps — None. INTERNATIONAL DUTY: Seattle — Eddie Johnson, Brad Evans; Whitecaps — Johnny Leveron, Darren Mattocks.
SERIES: Dates to June 19, 1974, when the Sounders met the Whitecaps at Vancouver's Empire Stadium. The franchises have met 131 times while playing in various leagues, Seattle leading 63-47 with 21 draws. The most recent meeting was July 6 when the Whitecaps defeated the Sounders in Vancouver. Sounders are 3-1-3 against Vancouver in MLS play, scoring multiple goals in five of the seven meetings while recording two shutouts. Ten of Seattle's 12 goals in the series have been scored in the final 45 minutes, with five goals scored in the final quarter hour.
SOUNDERS STATS / NOTES
REGULAR-SEASON SUMMARY (MLS): Overall: 15-8-6. Last 5: W-W-W-D-D. Home: 10-1-4. Road: 5-7-2. Vs. East: 5-2-2. Vs. West: 10-6-4. March: 0-3-1; April: 1-0-1; May: 3-1-1; June: 2-1-0; July: 2-2-1; August: 4-1-0; September: 3-0-2; October: 0-0-0. Goals For: 39. Goals Against: 29. Differential: +10.
MLS TEAM STATS: Goals: 40 (T12). Goals Scored Avg.: 1.33 (11th). Goals Allowed Per Match: 1.13 (4th). Shots: 351 (17th). Shots On Goal: 112 (17th). Fouls Committed: 380 (8th). Fouls Suffered: 381 (T10). Yellow Card Cautions: 41 (15th).
10-0-3 when leading at the half, 4-1-3 when tied at the half, 1-8-0 when trailing at the half.
13-0-4 when scoring first, 2-9-1 when conceding first.

1.70 goals per game, best in MLS.

Sounders are first in the Cascadia Cup standings with seven points through four games.

Sounders are second in the Western Conference and fourth in the race for the 2013 Supporters' Shield.

Sounders have the most games remaining (4) in MLS.

Seattle has scored in a club-record 13 consecutive games, the longest active scoring streak in MLS.

Seattle's 14-game (10-0-4) home unbeaten streak is tied for the longest in MLS this season.

Sounders are unbeaten in 48 consecutive games (38-0-10) when scoring first, the longest active streak in MLS and second-longest streak in league history.

Sounders will win the Supporters' Shield with 61 points; earning 10 of the 12 remaining points..

Sounders have four matches remaining. Who they play, results this season: vs. Vancouver Wednesday (W 3-2, L 0-2), at Portland Sunday (D 1-1, W 1-0), at FC Dallas Oct. 19 (W 4-2, W 3-0), vs. LA Galaxy Oct. 27 (L 4-0, D 1-1). Sounders are 4-2-2 against their remaining opponents with 13 goals scored and 11 allowed.
SOUNDERS MLS LEADERS
| Category | Skinny |
| --- | --- |
| Starts | Yedlin 26, Gspurning 26, Gonzalez 25 |
| Goals | Johnson 9, Martins 8 Neagle 8 |
| Assists | Rosales 8, Evans 5, Martins 4, Neagle 3 |
| Shots | Neagle 52, Johnson 50, Martins 41 |
| Shots On Goal | Johnson 27, Neagle 20, Martins 16 |
| Fouls Caused | Alonso 48, Neagle 45, Gonzalez 33 |
| Fouls Suffered | Rosales 42, Johnson 35, Alonso 34 |
| Offsides | Johnson 37, Neagle 13, Evans 7 |
| Corner Kicks | Rosales 88, Burch 22, Neagle 16 |
| Cautions | Johnson 6, Traore 5, Hurtado 4, Gonzalez 4 |
| Ejections | 9 tied with 1 each |
COMING UP: Sounders play at Portland Saturday and at FC Dallas Oct. 19.
Seattle Sounders FC 2013 Schedule / Results

(15-9-6, 51 points, MLS; 1-1-0 CCL; 0-1-0 U.S. Open Cup)
| Date | Opponent | Time | TV | W/L | Score | Rec. |
| --- | --- | --- | --- | --- | --- | --- |
| 3/2 | vs. Montreal | 7:00 | KING | L | 1-0 | 0-1-0 |
| 3/6 | *at Tigres | 7:00 | Fox Soccer | L | 1-0 | 0-0-0 |
| 3/12 | *Tigres | 7:00 | NBCSN | W | 3-1 | 1-0-0 |
| 3/16 | ^Portland | 5:00 | NBCSN | D | 1-1 | 0-1-1 |
| 3/23 | ^at San Jose | 7:30 | KING 5 | L | 1-0 | 0-2-1 |
| 3/30 | ^RSL | 6:00 | KONG | L | 2-1 | 0-3-1 |
| 4/2 | *Santos | TBD | NBCSN | L | 1-0 | 1-0-0 |
| 4/9 | *at Santos | TBD | NBCSN | D | 1-1 | 1-1-0 |
| 4/13 | ^N. England | 1:00 | KONG | D | 0-0 | 0-3-2 |
| 4/20 | ^at Colorado | 3:00 | KONG | W | 1-0 | 1-3-2 |
| 5/4 | ^at Phila. | 4:30 | KONG | D | 2-2 | 1-3-3 |
| 5/8 | ^at KC | 5:30 | KONG | W | 1-0 | 2-3-3 |
| 5/11 | ^San Jose | 1:00 | KONG | W | 4-0 | 3-3-3 |
| 5/18 | ^FC Dallas | 7:00 | KING | W | 4-2 | 4-3-3 |
| 5/26 | ^at LA Galaxy | 8:00 | ESPN2 | L | 4-0 | 4-4-3 |
| 5/29 | #at Tampa | 4:30 | —– | L | 1-0 | 0-1-0 |
| 6/1 | ^at Chivas | 7:30 | KONG | W | 2-0 | 5-4-3 |
| 6/8 | ^Vancouver | 7:30 | NBCSN | W | 3-2 | 6-4-3 |
| 6/22 | ^at RSL | 6:30 | KONG | L | 2-0 | 6-5-3 |
| 7/3 | ^DC United | 7:00 | KONG | W | 2-0 | 7-5-3 |
| 7/6 | ^at Vancouver | 8:00 | NBCSN | L | 2-0 | 7-6-3 |
| 7/13 | ^at San Jose | 7:30 | KING | L | 1-0 | 7-7-3 |
| 7/20 | ^Colorado | 1:00 | KONG | D | 1-1 | 7-7-4 |
| 7/28 | ^Chivas | 8:00 | KONG | W | 2-1 | 8-7-4 |
| 8/3 | ^FC Dallas | 7:00 | KING | W | 3-0 | 9-7-4 |
| 8/10 | ^at Toronto | TBA | KONG | W | 2-1 | 10-7-4 |
| 8/17 | ^at Houston | 6:00 | KONG | L | 3-1 | 10-8-4 |
| 8/25 | ^Portland | 7:00 | ESPN2 | W | 1-0 | 11-8-4 |
| 8/31 | ^at Columbus | 4:30 | KONG | W | 1-0 | 12-8-4 |
| 9/4 | ^Chivas | 7:00 | KONG | W | 1-0 | 13-8-4 |
| 9/7 | ^Chicago | 7:00 | NBCSN | W | 2-1 | 14-8-4 |
| 9/13 | ^RSL | 7:00 | NBCSN | W | 2-0 | 15-8-4 |
| 9/21 | ^at LA Galaxy | 7:30 | NBCSN | D | 1-1 | 15-8-5 |
| 9/29 | ^New York | 6:00 | ESPN | D | 1-1 | 15-8-6 |
| 10/5 | ^at Colorado | 7:00 | NBCSN | L | 5-1 | 15-9-6 |
| 10/9 | ^vs. Vancouver | 7:00 | KONG | — | — | — |
| 10/13 | ^at Portland | 6:00 | ESPN | — | — | — |
| 10/19 | ^at FC Dallas | 1:00 | NBCSN | — | — | — |
| 10/27 | ^LA Galaxy | 6:00 | ESPN | — | — | — |
*=CONCACAF; ^=Major League Soccer; #=U.S. Open Cup