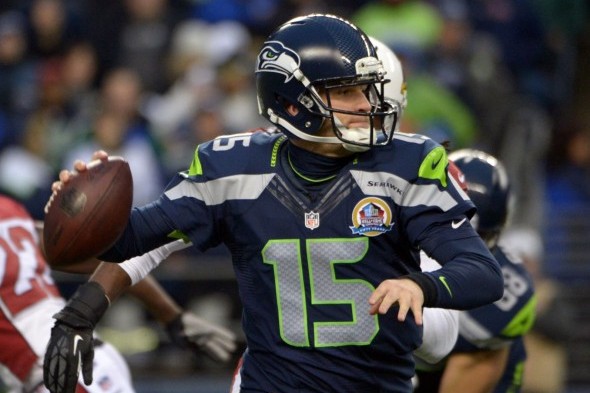 The Seahawks lost Sunday for the first time this season, 34-28 to Indianapolis, but quarterback Russell Wilson distinguished himself, nearly orchestrating the seventh fourth-quarter, game-winning comeback of his career. Wilson's passing numbers weren't huge — 210 yards, two TDs — and his passer rating (78.7) unimpressive, but he made two plays that demonstrated again why he's special.
In the second quarter, on a fourth-and-three from the Colts' 37, Wilson made an instantaneous decision to scramble for a first down rather than attempt a pass. He made it, gaining five yards. Two plays later, Wilson threw one of the prettiest balls of his career, a fade route down the left sideline for a 28-yard touchdown to former Husky Jermaine Kearse. Wilson could not have placed the ball in a better spot.
While the 1972 Miami Dolphins, the NFL's only undefeated team, squealed loudest as Andrew Luck finally dispatched the Seahawks (4-1) from the ranks of the unbeatens, Seattle fans were reminded again Monday how fortunate they are to watch Wilson work: The Oakland Raiders cut Matt Flynn one week after demoting him to clipboard duty.
Fifteen months ago, Flynn seemed to be the Seahawks' quarterback of the future after the club signed the veteran free agent from Green Bay. Attracted to Flynn because of two remarkable starts —  251 yards and three touchdowns at New England in 2010, and 480 yards and six TDs in 2011 against the Lions — Seattle awarded the most-wanted quarterback in 2012 free agency a three-year, $26 million contract, $10 million of it guaranteed.
No one thought too much of it when head coach Pete Carroll, at the outset of training camp, declared the quarterback job an "open competition" between Flynn and Wilson, the third-round draftee out of Wisconsin, figuring that to be a formality Flynn was pre-ordained to win.
In fact, the main question then was why the Seahawks bothered to draft Wilson in the first place after signing Flynn.
As the preseason unfolded, GM John Schneider and Carroll saw more than they could have imagined in Wilson. From there, everyone knows the rest, including Flynn's 2013 April Fool's Day trade to Oakland for two draft choices (a fifth-round pick in 2014 and a conditional choice in 2015).
Most insta-conclusions focused on the notion that Flynn had been a victim of bad timing, arriving in Seattle just as the Wilson meteor began its streak.
But an odd thing happened as Flynn positioned himself to become Oakland's franchise quarterback. He failed to beat out former Ohio State star Terrelle Pryor, who in two previous years with the Raiders threw 30 passes in four games.  Just as he'd failed to beat out Wilson the year before.
After stewing on the sidelines for three weeks, Flynn finally made his first start in a Week 4 loss to Washington as Pryor watched with an injury. Seven sacks and two interceptions later, coach Dennis Allen pitched Flynn under the bus, saying Flynn "wasn't able to see the field well."
In that game, the Raiders had eight possessions in the final two quarters, but only one longer than four plays. Flynn lacked pocket awareness and was sacked four times to go along with two lost fumbles. Even when his protection was adequate, he held the ball longer than he should have, maybe fearful of making a goof after having an interception returned for a touchdown in the second quarter.
Three days later, Allen demoted Flynn to No. 3 behind undrafted free agent Matt McGloin. Monday, the Raiders released Flynn, who has a fully guaranteed $6.5 million contract for 2013.
"I don't know exactly what the reason was, why it didn't work, but it didn't work," Allen said after Flynn's release.
Between Seattle and Oakland, Flynn made $14.5 million over parts of two seasons while receiving just one start, increasing his career total to three. He may not be a starting NFL quarterback, and Seahawks fans are joyful today he isn't theirs, but he'll have a story to tell his grandchildren. He also has one heck of an agent.