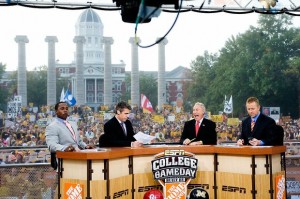 When College Gameday, ESPN's nationally revered morning talkshow, begins before dawn Saturday in the center of the University of Washington campus, Huskies supporters face a task as difficult as beating the No. 2 Oregon Ducks.
Upstaging the Ducks' fans.
Gameday host Chris Fowler Friday didn't shy from identifying one of his favorite schools to visit. It's not going to sit well with UW supporters already peeved about being forced to stay away from Washington State's Ol' Crimson flag.
"It would bother people to say that Oregon is one of our favorite places, but it is," he said Friday. "They've been the measuring stick for all West Coast Gamedays. The crowd gets there early. I always say you can't see them, but you can hear them at the beginning of the show. They love the Ducks and they turn out in big numbers. We've had great times in Eugene."
Co-host Desmond Howard, whose trademark Heisman Trophy pose was mocked by Huskies wide receiver Mario Bailey in the 1991 Rose Bowl, also proved incapable of not naming-by-name the Huskies' big brother to the south.
"I don't know if you've ever watched a show that we've done in Eugene, but it's phenomenal," he said. "It is absolutely phenomenal. I don't know if they just go straight from the bars to the set. Whatever they do, it works."
Losing nine in a row to a school that boasts flash and prowess only serves to rub Stolichnaya in the Washington wound. Being goaded by the ESPN analysts who after 19 years are finally making their first trip to Seattle after "countless close calls?"
That's too much to take.
"I get the sense that there's a passion here," Fowler said. "There's a real belief and that it's a long time coming. People want to show the world that Oregon is not better than Washington in terms of crowd support and passion for their team."
Fowler was asked about how the Huskies program is viewed nationally.
"A lot of that's going to be defined by what happens in this game, by what happens the rest of the season," Fowler said. "7-6 doesn't make a big impression nationally or locally. This kind of a game: Ending a nine-year drought, clearing that massive obstacle of what's been in the way of Washington's return to relevance.
"It's a great opportunity. We'll see if they're ready for it."
It should only serve to rev Dawg Pack members who plan on lining up at 3 a.m. Saturday for a show that starts three hours later. The predawn darkness during the first hour prompted Gameday coordinating producer Lee Fitting to place the set in Red Square, across from the Suzzallo Library, where lighting is good.
"Out there in Red Square is awesome," Fitting said. "It's a top-five location we've ever been to in terms of the visuals. It's spectacular."
What about the show itself?
Fans can expect videos of boats sailgating on Lake Washington, Fowler said. They also plan to highlight the city's rock music history and have numerous shots of campus. The purpose, after all, is to showcase the school.
"That sense of place is important to us," Fowler said. "The show should look and feel different depending on where we go every week. Seattle has a lot offer."
Gameday declined to announce the two celebrity guest pickers, though Fowler hinted it would be a male and a female considered legendary Huskies. (Injured Tennessee Titans quarterback and former UW star Jake Locker will be back town for Sunday's game against the Seahawks.)
Lee Corso caps the production by predicting a winner, then donning the winning team's helmet. Or at least, that's what he used to do. Fitting referred to his latest theatrics as a skit.
"Now it's full rehearsal, and he's talking about it for three days," Fitting said. "No matter how many times he does it, regardless of who he picks or what he says, it brings a smile to your face."
That may depend on the choice. Regardless, WSU fans can find solace in knowing that ESPN has promised protection for the tradition of the Ol' Crimson flag-bearer. The Cougars' streak of waving the flag in the Gameday crowd will reach 139 Saturday.
Fowler guaranteed it.
"We wouldn't know what to do if we turned around and there was no 'Ol' Crimson' flag behind us," he said. "It's been 10 years. It's a tradition. I know Huskies fans get agitated, but the flags are going to be there and the people are going to be left alone. If they have to be guarded — they're going to be left alone."