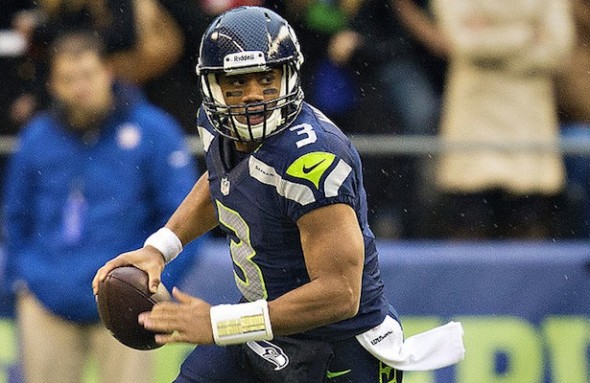 Russell Wilson is famous for studying film. A day after Seattle fell in the 2012 playoffs, 30-28 to the Atlanta Falcons in the NFC Divisional Round, the Seahawks quarterback rewatched the game instead of cleaning out his locker. Since then, nary a press conference passes without him making a reference in some way to the importance of preparation.
Tuesday he admitted the task becomes more difficult as the Seahawks shorten their preparation for a Thursday night game, in Phoenix against the Arizona Cardinals (3-3).
"I think the biggest thing is staying a little bit extra, staying a little bit later at night . . .  Mentally, just making sure I go through my checklist and having everything I go through every week — the third downs, the pressure looks and the first- and second-down stuff, red zone, two-minute situations," he said.
Liken it to perpetually cramming for a mid-term. Wilson meets every Monday with Seahawks coach Pete Carroll to gain a fuller grasp of the subject. The challenge this week? A Cardinals secondary led by two-time Pro Bowl cornerback Patrick Peterson.
"Whenever I have a chance to sit down with coach Carroll and ask him about the defensive techniques and what the defensive safeties are doing and the linebackers and the corners as well, I think that really helps me learn the game," Wilson said.
It's a way for Wilson to find another edge as defenses continue to adjust to his tendencies. Carroll's background is coaching defenses, so the two look at how opponents seek to counter Wilson, then brainstorm ways to respond.
Wilson firmly believes understanding how opponents attack can help him perform at a higher level. Carroll is his defensive brain.
"Coach Carroll is so bright-minded in defense, obviously, but also just in every facet of the game — special teams, offensive and defense," Wilson said.
In 2013, Wilson has looked solid if not spectacular, particularly in a dramatic fourth-quarter comeback for a 23-20 overtime win in Week 4 against the Houston Texans. His 61.4 percent completion marked buoyed by an 8/4 touchdown-to-interception ratio, though Seattle's passing game is 24th in the NFL (215 yards per game).
It's easy to point to the offensive line as the root of  the struggle with converting on third downs (tied 26th with 32.1 percent rate). They were better last week in pass protection with center Max Unger returned from a triceps injury during a 20-13 win against the Titans.
Another argument, one voiced increasingly by some Seahawks fans, is that Wilson's receivers aren't doing enough to get open.
"Let me tell you, and quote me on this," said wide receiver Doug Baldwin Tuesday in the locker room. "The receivers have no problem getting open. Now, you can take that however you want to. But the receivers on this team have no problem getting open."
Baldwin, whose precise route-running makes him Seattle's best third-down target, wasn't done.
"It pisses me off that that is continuously being said because we have probably some of the best guys in the NFL in our receiver room," said Baldwin, who this season has 21 catches for 344 yards and a touchdown.
"We don't get that much credit or that much pub(licity) because we don't throw the ball that often, but if you look down the line on how efficient we are when we do get the ball thrown to us, it's unparalleled."
Sherman candid about Peterson
Asked if he was similar to Peterson, cornerback Richard Sherman was typically candid, then atypically modest.
"I think he's a much better athlete than I am," Sherman said of Peterson. "He moves better. He's faster. He's different because he has so much speed. It allows him to play a little different than I play. I have to play straight technical football."
Sherman said he won't be talking any trash with Cardinals all-pro wide receiver Larry Fitzgerald, either.
"There's not really opportunities," he said. "It's just one of those games where you're too locked in. There's nothing really to talk about."
Injury report
The abbreviated week provides a greater chance that the Seahawks, already minus starting tackles Russell Okung and Breno Giacomini, will be down a few more starters. TE Zach Miller was a full participant in practice, and Carroll expects him to play against Arizona. Defensive end Chris Clemons missed practice with an elbow injury and isn't likely to play, Carroll said earlier in the week. Linebacker Bobby Wagner didn't practice, as he continues recovering from a high ankle sprain.
Running back Marshawn Lynch didn't practice (hip), though he rarely does during the regular season.