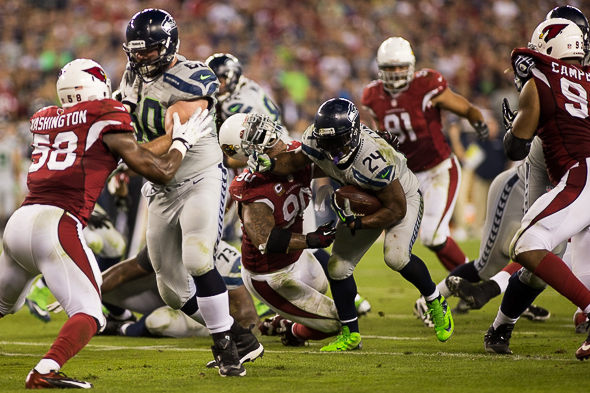 TERSE TRUTH
The statements Thursday were thick as a desert dust cloud. Russell Wilson threw a first-down pass while horizontal, in the grasp of a tackler and a moment from a faceplant. Marshawn Lynch knocked the helmet off Darnell Dockett as he ran through one of the baddest men on the planet. The defense had seven sacks and two interceptions.
The Seahawks won big on the road with big-time players.
The most cherubic question hanging over the club — can it win decisively on the road? — was answered decisively in a 34-22 win on national TV in Glendale, AZ., over the Cardinals, a short-week triumph that was also short, done by the end of the third period.
To reach a franchise-record 6-1 mark, the Seahawks scored touchdowns on the first two possessions, survived three strip-sacks of Wilson, converted seven of their first 10 third-down chances and buried Arizona QB Carson Palmer under wolf-grey apparel so thoroughly that NFL Network analyst Mike Mayock was moved to describe the defense as "eleven predators."
Having lost six of the past seven games in Phoenix, the Seahawks followed up a taut 20-13 home win Sunday over Tennessee four days later with a win whose mid-game drama evaporated after two touchdowns within four minutes of the third quarter for a 31-13 lead. While misplays and mistakes were numerous, the good stuff was sufficient to suffocate at home a division rival that was bludgeoned 58-0 in Seattle 10 months earlier.
FISTS TO SKY
In the third quarter, Wilson on third down scrambled left and was run down from behind by a tackler who had Wilson's legs wrapped up. As he fell, he kept his head and arm up, and a moment before he slammed down, flicked a short pass that diving TE Zach Miller caught for a first down.
Later in the same drive, Lynch, on a dive play from the six-yard line, stuck his forearm into the face of loudmouth, 290-pound DT Dockett. The big man's helmet popped off, his knees buckled and Lynch ran through him for a gain that left him inches shy of a touchdown. The Seahawks made it on the next play by faking to Lynch while Wilson found obscure, third-string tight end Kellen Davis (yes, he is a team member) alone in the back of the end zone.
On Seattle's first drive at the Arizona 31-yard line, Wilson ran right, away from a heavy pass rush and threw hard, high and fast to WR Sidney Rice, who broke off a post route and ran toward the end zone corner to make a touchdown catch that landed well beyond the reach of anyone but him.
On Seattle's second possession, Wilson, again under siege, looped another ball into the end zone, this one speared by Miller fully extended toward the goalpost. The catch, in Miller's hometown, showed why his recent injury absence was a big deal for the offense.
The play that set up the drive began after CB Brandon Browner and Arizona's star WR, Larry Fitzgerald, battled for possession of a long pass that became a jump ball.  FS Earl Thomas flew across their falling bodies at the Arizona 28-yard line to make a diving interception at the sideline as he flew out of bounds.
In the third quarter, Palmer, under pressure, threw softly off his back foot, and Browner stepped around an Arizona receiver at the Seattle 49-yard line for his first interception of the season. He rumbled free of harm until . . .
PALMS TO FOREHEADS
. . . he fell down for no apparent reason other than a heavy deposit of gravity underneath University of Phoenix Stadium. Lynch cleaned up his work two plays later for a 31-13 lead.
In the second quarter, Golden Tate, after a few misses earlier in the season, finally broke free for an apparent 54-yard punt return for a touchdown, only to have it nullified by an illegal block in the back by LB Mike Morgan.
The same Seahawks possession ended up with a fourth and one at the Arizona 42. Coach Pete Carroll called for a dubious QB sneak against the Cardinals' stout front, and Wilson was dropped for a yard loss. The Cardinals took over and drove to a field goal, their first points in six quarters against the Seahawks, who had run up 72 unanswered.
On Seattle's next possession that began at its 15, Wilson was strip-sacked by Arizona D-lineman Matt Shaughnessy, and the ball was recovered at the three, from where Rashard Mendenhall scored on the next play.
Late in the third period, another strip sack of Wilson produced another fumble recovered by Arizona. Six plays and 11 yards later, a field goal cut Seattle's lead to 31-16.
CARROLLING
On the win: "We wanted to get this done and feel good about our ability to win on the road. . . . The game got tight, and we pulled away."
Defense: "They got only 30 yards rushing and we got seven sacks. I'm really proud of that. We were really solid on the line of scrimmage. They never got anything going rushing. It's been that way for couple weeks like. I'd like to speed up our development along the D-line, but seven sacks is pretty good."
On Wilson: "Russell did a bunch of good stuff. He's become such a special aspect of our team. Unfortunately, he got knocked around some and we gave up fumbles. That happens sometimes."
On being 6-1? "We don't feel like we're playing as clean as we want. We haven't had an across-the-board clean game like we want. It feels like we're still a young team, still growing. I feel like we can overcome the things that are going in the wrong direction. But I'm still disappointed that we gave one away (the loss in Indianapolis) a couple of weeks ago."
On Arizona's mid-game rally: "We missed our chance on the (nullified) punt return, then things shifted. We didn't make a fourth down, and their pressure got better as the game went on. We didn't feel like they stopped us as much as we stopped ourselves."
On staying cool: "For a young bunch, we have a very strong resolve for handling the rigors of ups and downs. We don't like when it's not going right, but we don't lose our cool."
On converting third downs: "Seven of 12 is awesome. I know we have a good third down team; we know it's in us. When that happens, it'll be hard to stop us."
On Marshawn Lynch: "Marshawn keeps going, keeps churning, and he fires everyone up. He's a tremendously inspirational player. I don't know if people on the outside know what he means to us."
WILSON!
On the prone throw to Zach Miller: "It was just one of those plays. I kind of got away from the defender and Zach made a great play. I just made a little shortstop flip."
On Miller's return: "If we can spread the ball around, that's what we want. Sidney Rice got wide open on that big scramble, that's what we need. Miller's catch in the back of the end zone was sweet. Zach is such a great blocker, how he moves his feet . . . so strong. Kellen Davis got his first touchdown."
On Lynch: "Can anybody be any tougher? Can't be too many any better."
On TD in the first two drives: "(OC) Darrell Bevell called up some great plays. We stayed on schedule. The only negatives were my fumbles. I have to find a way. That's on me."
His goal is to be 1-0 every week, but did he realize he was 2-0 this week? "Oh, yeah. I guess that's right!"
THE CLOSER
The Seahawks have fixes to make, but right now they are remarkably adept at overcoming their shortfalls with spectacular playmaking. The returns to health of tackles Russell Okung Breno Giacomini and WR Percy Harvin have Seahawks fans dreaming of December. Controlling a game on the road was a first this season, a significant breakthrough.
Arizona is yet another team beset by mediocre quarterbacking. Looking around the league, there appears to be a 5-foot-11 guy standing 300 feet tall.