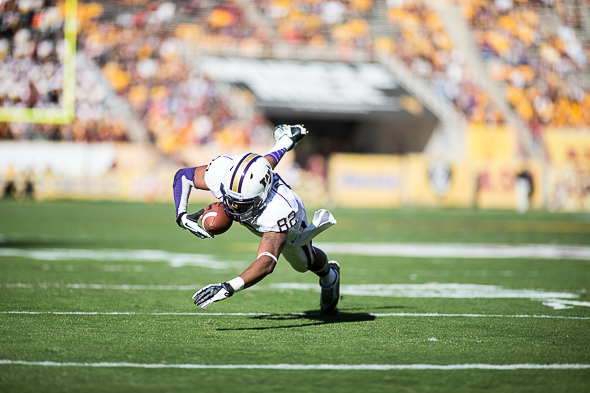 The cringe over Washington's three-game losing streak as an encore to the school's first 4-0 start since 2001 will abate over the next three weeks when the Huskies play winnable contests against California (1-6-0) and Colorado (3-3-0), both at Montlake. Assuming a rebound there, the Huskies will be bowl eligible by Nov. 9, a momentary sigh of relief for UW boosters before another stretch of angst arrives.
The Huskies play their final three at No. 12 UCLA (5-1), at No. 25 Oregon State (6-1) and at home against Washington State (4-4), which knocked down 38 points on Oregon last Saturday in a 62-38 loss.
As Washington demonstrated again last Saturday in its 53-24 erasure at Arizona State, the Huskies are never at their best when they play away from home. Under Steve Sarkisian, Washington is 6-14 in conference road games with only one of the six victories coming against a ranked opponent (USC, 2010).
It's actually worse than that. Only two of the six wins came against a team with a winning record at the time of the game – 4-0 USC in 2010 and 2-1 Utah in 2011 – The four other victories came against clubs with a combined record of 11-30 at game time, including 2-9 WSU in 2010 and 1-9 Colorado last year.
In Sarkisian's 14 road defeats (dating to 2009), Washington allowed 40 or more points eight times and 50 or more five times, including 53 Saturday, the most since surrendering 65 at Stanford in 2011.
Suddenly, Washington State looms as a threat to win the Apple Cup for the second consecutive year after rolling up 38 in Eugene against the Ducks (most allowed by Oregon this season), against whom the Huskies mustered 24 in Seattle. Washington State can't stop anybody, but can Washington take a shootout from the Cougars? WSU averages 30.8.
It's clear Washington is headed for a 7-5 or 6-6 regular-season finish, and that the Huskies, as Art Thiel pointed out in "Huskies Can't Keep Playing Hurt Price," are not yet ready to compete with top-tier Pac-12 teams, especially away from home. This is a major burr for Sarkisian and UW fans who expected better. On the other hand, what should the expectations have been?
Five years ago (2008), Washington went 0-12 under Tyrone Willingham, making UW one of 11 programs in NCAA history to finish 0-12 or worse in a single season. The "recovery" time for the seven teams before Washington and the three since is instructive in getting a handle on where the Huskies are and what expectations should be.
The short takeaway from 0-12 (or worse) teams: Recovery takes years and sometimes doesn't happen at all.
The worst of the 12, by record, was Army in 2003, which finished 0-13. Army never rebounded. In the 10 seasons since, Army is 35-79 with one winning season (7-6 in 2010) and one minor bowl game (2010 Armed Forces). The current Army team is 3-4 and has yet to stir the ghosts of Mr. Inside and Mr. Outside.
The following are the 12 FBS programs that finished 0-12 or worse. It took the first of the dirty dozen, the 1981 Colorado State Rams, five years to reach .500 and eight seasons to receive a bowl bid. Three of the 12 have yet to produce a winning season:
| Year | School | Coach | Rec. | Since The O-Fer |
| --- | --- | --- | --- | --- |
| 2003 | Army | Todd Berry | 0-13 | 35-79, 1 winning year (2010), 1 bowl |
| 1981 | Colorado St. | Sark Arslanian | 0-12 | 5 years to winning record, 8 to a bowl |
| 1998 | Hawaii | Fred von Appen | 0-12 | 7 bowl games but 0-6 this season |
| 2003 | SMU | Phil Bennett | 0-12 | 3 winning seasons but twice went 1-11 |
| 2005 | N. Mex. St. | Hal Mumme | 0-12 | 0 winning seasons, 0 bowls, 0-6 in '13 |
| 2006 | Duke | Ted Roof | 0-12 | 0 winning seasons, bowl game in 2012 |
| 2006 | Fla. Intl. | Don Strock | 0-12 | 4 years to winning record (7-6), bowl |
| 2008 | Washington | Ty Willingham | 0-12 | 3 +.500 records, 3 bowls in 4 years |
| 2009 | E. Michigan | Ron English | 0-12 | 11-21, no winnning seasons, no bowls |
| 2009 | W. Kentucky | David Elson | 0-12 | 2 +.500 records, 1 bowl game (2012) |
| 2012 | So. Miss | Ellis Johnson | 0-12 | Went 0-12 one year after going 11-2 |
After hiring June Jones in 1999, Hawaii made the swiftest turnaround, going 9-4 with an Oahu Bowl invitation one year following 0-12. Hawaii has posted four seasons of 10+ wins and played in seven bowl games since, including the 2008 Sugar Bowl. But the Hawaiians have managed only one winning season since and are 0-6 as we speak.
New Mexico State is still laboring with the effects of the 0-12 it had in 2005: No winning seasons, no bowl games, 0-6 this season.
More representative of the "O-Fer" bunch is Southern Methodist, 0-12 in 2003. Since the pratfall, the Mustangs have eked out three winning seasons but twice have plopped to 1-11. This year, they're 1-4.
In contrast to the 11 others that have experienced O-Fers, Washington looks pretty good with three winning seasons and three bowl trips in four years and the opportunity to make it 4-for-5 with a positive finish this season. Also, of the 12 O-Fer teams, Washington is the only one to receive a national ranking any time within five years of 0-12.
The Huskies have spent eight total weeks in the rankings since Willingham departed, including six consecutive this season. That streak ended last Sunday when the Huskies predictably dropped out of the AP and USA Today/Coaches polls.
Based on the post-0-12 experiences of the 11 clubs besides Washington to endure such a downer, it's impossible to say how long it will be before the Huskies become a Pac-12 title contender. They are closer now than they were a year ago, way closer than two years ago. But after losing by a combined 98-48 the past two Saturdays, the creep out of the mire is a long slog from done.