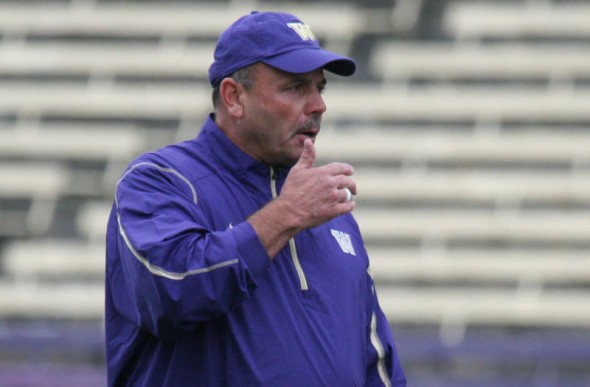 Washington offensive line coach Dan Cozzetto Wednesday looked as though someone only recently informed him that his trademark mustache was 25 years out of vogue. He was practically breathing gasoline after the Huskies wrapped up their mid-week morning practice, irate three days after his line turned in easily the most dreadful performance of the season in Saturday's blowout 53-24 loss to ASU.
In an interview with Dawgman.com's Chris Fetters, Cozzetto unleashed a damning evaluation after the Huskies' O-line allowed Keith Price to be sacked six times and totaled minus-five rushing yards.
"That was an abomination. It was embarrassing. It made me sick. It was one of the worst performances of my offensive fronts I've had in a long time," Cozzetto said. "We put our quarterback in that situation and we couldn't run the football. That falls totally on me. Totally on me. It's my job to get it fixed."
Dexter Charles — doubtful for Cal — missed the ASU game with a shoulder injury, and his replacement, junior Erik Kohler, struggled at times in his first start of the season at left guard. The lack of continuity certainly didn't help against a Sun Devils defensive line led by Will Sutton, a tackle pegged by ESPN entering the season as the second-best player in the conference.
"I see assignment errors. I see not playing physical enough. Not playing fast enough," Cozzetto barked. "I'm here to help them understand and get ready for battle . . . if we can't protect the quarterback we're in trouble."
Cozzetto saw it last season when the Huskies couldn't consistently protect Price. His confidence in teammates and play-calls dwindled at least in part because he didn't know when the next 300-pound defensive tackle was going to drive him downward. Opponents sacked Price 37 times in 2012 while he posted the lowest ESPN adjusted QBR rating of his career (48.3 out of 100).
That number is up substantially this season (69.8) and the sacks, despite the struggles against the Sun Devils, are down, albeit slightly (18). Assuming the Huskies make a bowl game, they're on pace to yield roughly 33 sacks. For a team that wants to rush the ball 60 percent of the time, that number should be better.
"We have got to get it done where we play our brand of football," Cozzetto said. "We have to rush the football. But we have to have a quarterback confident enough that will step back there and throw it and right now he's not, and I wouldn't be either."
Prior to last week, the offensive line mostly sidestepped attention by taking care of opponents quietly, using their uptempo attack to slowly chip away at defensive fronts. Through seven games, the strategy guided running back Bishop Sankey, who earlier in the year was leading the nation in rushing, to 921 yards (5.4 yards per carry) and 11 touchdowns (10 rushing, one passing).
Wednesday Cozzetto turned life-coach when asked if the Huskies' mindset allowed the latest of their consecutive losses to snowball out of control.
"Hell, that's life. You're going to have crises in your life," he said. "Hell, not everything is going to go smooth. You're going to have setbacks and all that. The biggest thing is what you're going to do. You gonna get off that floor or are you going to lay in that corner, or lay on that floor still?"
Price would simply like to stay away from going face down on the Husky Stadium turf, allowing the dinged thumb on his throwing hand a proper heal in a must-win Saturday against Cal.
"A couple throws got away from me, man," Price told reporters Wednesday, referring to his game against ASU. "They were bad misses. It wasn't like I barely missed. It was a couple bad ones. But like I said, I don't use my thumb as an excuse."
Price earlier in the week didn't participate fully in practice, saying he's been "living in the training room," which UW Steve Sarkisian Thursday referenced as reason for a better performance against the Golden Bears.
"I think there's some merit to that. I think that not only from the thumb perspective, but his overall body and even his mind, to clear his mind a little bit and watch Cyler (Miles) do some good stuff. It helped."