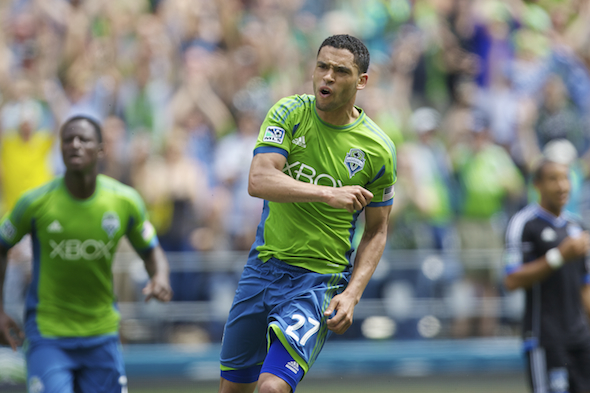 The Sounders lineup is battered but incrementally moving back to full strength as the club prepares for the second leg of the Western Conference semifinals Thursday at Portland's Jeld-Wen Field (8 p.m., NBC Sports).
Impressive is the list of injured that haven't been ruled out for their season-deciding match against the Timbers.
Defender DeAndre Yedlin, who left the knockout round match against Colorado with an ankle injury, went through a limited training regimen Tuesday at Starfire Soccer Complex in Tukwila. Defender Zach Scott practiced and is expected to play after sustaining a cracked rib in Saturday's 2-1 loss to Portland.
Obafemi Martins, the Nigerian striker responsible for eight regular season goals, could also return to the pitch after going through drills Tuesday. Martins hasn't played in a match since a groin injury sidelined him Oct. 9 in a 4-1 home loss to the Whitecaps.
Sounders coach Sigi Schmid is more averse to discussing injuries than a cat is to retrieving waterfowl, though Tuesday he did offer some insight as to whether Seattle can expect any of the three to play.
"They were able to do what we wanted them to do (today) so that was important," Schmid said. "DeAndre got through the portion of practice we wanted him to get through. Oba got through what we wanted him to get through — stepped it up from yesterday. That was really, really encouraging."
In order to reach the Western Conference Finals for the second consecutive year, Seattle has to beat Portland by two goals or tie the aggregate score by leading the match by one at the end of regulation. The latter would give Seattle a chance to win in overtime.
"We are as healthy as we can be right now," Schmid said.
Well, almost. Defender Leo Gonzalez didn't practice Tuesday, and his status for Thursday night is uncertain. Meanwhile, defender Osvaldo Alonso walked out of practice Tuesday sporting a slight limp and massive ice bag wrapped around his right knee.
"He took a little knock in the (Portland) game when he went in for one tackle but he was fine today," Schmid said. "He felt fine."
Even if every member of the afflicted plays against the No. 1-seeded Timbers, Seattle will be without forward Lamar Neagle, whom officials yellow-carded in the first leg of the second round. That pushed his season total to a mark that mandates a one-game suspension.
In the regular season, Neagle was one of the best bargains in all of American sports, totaling eight goals and four assists in 27 starts while making a sportswriter's salary ($44,000).
Despite his absence, players this week spoke optimistically of finally having the ability to form a rapport with each other.
"We've been working on a lot of shape, and becoming more organized, and making sure that everybody's is more familiar with the system and how our movements are going to be in the attack and defensively — just having more fluidity to our game and creating more chances," midfielder Clint Dempsey told The Seattle Times Monday. "I think that we created a lot of chances last game."
No team in MLS has experienced Seattle's level of roster upheaval, whether because of injuries or U.S. Men's National Team call-ups.
"Looking back, we couldn't enjoy having everybody on the field," said midfielder Mauro Rosales. "It was very tough with injuries. We couldn't play like the team that we wanted to be. That was one of the reasons in the final part of the season that we couldn't make our final push into the first or second position."
Another was that Schmid continually had to field different starting lineups. That didn't change after goalkeeper Michael Gspurning picked up a foolish red card for touching the ball outside the area against Colorado. Gspurning sat out Saturday's loss. Tuesday Schmid declined to announce whether he would start Gspurning or 41-year-old back-up Marcus Hahnemann.
"I think a lot of teams would like to have our issues and our problems in goal and would like to have our two goalkeepers," Schmid said. "I feel like I'm repeating myself all the time. I feel no differently.
"Again, we're very confident in Michael. Marcus has come on and done a good job as well so I'm confident whichever way we go. That's going to be with me. Portland will find out on Thursday."