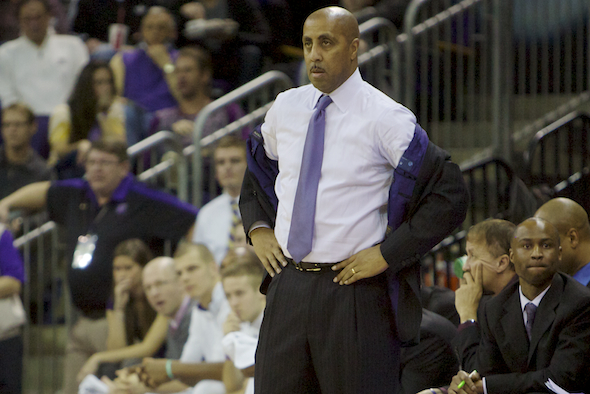 GAME: Montana (1-2 overall, 0-0 Big Sky) at Washington (2-3 overall, 0-0 Pac-12). WHEN: Tuesday, 6 p.m., Alaska Airlines Arena. TYPE: Non-conference. MEETING: 52nd (UW leads 42-9). RANKINGS: Neither school ranked. COACHES: Wayne Tinkle, Montana; Lorenzo Romar. TV: Pac-12 Networks. RADIO: KJR 950 AM
Lorenzo Romar has always favored trips to Madison Square Garden, believing they toughen up his Huskies for the rigors of conference play. The difference between Washington's trip to New York for the 2K Classic this year, as opposed to previous seasons, is that UW didn't get toughed up as much as it got tenderized.
Indiana whacked Washington 102-84 last Thursday and Boston College followed Friday with an 89-78 victory that left the Huskies 2-3 and wondering how they are going to cope with the injuries they have, especially to 6-foot-10 red shirt sophomore Jernard Jarreau, out for the season with an ACL tear.
Without Jarreau and 6-foor-7 Desmond Simmons, also injured, the Huskies don't have much of an inside presence except for senior Perris Blackwell. They haven't rebounded particularly well or played much defense, either, ranking 12th among Pac-12 teams in rebound margin (-4.0) and 12th in scoring defense (87.0).
Montana and Long Beach State, on Washington's docket this week, should provide some relief. Montana, due in Tuesday night, is 1-2 in the early going with a 85-74 loss to San Francisco, a win over South Dakota State 77-69, and an 85-54 thumping administered by Minnesota 84-54.
Kareem Jamar is Montana's leading scorer at 22.0 points per game and also its leading rebounder at 8.0. Keron DeShields is the only other Grizzly in double figures at 10.0. Montana's major weakness is rebounding: The Grizzlies average 27.7, which should come as a relief to the smallish Huskies.
Washington's C.J. Wilcox is coming off the best-scoring game of his career, a 30-point effort in the loss to Boston College. While Wilcox has been a big part of the show so far, he hasn't been all of it. Five different Huskies have scored in double figures in three of the season's first five games.
SERIES: Dates to Jan. 15, 1924, when Washington defeated Montana 42-24. The schools have not met since 2010 when the Huskies recorded a 63-59 victory at Alaska Airlines Arena in a game in which Isaiah Thomas scored 13 points and added three assists. Washington has not lost to Montana since 1995.
UW STATS / NOTES
REGULAR-SEASON SUMMARY: Record: 2-3. Home: 2-1. Road: 0-0. Neutral: 0-2. Vs. Pac-12: 0-0. Vs. Pac-12 North: 0-0. Vs. Pac-12 South: 0-0. Vs. Non-Conference: 2-3. Points: 414 (82.8). Field Goal Pct.: 43.0 3-Pt. FG Pct.: 33.3. Free Throw Pct.: 75.0. Rebounds: 179 (35.8). Assists: 62 (12.4). Turnovers: 44 (8.8). Steals: 29 (5.8). Blocks: 23 (4.6). Points Against: 435 (87.0). Opp. FG Pct.: 51.0. Opp. 3-Pt. FG Pct.: 36.2. Opp FT Pct.: 64.3. Opp. Rebounds: 203 (40.6). Opp. Assists: 73 (14.6). Opp. Turnovers: 64 (12.8). Opp. Steals: 19 (3.8). Opp. Blocks: 26 (5.2).

PAC-12 RANKINGS: Scoring Offense — 5th (82.8). Scoring Defense — 12th (87.0). Scoring Margin — 12th (-4.2). FG Pct. — 11th (43.0). FT Pct. — 2nd (75.0). 3-Pt FG Pct. — 8th (33.3). Rebound Margin — 12th (-4.8). Blocked Shots — 8th (4.6). Assists — 11th (12.4). Steals — T8 (5.8). Turnover Margin — 1st (+4.0).
RATINGS PERCENTAGE INDEX: Nov. 11 — 99; Nov. 18 — 96; Nov. 24 — 150.
When C.J. Wilcox knocked down 30 against Boston College, he became Washington's first 30-point scorer since Terrence Ross had 32 vs. Northwestern March 16, 2012. Wilcox also became the first Husky to drop at least five 3-pointers (6-for-7) in a game since Scott Suggs in 2012.
Wilcox is 17th (1,408) all-time in UW scoring and 17 points away from tying for 15th (1,425). With 225 career 3FGs made, he is second and six away from tying the school record for 3FG made (231, by Ryan Appleby, 2005-09)
Senior Perris Blackwell is averaging nearly a double-double with 11.8 points and 8.0 rebounds.
Sophomore guard Andrew Andrews is averaging 13.0 points per game, up 7.8 from last season.
Through five games, Washington is the No. 1 free throw shooting team in the Pac-12, hitting 75.0 percent.
Washington is averaging 82.5 points per game, the highest through the first five games of a season since 2010-11.
The Long Beach State game, scheduled for Nov. 30 at Alaska Airlines Arena, will start at 3:30 p.m. and be televised by Pac-12 Networks.
UW HEAD COACH: Lorenzo Romar (332-220 overall, 239-132 UW) is coming off a year in which the Huskies finished 18-16 overall and ended the year with a loss to Brigham Young in the National Invitation Tournament. Romar has taken the Huskies to the NCAA Tournament six times and won three Pac-10 Tournament titles (2005, 2010, 2011).
2012-13 Washington Regular-Season Statistics
| Player | G | FG% | 3FG% | FT% | RPG | APG | PPG |
| --- | --- | --- | --- | --- | --- | --- | --- |
| C.J. Wilcox | 5 | .468 | .412 | .853 | 4.4 | 2.6 | 23.0 |
| A. Andrews | 5 | .412 | .385 | .692 | 3.6 | 2.0 | 13.0 |
| N.W-Goss | 5 | .433 | .000 | .571 | 4.2 | 4.8 | 12.0 |
| P. Blackwell | 4 | .459 | .000 | .722 | 8.0 | 0.6 | 11.8 |
| D. Johnson | 5 | .364 | .235 | .895 | 2.8 | 0.4 | 10.6 |
| M. Anderson | 5 | .500 | .500 | .750 | 6.8 | 1.8 | 9.6 |
| Shawn Kemp | 5 | .500 | .000 | .571 | 2.2 | 0.0 | 4.0 |
| H. Stewart | 5 | .333 | .200 | .000 | 0.6 | 0.0 | 1.0 |
| J. Jarreau | 1 | .000 | .000 | .500 | 1.0 | 0.0 | 1.0 |
| Q. Sterling | 1 | .000 | .000 | .500 | 0.0 | 0.0 | 0.0 |
| G. Dierckx | 5 | .000 | .000 | .000 | 1.0 | 0.0 | 0.0 |
| J. Taylor | 3 | .000 | .000 | .000 | 0.0 | 0.2 | 0.0 |
| Total | 5 | .430 | .333 | .750 | 35.8 | 12.4 | 82.8 |
| Opponents | 5 | .510 | .362 | .643 | 40.6 | 14.6 | 87.0 |
University of Washington 2013-14 Schedule
| Date | Opponent | UW Rnk | Opp Rnk | W/L | Score | Rec. |
| --- | --- | --- | --- | --- | --- | --- |
| 11/6/13 | @vs. Cent. Wash | — | — | W | 95-65 | 0-0 |
| 11/10/13 | vs. Seattle U. | — | — | W | 88-78 | 1-0 |
| 11/14/13 | vs. UC Irvine | — | — | L | 86-72 | 1-1 |
| 11/17/13 | vs. E. Wash | — | — | W | 92-80 | 2-1 |
| 11/21/13 | *vs. Indiana | — | — | L | 102-84 | 2-2 |
| 11/22/13 | *vs. Boston Co | — | 18 | L | 89-78 | 2-3 |
| 11/26/13 | vs. Montana | — | — | — | —– | — |
| 12/30/13 | vs. L. Beach St. | — | — | — | —– | — |
| 12/8/13 | vs. SD State | — | — | — | —– | — |
| 12/14/13 | vs. Idaho St. | — | — | — | —– | — |
| 12/17/13 | at Tulane | — | — | — | —– | — |
| 12/22/13 | vs. UConn | — | — | — | —– | — |
| 12/27/13 | vs. Miss. Valley | — | — | — | —– | — |
| 12/29/13 | vs. Hartford | — | — | — | —– | — |
| 1/2/14 | at ASU | — | — | — | —– | — |
| 1/4/14 | at Arizona | — | — | — | —– | — |
| 1/8/14 | vs. Utah | — | — | — | —– | — |
| 1/12/14 | vs. Colorado | — | — | — | —– | — |
| 1/15/14 | at Cal | — | — | — | —– | — |
| 1/18/13 | at Stanford | — | — | — | —– | — |
| 1/23/14 | vs. Oregon | — | 19 | — | —– | — |
| 1/25/14 | at OSU | — | — | — | —– | — |
| 2/1/14 | at WSU | — | — | — | —– | — |
| 2/6/14 | at Utah | — | — | — | —– | — |
| 2/9/14 | at Colorado | — | — | — | —– | — |
| 2/12/14 | vs. Stanford | — | — | — | —– | — |
| 2/15/14 | vs. Cal | — | — | — | —– | — |
| 2/19/14 | at Oregon | — | 17 | — | —– | — |
| 2/22/14 | at OSU | — | — | — | —– | — |
| 2/28/14 | vs. WSU | — | — | — | —– | — |
| 3/6/14 | vs. UCLA | — | 22 | — | —– | — |
| 3/8/14 | vs. USC | — | — | — | —– | — |
| 3/12/14 | ^Pac-12 | — | — | — | —– | — |
| 3/13/14 | ^Pac-12 | — | — | — | —– | — |
| 3/14/14 | ^Pac-12 | — | — | — | —– | — |
| 3/15/14 | ^Pac-12 | — | — | — | —– | — |
| 3/18-19/14 | NCAA 1st 4 | — | — | — | —– | — |
| 3/20-23/14 | NCAA 2nd, 3rd | — | — | — | —– | — |
| 3/27-30/14 | NCAA Reg. | — | — | — | —– | — |
| 4/5/14 | NCAA Semis | — | — | — | —– | — |
| 4/7/14 | NCAA Final | — | — | — | —– | — |
@=Exhibition; *=2K Sports Classic; ^=Pac-12 Tournament