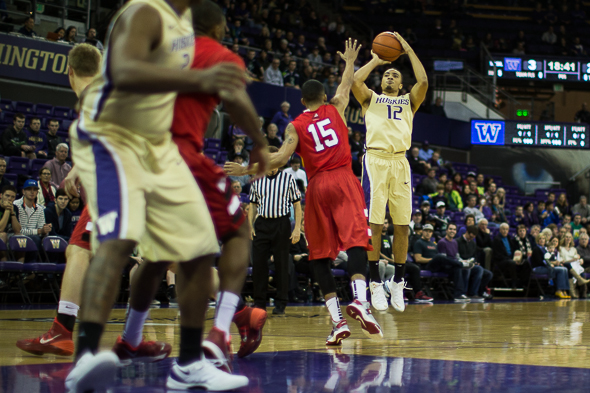 GAME: Washington (8-5 overall, 0-0 Pac-12) at Arizona State (10-2 overall, 0-0 Pac-12). WHEN: Thursday, 5 p.m., Wells Fargo Arena. TYPE: Conference. MEETING: 77th (UW leads 40-36). RANKINGS: Neither school ranked. COACHES: Lorenzo Romar, Washington; Herb Sendek, Arizona State. TV: ESPNU. RADIO: KJR 950 AM
A University of Washington basketball team that seems fated to finish among conference bottom feeders commences Pac-12 play Thursday at Arizona State. The Huskies defeated the Sun Devils seven consecutive times and are 20-5 against them during the Lorenzo Romar era, but ASU is off to a 10-2 start while UW struggled to go 8-5.
The Huskies, who face No. 1-ranked Arizona Saturday in Tucson, are opening conference play on the road for the third time in the past four seasons and will play four of their first six league games away from Alaska Airlines Arena.
Romar has an inexperienced group  — only C.J. Wilcox, Andrew Andrews, Shawn Kemp Jr. and Desmond Simmons have seen action in a Pac-12 game — and it has struggled defensively. Washington allowed 79.2 points per game, worst mark in the Pac-12 and 316th among 345 Division 1 schools. Arizona State averages 79.8 and has an RPI of 69 to Washington's 180.
"The way they are going about their business, they are just a very good basketball team," Romar said of the Sun Devils. "We're really impressed with Arizona State. They have so many weapons."
Romar cited two, point guard Jahii Carson and center Jordan Bachynski. Carson knocked down 32 against Washington at Alaska Airlines Arena last season and averages 19.6 points and 5.8 assists. The 7-2 Bachynski averages 13 points and 9.8 rebounds.
"Jahii Carson is a dynamite point guard," Romar said. "We know what he's capable of doing. He does a great job of distributing the ball and he's really impressive. A guy like that, he's tough to cover.
"Bachynski down low really protects the rim. Along with those two guys, Arizona State has other players who are really good. A lot of weapons."
Last year, the Huskies started the conference season 4-0, winning their first three road games (at WSU, Cal and Stanford).
"We didn't do so well after that," said Romar, whose Huskies went 18-16 overall and 9-9 in conference play.
"It's murderer's row this year," Romar said. "There aren't a whole lot of weak links in the conference. But we feel we're improving. Despite being 8-5, we have confidence."
SERIES: Dates to 1978, when Washington won 69-62 at Hec Edmundson Pavilion. Washington has won the last seven meetings, including a 68-59 decision in Tempe last Feb. 23. In that game, senior Abdul Gaddy delivered one of his finest performances with 13 points, seven assists and five rebounds.
UW STATS / NOTES
REGULAR-SEASON SUMMARY: Record: 8-5. Home: 7-2. Road: 1-1. Neutral: 0-2. Vs. Pac-12: 0-0. Vs. Pac-12 North: 0-0. Vs. Pac-12 South: 0-0. Vs. Non-Conference: 8-5. Points: 1048 (80.6). Field Goal Pct.: 45.0. 3-Pt. FG Pct.: 36.0. Free Throw Pct.: 77.4. Rebounds: 469 (36.1). Assists: 177 (13.6). Turnovers: 149 (11.5). Steals: 74 (5.4). Blocks: 50 (3.8). Points Against: 1030 (79.2). Opp. FG Pct.: 49.6. Opp. 3-Pt. FG Pct.: 34.8. Opp FT Pct.: 65.9. Opp. Rebounds: 416 (32.0). Opp. Assists: 171 (13.2). Opp. Turnovers: 154 (11.8). Opp. Steals: 65 (5.0). Opp. Blocks: 55 (4.2).

PAC-12 RANKINGS: Scoring Offense — 4th (80.6). Scoring Defense — 12th (79.2). Scoring Margin — 12th (+1.4). FG Pct. — 11th (45.0). FT Pct. — 1st (77.4). 3-Pt FG Pct. — 7th (36.0). Rebound Margin — 7th (+4.1). Blocked Shots — 8th (3.8). Assists — 10th (13.6). Steals — 7th (5.6). Turnover Margin — 8th (+0.38).
RATINGS PERCENTAGE INDEX: Nov. 11 — 99; Nov. 18 — 96; Nov. 25 — 150; Dec. 2 — 218; Dec. 9 — 198; Dec. 15 — 198; Dec. 23 — 170; Dec. 30 — 180.
Shooting 77.4 percent from the line, best under Lorenzo Romar through the first 13 games; 77.4 ranks third in the NCAA.
Senior C.J. Wilcox ranks eighth all-time in UW scoring with 1,559 points and is tied for 12th in Pac-12 career 3-pointers with 250.
Wilcox ranks second in the conference in scoring at 20.5, second in free throw percentage at 89.4 and T2 in 3-pointers made per game at 2.92.
6-5 against top-10 opponents under Romar and hold a 30-49 all-time mark against top 10 teams.
Nigel Williams-Goss has an assist-to-turnover ratio of 1.5, second best in the Pac-12 by a freshman.
Sophomore Andrew Andrews is averaging 15.0 points over his past three while making 84 percent of his free throws.
UW HEAD COACH: Lorenzo Romar (338-222 overall, 245-134 UW) is coming off a year in which the Huskies finished 18-16 and ended with a loss to Brigham Young in the National Invitation Tournament. Romar has taken the Huskies to the NCAA Tournament six times and won three Pac-10 Tournament titles (2005, 2010, 2011).
2012-13 Washington Regular-Season Statistics
| Player | G | FG% | 3FG% | FT% | RPG | APG | PPG |
| --- | --- | --- | --- | --- | --- | --- | --- |
| C.J. Wilcox | 13 | .447 | .411 | .894 | 4.2 | 3.0 | 20.5 |
| A. Andrews | 13 | .374 | .333 | .781 | 4.3 | 2.4 | 13.1 |
| N.W.-Goss | 13 | .455 | .333 | .641 | 4.5 | 4.3 | 12.6 |
| P. Blackwell | 12 | .576 | .000 | .667 | 7.3 | 0.7 | 12.0 |
| M. Anderson | 13 | .526 | .429 | .754 | 7.0 | 2.1 | 8.4 |
| D. Johnson | 13 | .352 | .235 | .875 | 2.2 | 0.8 | 8.1 |
| D. Simmons | 3 | .500 | .500 | .533 | 2.7 | 0.3 | 5.7 |
| Shawn Kemp | 13 | .559 | .000 | .583 | 2.0 | 0.7 | 3.5 |
| J. Taylor | 8 | .417 | .400 | .750 | 0.3 | 0.7 | 1.9 |
| G. Dierckx | 9 | .000 | .000 | .000 | 0.9 | 0.1 | 0.0 |
| Total | 13 | .450 | .360 | .774 | 36.1 | 13.6 | 80.6 |
| Opponents | 13 | .496 | .348 | .659 | 32.0 | 13.1 | 79.2 |
University of Washington 2013-14 Schedule
| Date | Opponent | UW Rnk | Opp Rnk | W/L | Score | Rec. |
| --- | --- | --- | --- | --- | --- | --- |
| 11/6/13 | @vs. Cent. Wash | — | — | W | 95-65 | 0-0 |
| 11/10/13 | vs. Seattle U. | — | — | W | 88-78 | 1-0 |
| 11/14/13 | vs. UC Irvine | — | — | L | 86-72 | 1-1 |
| 11/17/13 | vs. E. Wash | — | — | W | 92-80 | 2-1 |
| 11/21/13 | *vs. Indiana | — | — | L | 102-84 | 2-2 |
| 11/22/13 | *vs. Boston Co | — | 18 | L | 89-78 | 2-3 |
| 11/26/13 | vs. Montana | — | — | W | 83-79 | 3-3 |
| 12/30/13 | vs. L. Beach St. | — | — | W | 92-89 | 4-3 |
| 12/8/13 | vs. SD State | — | 24 | L | 70-63 | 4-4 |
| 12/14/13 | vs. Idaho St. | — | — | W | 85-66 | 5-4 |
| 12/17/13 | at Tulane | — | — | W | 73-62 | 6-4 |
| 12/22/13 | vs. UConn | — | 10 | L | 82-70 | 6-5 |
| 12/27/13 | vs. Miss. Valley | — | — | W | 95-80 | 7-5 |
| 12/29/13 | vs. Hartford | — | — | W | 73-67 | 8-5 |
| 1/2/14 | at ASU | — | — | — | —– | — |
| 1/4/14 | at Arizona | — | 1 | — | —– | — |
| 1/8/14 | vs. Utah | — | — | — | —– | — |
| 1/12/14 | vs. Colorado | — | — | — | —– | — |
| 1/15/14 | at Cal | — | — | — | —– | — |
| 1/18/13 | at Stanford | — | — | — | —– | — |
| 1/23/14 | vs. Oregon | — | 10 | — | —– | — |
| 1/25/14 | at OSU | — | — | — | —– | — |
| 2/1/14 | at WSU | — | — | — | —– | — |
| 2/6/14 | at Utah | — | — | — | —– | — |
| 2/9/14 | at Colorado | — | 20 | — | —– | — |
| 2/12/14 | vs. Stanford | — | — | — | —– | — |
| 2/15/14 | vs. Cal | — | — | — | —– | — |
| 2/19/14 | at Oregon | — | 10 | — | —– | — |
| 2/22/14 | at OSU | — | — | — | —– | — |
| 2/28/14 | vs. WSU | — | — | — | —– | — |
| 3/6/14 | vs. UCLA | — | —d | — | —– | — |
| 3/8/14 | vs. USC | — | — | — | —– | — |
| 3/12/14 | ^Pac-12 | — | — | — | —– | — |
| 3/13/14 | ^Pac-12 | — | — | — | —– | — |
| 3/14/14 | ^Pac-12 | — | — | — | —– | — |
| 3/15/14 | ^Pac-12 | — | — | — | —– | — |
| 3/18-19/14 | NCAA 1st 4 | — | — | — | —– | — |
| 3/20-23/14 | NCAA 2nd, 3rd | — | — | — | —– | — |
| 3/27-30/14 | NCAA Reg. | — | — | — | —– | — |
| 4/5/14 | NCAA Semis | — | — | — | —– | — |
| 4/7/14 | NCAA Final | — | — | — | —– | — |
@=Exhibition; *=2K Sports Classic; ^=Pac-12 Tournament