By David Eskenazi and Steve Rudman
Long before Bo Jackson and Deion Sanders nationally and Nate Robinson locally, Donald Eugene (Gene) Conley reigned as the quintessential multi-sport athlete. For more than a decade spanning the early 1950s through the mid-1960s, the Richland, WA./Washington State product became – and remains – the only athlete to win championship rings in two of the four major American sports.
Along the way, Conley compiled numerous bragging rights, not all of which are included in his standard stat sheets.
He struck out Ted Williams in a major league All-Star Game, shattered Billy Martin's jaw with a punch, and held Wilt Chamberlain to 19 points while nursing a hangover.
He won a World Series ring with the 1957 Milwaukee Braves, three NBA championship rings with the Boston Celtics from 1959-61, and is the only man to play for three different pro franchises — Boston Braves (NL), Boston Red Sox (AL) and Boston Celtics (NBA) — in the same city.
Over a six-year span, Conley played the equivalent of 12 professional seasons, split between Major League Baseball and the National Basketball Association. In all, he played 22 pro seasons.
His teammates included Bill Russell and Hank Aaron, two of the larger icons of their sports, as well as numerous Hall of Famers.
Conley earned credit for the victory in the 1955 All-Star Game at Milwaukee's County Stadium, where he entered in the 12th inning and fanned future Hall of Famer Al Kaline, two-time batting champion Mickey Vernon and two-time RBI champ Al Rosen. He also made All-Star teams in 1954 and 1959.
Conley helped the Celtics win the NBA title with a Game 5 victory over the St. Louis Hawks April 11, 1961, and within two weeks threw eight scoreless innings to beat the Washington Senators 6-1 at Fenway Park as Celtics teammates Bill Russell and K.C. Jones watched from the stands. "It was ice cold," Conley said. "I looked up in the stands and Bill Russell and K.C. Jones were sitting there freezing to death."
Conley spent his 11 major league seasons from 1952 to 1963 with four teams – Boston Braves (1952), Milwaukee Braves (1954-58), Philadelphia Phillies (1959-60) and Boston Red Sox (1961-63) – and his pro basketball career with the Celtics (1952-54, '58-61) and New York Knicks (1962-64). Not once in those overlapping years did he enjoy a day off.
He is the only player to earn Minor League Player of the Year honors two times and appear in three major league All-Star Games.
Conley went 91-96 with 888 strikeouts and a 3.82 ERA while pitching for the Braves, Phillies and Red Sox, and averaged a combined 5.9 points and 6.3 rebounds with the Celtics and Knicks.
Eleven of his NBA teammates earned induction into the Basketball Hall of Fame (Bob Cousy, Ed McCauley, Bill Sharman, K.C. Jones, Sam Jones, Frank Ramsey, Bill Russell, Tommy Heinsohn, Satch Sanders, Tom Gola and Richie Guerin) and six of his baseball brethren made the Baseball Hall of Fame (Warren Spahn, Eddie Matthews, Red Schoendienst, Richie Ashburn, Robin Roberts and Carl Yastrzemski).
Conley came out of Muskogee, OK., born Nov. 10, 1930, the middle of three children. Introduced to sports as a youngster, Conley participated in football, basketball, swimming and track, and was a knothole gang member of the Class C Muskogee Reds of the old Western Association.
Raymond Conley relocated his family to Richland, WA., in 1942, when Gene was 12, a move prompted by economic opportunity.
"It was during the war years and dad went up to Hanford to work on the atomic bomb project," said Conley. "Everybody gathered from all over the country to build that bomb and my father heard about it, so we made the move. We hopped the train and took it to Richland, where my dad went to work for the government."
At Richland High, Conley lettered in baseball, basketball and track (high jump, shot put), particularly distinguishing himself in baseball. In his senior year, he lost only one of 10 starts, batted .500 and earned a coveted invitation to represent the Northwest in the annual Hearst All-Star Game, a competition that pitted high school all-stars from the New York area against the top players from the rest of the country.
Conley served as captain of the U.S. All-Stars for games at the Polo Grounds and Yankee Stadium, where he was the starting and winning pitcher.
In basketball, the 6-foot-8 Conley averaged 15 points and led the Richland Bombers to their first state tournament berth, earning All-State honors. In track, he finished second at state in the high jump with a leap of 6-3.
Offered numerous scholarships, Conley chose Washington State, although not without pushback by several schools that sought his services.
"I had a brother, Ray Conley, who was a (WSU) sophomore and two years older," Conley said. "So I figured I might as well go to Washington State. One of the coaches there was Jack Friel and he knew me as a basketball player and high jumper."
Friel offered Conley financial assistance and told him to get in touch with a Pontiac dealer in Spokane that would furnish Conley with a car, provided he worked as a salesman at the dealership. Conley figured he couldn't lose and accepted Friel's offer.
But before he could register for school, three students came to the campus barracks where Conley was sleeping one night, ordered him into a car and drove him to Moscow, ID. They kept him overnight and, the next morning, asked him to shoot some baskets. A man Conley believes was an Idaho football coach tried to talk him out of going to WSU and switch to Idaho, offering him a car, his brother a car, and money from a slot machine operation.
"I got kidnapped," Conley said. "It was a shyster deal. I didn't like Idaho too much and wanted to go to a bigger school."
Conley had to telephone his father in Richland, who threatened to call the police if Conley's abductors didn't drive him back to Pullman. They eventually did, and Friel threw a stink when he heard about it. But Idaho wasn't the only guilty party. Practically every school in the Pacific Coast Conference interfered with Conley's enrollment at WSU, several receiving fines for tampering.
Conley captained his freshman basketball team and, as a sophomore, led the varsity to the PCC's Northern Division championship. He led WSU in scoring and nearly engineered an upset of UCLA for the overall PCC championship (Cougars lost on a buzzer beater).
During the spring of 1950, playing under head coach Buck Bailey, Conley starred for the Washington State baseball team that went 29-6 and finished runner-up at the College World Series. He pitched in 16 games, winning five, including two shutouts, saving two more and averaging .417 at the plate.
In basketball, Conley was twice honorable mention All-America, leading the Cougars in scoring with a 20.0 average.
"I played two sports in high school and two in college," Conley said. "I wasn't challenged, that's why I just kept doing it. Plus, I needed the money. So I didn't stop. I wore a jockstrap year-round."
During his summers at WSU, Conley pitched semipro baseball in Walla Walla, drawing scouts from almost every major league team. He also received offers to play professional basketball from the Minneapolis Lakers and the Tri-Cities Blackhawks, forerunners of the Atlanta Hawks.
At first, Conley declined the offers, knowing that his family didn't want him to sign any professional contracts until he finished school. But the offers kept increasing.
"Eventually, the offers were fantastic," Conley said. "When they want to give you a bonus of $2,500 and a contract worth $3,500, plus a car, how can you refuse?"
Conley signed with the Boston Braves in August 1950 and played his first full season of Class A ball in 1951 with Braves affiliate Hartford of the Eastern League. Earning $350 per month, Conley became an immediate sensation. After a month, he was 5-1 and had a fastball, according to the Society For American Baseball Research, that compared favorably to Van Lingle Mungo's, who had once starred in the Eastern League.
Conley tossed a one-hitter at Schenectady June 10, became an Eastern League All-Star, ultimately Eastern League MVP and finished 20-9 with a 2.16 ERA, earning Minor League Player of the Year for the first time.
Conley made the Braves' roster in 1952, along with fellow rookie Eddie Matthews, split the year between Boston and AA Milwaukee, and then joined the Celtics as the 90th pick in the NBA draft, in large part because of his relationship with Bill Sharman.
The two met while Conley attended Washington State and played minor league ball during the summer.
"We played against each other in Toledo," Conley said of Sharman, who had a four-year minor league baseball career before joining the Celtics. "I struck him out. Later, Sharman recommended me to Red Auerbach. I had never heard of the Boston Celtics, but I made the team. McCauley, Cousy, Sharman and those guys were so good I couldn't believe it."
For the next half-dozen years, Conley played baseball and basketball almost continuously, never making more than $55,000 in a year from both sports. He spent the 1953 baseball season with the AA Toledo Mud Hens and went 23-9, earning his second Minor League Player of the Year award. So enthused were the Braves over his potential that they paid him $5,000 not to play basketball that winter.
"I had," Conley said, "a few highlights."
Back with the Braves in 1954, he went 14-9 and finished third in National League Rookie of the Year voting. Teammate Hank Aaron finished fourth.
"I started off as a phenom," Conley said. "That first year, I beat the Dodgers five straight times."
On Aug. 31, 1954, Conley threw a complete-game, three-hit shutout against Brooklyn, beating Don Newcombe 2-0. He fanned Duke Snider three times and induced Jackie Robinson into an 0-for-3.
In a pair of three-hitters May 22 and July 6, 1955, both against the Cubs, he made Ernie Banks go 0-for-8. In a day game against the Cubs May 2, 1959, he fanned 11, including Banks twice. In a 12-inning, complete game May 12, 1955, he beat the Dodgers 2-1, pinning 0-for-5s on Snider and Carl Furillo and an 0-for-4 on Robinson.
A few guys knocked Conley around: Future Hall of Famers Nellie Fox hit .533 (8-for-15) off him, Orlando Cepeda .500 (14-for-28) and Stan Musial .372 (16-for-43), but Willie Mays hit .253 in 79 at-bats and Harmon Killebrew .200 in 18 plate appearances. Conley also recorded double figures in wins five times, including 15 in 1962.
Used mainly in a backup role and as a defender/rebounder off the bench, Conley never produced gaudy numbers in the NBA. But he averaged 12.9 points and 13.8 rebounds per 36 minutes and had one of his more memorable outings in 1964, his last year in the league, while playing for Eddie Donovan's Knicks.
With the Knicks scheduled to play at Oakland against the San Francisco Warriors, Conley asked Donovan for an off day before the game so he could return to Richland to visit family. Donovan agreed. While there, Conley hooked up with a few old drinking buddies and, during the evening's wassail, bet them all $5 that the Knicks would hold Wilt Chamberlain to fewer than 19 points. Wilt averaged 44.8.
"Wilt was the strongest man in the world," said Conley, who entered the game somewhat off form from the previous night's entertainment. "There was another guy on our team, Paul Hogue, and he was the center. Well, we pushed Wilt and shoved him and hacked him, and we liked to get killed out there, but we held him to 19. My (drinking) buddies never paid up. I never got the $5."
"Had he concentrated on basketball, he would have been a really big-time, great player," Heinsohn, his Celtics roommate, said of Conley. "But he was a significant backup player who was strong and could rebound and run, which is what we wanted to do."
In addition to winning the 1955 All-Star Game, Conley pitched in the 1957 World Series for the Milwaukee Braves, his most notable teammates were Hall of Famers Spahn and Aaron, the best player Conley saw.
"We broke in together in 1954," Conley said of Aaron. "You could just see it, the stance he had when he hit the ball. He was a line drive hitter and he attacked the balI. I've always thought he was the best all-around player player I ever saw. I also liked Stan Musial, Willie Mays and Carl Yastrzemski. They could play any position, infield or outfield. But if you want one, I'd take Hank Aaron. He wasn't as exciting as Willie Mays, but he did everything."
Conley said that if he needed one out to win the World Series, the last batter he would want to face wasn't Aaron or Mays, but Jackie Robinson, primarily responsible for Conley losing to the Dodgers 2-0 May 2, 1955 at Ebbetts Field.
Entering the bottom 12th in a 0-0 pitcher's duel with Brooklyn's Carl Erskine, Conley struck out Gil Hodges, bringing Robinson to the plate.
"If Jackie didn't get a hit, he'd work you for a walk, or get his elbow in the way and get hit by a pitch, anything to get on base," Conley said. "He was a tough competitor."
Robinson worked Conley for a walk and presented such a threat to steal that Conley didn't pay enough attention to the next batter.
"Robinson was really bothering me, and he kept bothering me," said Conley. "He worked me to get on, then he worked me at first base, and then I hung one to Carl Furillo, who beat me with a home run. Robinson had a funny gait, but he was really smart."
Conley's vote for the best basketball player of his heyday: Bill Russell, a teammate in Boston, a foe when Conley played for the Knicks.
"Bill was like a cat on the floor, but all of the Celtics were great. I loved every one of them. I didn't realize it until later, but all of them are in the Hall of Fame, and I had a ball playing for them. Red Auerbach was fair, mean, ornery and tough. But Russell was the best. I used to share a ball with him when we warmed up, and I remember once when he came to New York, while I was with the Knicks, I shook hands with him before the game at Madison Square Garden.
"You're not going to do it to me in front of my people (Knicks fans), are you?" Conley asked Russell.
"Got to do it, got to do it," Russell told Conley.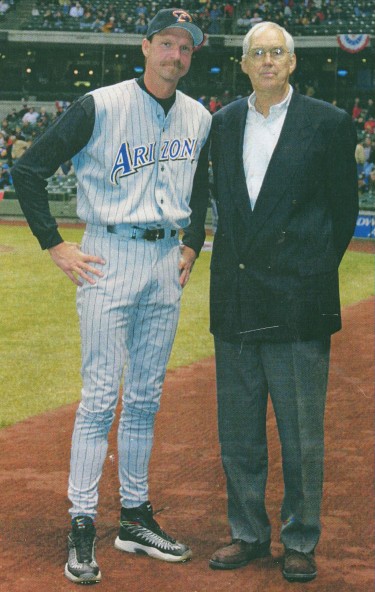 "I still keep in touch with Heinsohn, and I get calls from Frank Ramsey," Conley said. "I think they call to see if I'm still alive."
Although Conley pitched in the majors through 1963, he suffered a shoulder injury – probably a rotator cuff  tear — in June of 1955 that robbed him of his fastball. Sporting an 8-3 record, he entered a June 15 game against Philadelphia and delivered a pitch to Granny Hamner and heard something pop in his shoulder.
"Even my catcher, Del Crandall, heard it," Conley said. "I was a real good journeyman pitcher the rest of my career. I don't want to tell anybody I was a journeyman because I get letters all the time telling me how great I was."
The Billy Martin incident also occurred when Conley pitched for the Phillies.
"I was pitching a game in Cincinnati," Conley said. "This pitcher on the other team threw a couple of pitches inside to me and then hit me. We had a fiery manager, Gene Mauch. I started down to first base. All of a sudden, I saw Mauch running by me as fast as he could. He was going after the pitcher for hitting me. I ran out there and here comes Billy Martin racing in there.
"Boy, I let him have it. I smacked him a good one. He did a full gainer, everything got real quiet. He turned around and said, 'Conley, I'm going to get a stepladder and get you next time.' "
Conley's two-sport lifestyle was born out of financial necessity. He needed his basketball income to support his three young daughters and was always careful how he spent his paychecks. At the peak of his success, he lived with his family in a trailer park.
"It was nice pay. No way I would call it a hobby," said Conley. "I did it to make a living and raise my family."
Playing year-round caused conflicts. In the spring of 1959, the Celtics had a long playoff run and Conley decided to remain with the team rather than report to spring training with the Braves. As a result, they traded him to Philadelphia March 31 that year.
In 1960, the Phillies offered Conley $20,000 to forgo basketball the next winter. Conley made a counter offer of $25,000 that ended the negotiation and resulted in the Phillies trading Conley to the Red Sox Dec. 15, 1960. Conley always referred to the swap as "the biggest trade in baseball" because, at 6-foot-8, he was dealt for Frank Sullivan, who stood 6-foot-7.
Year-round competition left Conley physically and emotionally drained and may have contributed to the strangest incident of his career. As the 1962 baseball All-Star break approached, Conley sported a 9-9 record and believed he could make the All-Star team, becoming one of the few men to pitch for both leagues in the game, if he could beat New York in Yankee Stadium for his 10th victory. It didn't happen. The 31-year-old Conley lasted one-third of an inning and lost 13-3.
Consoling himself with several beers, Conley began to worry about his future. Later, as the Red Sox were en route to the airport, the Red Sox's team bus was stalled in traffic. Conley made the instant decision to get off the bus and remain in New York for a few days and hit the bars, convincing teammate Pumpsie Green, Boston's token black player, to join him. Green did, and the next day Conley decided that the pair should fly to Jerusalem, where Conley could rediscover God and his fastball.
Green begged off. Conley would have made the trip, but didn't have a passport, and sheepishly returned to the Red Sox, who fined him $1,500. Boston newspapers had a field day with the story, but Conley, who later admitted "I was just tired and cracking up," dug in and logged 241 innings, a workload that helped ruin his arm. By 1963, he was done. In 1966, he took his last drink.
After his retirement, Conley worked for a duct tape company in Boston. Two years later, he founded his own paper company (Foxboro Paper Co.) that dealt in industrial packaging supplies. He owned the firm for 36 years until he retired. He relocated to Clermont, FL., where he played golf and watched the Orlando Magic in his free time. Conley and wife Kathryn moved permanently to their vacation home in Waterville Valley, NH., in 2010.
Conley's last significant involvement in sports came more than two decades ago when he and Kathryn became the catalysts behind the formation of the NBA Old Timers Association, which lobbied the league to provide pensions for players who retired before 1965. Their initiative proved successful in 1988 when the NBA and the Players Association agreed to extend benefits to early players.
"When I look back, I don't know how I did it, I really don't," Conley said. "I think I was having so much fun that it kept me going. I can't remember a teammate I didn't enjoy."
Today, Conley is 83, has a pacemaker and cares for Kathryn. He can't wear any of his rings because his fingers are arthritic, but he's in fine shape mentally.
"I got to pitch in the Polo Grounds and Yankee Stadium as a high school kid and as a major leaguer," said Conley. "I got to play in Madison Square Garden while I was in college and as a pro. I had fun, I really had fun, maybe too much fun."
————————————–
Many of the historic images published on Sportspress Northwest are provided by resident Northwest sports history aficionado David Eskenazi. Check out David?s ? Wayback Machine Archive.? David can be reached at (206) 441-1900, or at seattlesportshistory@gmail.com