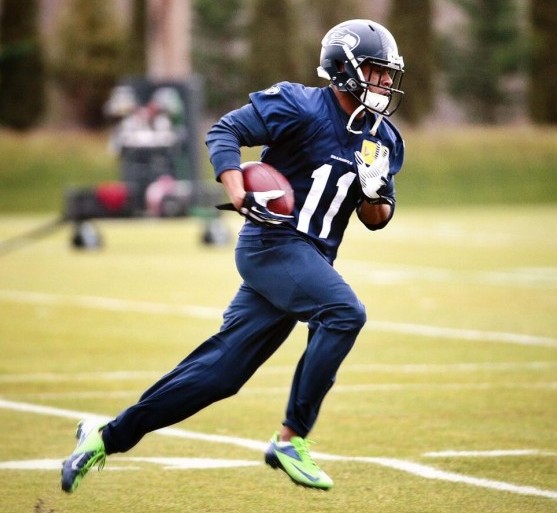 RENTON — Seahawks WR Percy Harvin practiced Thursday for the first time since aggravating his hip Nov. 17 against the Minnesota Vikings. Whether he plays again this season remains a question that nobody in the Seahawks organization is answering. However, a pair of players were willing to offer some details of the wide receiver's long road back from the surgery Harvin underwent in August to repair a torn labrum in his hip.
Seattle QB Russell Wilson said after Thursday's padless practice, in which Harvin stretched and ran but didn't do several drills, that the pair had indeed played catch in Renton Monday.
"I was able to throw with him for a good 15 minutes," Wilson said. "I didn't throw too much. I threw with him, played a little pitch-and-catch. He did a great job."
Seahawks coach Pete Carroll, who doesn't meet with the media until Friday, apparently saw enough Monday to change his mind about Harvin's status.
Carroll early Monday hinted Harvin might go on injured reserve before announcing later that afternoon that Harvin would practice Thursday.
"He's ready to go I think, but we'll see," Wilson said. "He's gotta listen to the trainers and coach Carroll, and how he's feeling."
The club will see how Harvin, acquired via trade last off-season for a first round and seventh round pick in the 2013 draft, and a 2014 third-round pick, responds to the increased workload. Harvin wasn't available to speak with media Thursday, and likely won't until late next week, but hinted Monday through his Twitter page that he would play again this season.
12's see u in 2 weeks … It's go time once again

— Percy Harvin (@Percy_Harvin) December 31, 2013
CB Richard Sherman said having Harvin back in uniform provided an emotional boost on an otherwise cold, windy day at the Virginia Mason Athletic Center's outdoor practice field.
"It's nice, man. Obviously, he's one of the most dynamic players in the league. So it's going to be one of those things where he has a chance to help us in the playoffs," Sherman said.
"Anytime you can get him, you're happy to have him."
Wilson, who would rather suffer a head blow from a rushing defensive lineman than speak ill of a teammate, was equally quick to wonder what adding a game-breaking wide receiver could do for Seattle's Super Bowl aspirations.
"To see Percy Harvin out there is exciting," Wilson said. "We've been wanting him out there the whole year, obviously. But guys that have stepped up have done a tremendous job.
"If we can get Percy Harvin back, he is one of the best players in the National Football League, and he has been for the past four or five years. To get him back out on the field you can see his effect, you can sense his ability."
Against Minnesota, Harvin made a juggling, over-the-shoulder reception on a touchdown drive and later brought back a kickoff 58 yards, showing the cheetah-like speed that helped earn him a six-year, $67 million contract, $25.5 million of which is guaranteed.
"Just to have him out there, I'm happy for him," Wilson said. "I really hope he can play in the playoffs. I hope he can get out there and get that feeling again of being a big-time football player like he always has been.
"That just adds another element to our game. If we can add Percy Harvin, he's explosive as can be, he has a great knack for the game. He's very physical. He loves to make big-time plays. If we can get him out there that would be great."
How has Harvin handled the rehab process?
"He's done a tremendous job of staying focused on what he can do to keep himself healthy, and prepare and get his legs ready to go. Get his lungs ready to run again. That's not easy," Wilson said. "He's like a racehorse. When you see him run, he can run for days."
Like most of a Seahawks team that prides itself on disproving doubters, Harvin isn't having any trouble staying motivated.
And to all the haters who tried to kick when I was down … Can't express how much fuel u added to my fire ….

— Percy Harvin (@Percy_Harvin) December 31, 2013