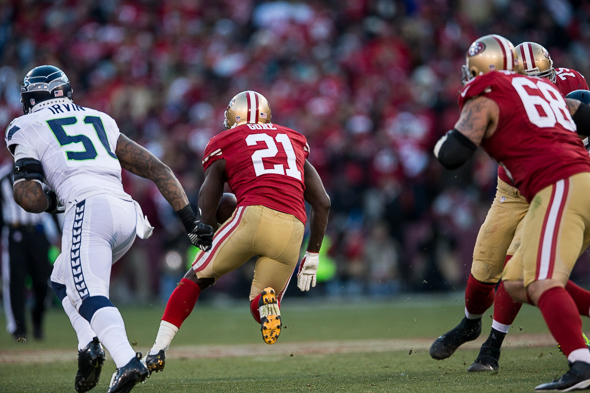 RENTON — Nine games into the regular season, Pete Carroll had a bit of an epiphany: Before the Seahawks could form one of the league's most consistent run defenses, they had to get back to basics.
The day after averting seasonal disaster with a desperate, 27-24 overtime win against winless Tampa Bay, Carroll, a steadfast believer in consistency, put a plan in motion.
"We had a significant, special meeting to make a statement of where we are and where we want to go, and how we were going to go about it," Carroll said Thursday, recalling the Nov. 4 gathering.
The Seahawks yielded back-to-back, 200-yard rushing performances to the Rams and Buccaneers. They were 8-1, and had the inside track to the No. 1 seed in the NFC, but they weren't disciplined at the line of scrimmage and, in Carroll's mind, tackling well in the open field. Tampa Bay RB Mike James torched them for 158 yards. St. Louis RB Zac Stacy racked up 134.
Carroll asked his players for more.
"Sometimes it's the coaches that have to stay with it and keep pushing the issue," Carroll said. "So we pushed the issue to them about becoming the best fundamental football team in the NFL. That's what we were working to become, Everybody kind of latched on to it."
Defensive coordinator Dan Quinn Thursday said the midseason meeting was aimed at something in which the Seahawks' defense prides itself:
Hitting.
"When those games happened, we really tried to have a commitment, saying, 'Hey, let's get back to playing a really physical style that we want to play, and that includes outhitting guys,'" Quinn said. "It was really just in changing the attitude.
"We didn't have a scheme change or a philosophy change in that way. It was more, 'Hey, let's do the things that we do really well.' For us, that was hitting our fits and really playing aggressive at the line of scrimmage."
The Seahawks finished seventh in the NFL in rushing yards allowed, tied with the Broncos. They surrendered 3.9 yards per carry. With a few exceptions — Frank Gore's 51-yard run in a Week 14 loss to the 49ers, and a stretch of bad tackling in last week's win over the Saints — players adopted the coaching staff's message.
It was a shift in focus that Carroll couldn't help but praise, without pause, during Thursday's press conference.
"Everybody saw it and could understand it; I thought we made a turn," Carroll said. "I thought we turned our focus on the real basics of football, which is blocking and tackling and leverage — all of the things that are so important. We stayed with that emphasis throughout, and I think it's really made a difference in our football team. It's helped us in numerous ways."
It has helped propel Seattle to Sunday's NFC Championship against the 49ers, a team that runs a man-blocking scheme the Seahawks both thrived on and struggled against during the regular season.
In a 29-3 home win in Week 2, the Seahawks held Gore to 16 yards on five carries. In the rematch, a 19-17 loss at Candlestick, Gore was held in check until S Earl Thomas was out of position to make a key tackle late in the fourth quarter. The mistake let Gore free for 51 yards into Seahawks territory.
"I think the hardest part is because Gore is a smaller guy he gets real low," Seahawks S Kam Chancellor said. "He runs downhill and behind his big tackles and guards. He does a good job of that, picking and choosing which hole to go in, then he's straight up field. I think he does a great job at finding holes."
The big run let the Niners run the clock down, then send in PK Phil Dawson to knock through the game-winning, 22-yard field goal with less than a minute left.
In the Sunday rematch that is expected to be low-scoring and close, bottling up Gore before he reaches the second level could be the difference between a trip to Super Bowl XLVIII or an extended vacation.
Chancellor understands well the stakes.
"If you're not gap sound, good running backs like Frank Gore will find that hole. So we just have to be gap sound on defense and learn from the mistakes that we've had in the past."