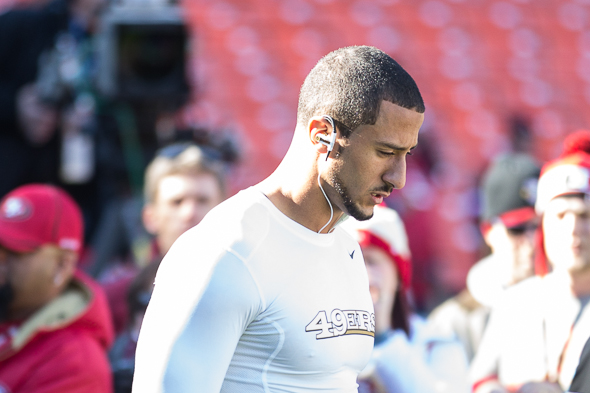 Colin Kaepernick's season is finished, but that didn't keep him from showing up in New York Thursday and issuing a little smack-talk directed at Seahawks CB Richard Sherman.
In an exclusive interview with the New York Post, Kaepernick criticized Sherman's post-game rant following Seattle's 23-17 win against the 49ers in the NFC Championship.
Per the newspaper's NFL columnist, Bart Hubbuch:
"His comments were ridiculous," Kaepernick said of Sherman. "If you have to tell people how good you are, then how good are you really?"
On San Francisco's final offensive play of the NFC title game, Kaepernick tried WR Michael Crabtree in the back corner of the end zone from 18 yards. Sherman, who was in coverage, jumped, twisted, and tipped the pass to teammate Malcolm Smith for a game-saving interception.
"If I throw the ball one foot farther, it's a TD and now you're the goat, Richard Sherman," Kaepernick said.
After the interception, Sherman flashed the choke sign to Kaepernick before coming off the field. Sherman was flagged 15 yards for unsportsmanlike conduct. The NFL fined him $7,875, the standard amount for a player penalized for taunting.
"Did that make you feel better about yourself?" Kaepernick said, speaking of Sherman.  Then go ahead, because I'm not worried about you."
The interception sent the Seahawks to Super Bowl XLVIII. Minutes after the end, Sherman was so excited he launched into a self-praising speech during an interview with Fox reporter Erin Andrews. He declared himself the best cornerback in the NFL, then called Crabtree a "sorry receiver."
Kaepernick doesn't agree with either assessment. Instead, the usually reserved quarterback added more spice to the most bellicose rivalry in the NFL.
"(Sherman's) afraid of our receivers, and that's something I'm looking forward to exploiting next year," Kaepernick said.
Here's what the national media is saying about the Seahawks.