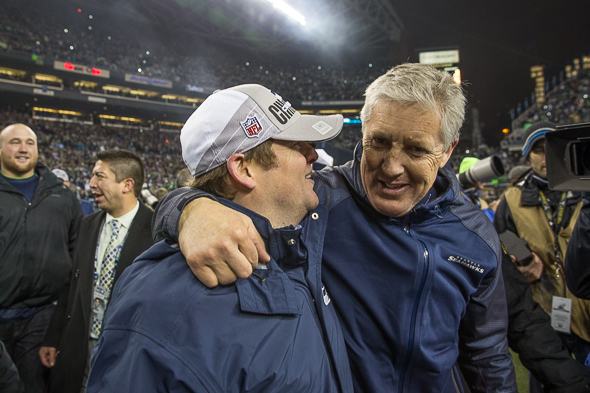 NEW YORK CITY — Competitively, the Seahawks were nearly dead. Coach Mike Holmgren's final year of 2008 was a 4-12 dud. General manager Tim Ruskell was fired after a 4-7 start to the 2009 season, which ended 5-11 after losses in the final four games by a combined score of 123-37. Hometown favorite Jim Mora was fired after a single season as head coach.
"The dominant feeling," said a member of the Seahawks staff, "was fear."
Yet from that compost pile, one of the lowest periods in club history, bloomed a team that will play for the NFL Championship Sunday against the Denver Broncos at MetLife Stadium in New Jersey, a feat unfathomable from the despair of early January 2010.
On condition of anonymity, several current and former employees of the Seahawks with direct knowledge of events talked candidly this week with Sportspress Northwest about the rapid-fire decisions that led to the hires of Pete Carroll as coach and John Schneider as general manager, the men primarily responsible for having Seattle on the edge of its first major pro sports championship in 35 years.
The sources also sought to dispel what they viewed as a myth surrounding the hires: That Carroll had advance understanding of the gravity of NCAA sanctions that were about to hit his employer, USC, over cash payments made by a representative of an agent to the family of star Trojans running back Reggie Bush.
"Pete at the time was going nowhere" to another job, said one source with knowledge of the situation at USC. "He and (then-athletic director) Mike Garrett were certain the worst it would be, was some scholarship losses. They were planning around it for the next season.
"We called him. He didn't call us. He was king of LA."
Yet . . .
The tale of Curtis Martin
After being fired from the New York Jets after a year (6-10, 1994), and after three years in New England (27-21, 1997-99), Carroll always felt he had unfinished business in the NFL, even though he spent time this week here denying that the trip here was the completion of a career circle.
"I don't feel like that," he said Sunday. "I think my first time in New York as the head coach was kind of in the middle of the circle somewhere, or maybe it wasn't even a circle. Might have been some other shape.
"It was kind of a hairy time."
But his astounding success at USC — seven Pac-10 titles in a row and two national championships (2003-04) — kept him sufficiently secure that he turned down several inquiries from NFL teams until he was given what he wanted, which was control over decision-making on personnel.
Carroll, according to one source, never got over the March 1998 loss of  five-time All-Pro running back Curtis Martin in Carroll's first year with the Patriots. The eventual Pro Football Hall of Famer left in free agency to the division-rival Jets in a six-year, $36 million deal.
"That was my best player," he told people then, bewildered, figuring the Pats could have found a way to keep a game-changing talent.
Mora self-destructs
In Seattle in 2009, things were falling apart. Mora, a voluble sort who once talked his way out of the head coaching job with the NFL Atlanta Falcons, was at it again. Particularly after the third game, when he criticized kicker Olindo Mare for missing two field goals in a 29-25 home loss to Chicago.
"There's no excuses for those," Mora said angrily post-game. "If you're a kicker in the NFL you should make those kicks — bottom line. End of story. Period. No excuses. No wind, doesn't matter. You've gotta makes those kicks . . .  it's not acceptable. Not acceptable. Absolutely not acceptable."
In the NFL and all team sports, that kind of public candor is deemed unwise because of its impacts on players.
Said one source: "He lost the locker room after that."
The point was was proven in a Dec. 20 home game against 1-12 Tampa Bay, which beat listless Seattle 24-7. Club president Tod Leiweke, who agreed to hire Mora at the recommendation of the now-ousted Ruskell, was said to be furious. His worry:  The fabled 12th Man, symbol of Seattle's fervent home fans created in the Kingdome days of 1984, would slip away.
"Fans have to have hope," Leiweke said at the time.
But if the embarrassing loss to the Bucs put Leiweke over the edge regarding Mora, it also put him in a jam. Not only did Leiweke strongly endorse Mora at the time of Ruskell's departure, the selection of a coaching successor normally falls to the general manager, but after firing Ruskell, Seattle had no GM.
That imminent debacle would prove fortuitous. At the time, that wasn't possible to see.
"We were really in trouble," said one source. "We needed a big idea."
Or as Leiweke called it in an email, "a 360-degree idea." A hire that not only would get attention, but create a connection beyond the winning of games.
The coaching hire immediately took precedence over the GM search, which had quietly been underway since mid-season. It was apparent that the talent judgments of Ruskell, a longtime scout who in his first Seattle year of 2005 helped get the Seahawks to the franchise's first Super Bowl appearance, weren't working. Plus, he handled awkwardly the public chores of the job, and had asked for a contract extension that Leiweke was unwilling to provide.
Leiweke, hired in 2003, had long career experience in sports and connecting with fans, and was well-connected within the industry. He created a short list of GM candidates, then put it down and started a fresh list for a coaching search. Former NFL head coaches Tony Dungy and Bill Cowher were briefly considered, but Leiweke wanted something more.
He wanted Pete Carroll.
Carroll asks, 'What's your deal?'
The Trojans finished what was, for them, a down year at 9-4,  5-4 in the Pac-10 conference that included a 16-13 loss at Husky Stadium to Washington and new coach Steve Sarkisian, Carroll's former offensive coordinator.
Contact through Carroll's agent was made, but nothing was going to happen until after Dec. 26, when USC beat Boston College in the Emerald Bowl in San Francisco. The next day, the Seahawks lost in Green Bay 48-10, and a week later closed the season with a 17-13 home loss to Tennessee.
The faster Mora sank, the more Carroll rose. Not only did Carroll have a winning (33-31) record in the NFL, someone looked at Carroll's bowl game/non-conference record and discovered it was 34-1, the only loss to Texas in the 2005 national title game.
Leiweke also was taken by the impact of "A Better LA," Carroll's nonprofit organization he founded that supports community-based solutions to restore peace in inner-city Los Angeles.
"Tod said, 'The premise was crazy,'" said someone who heard Leiweke. "Taking guys in the 'hood, turning them into mentors, and letting them go save lives.' The truth was, it worked."
Carroll, too, gathered information about the Seahawks and Seattle, and liked what he found. The San Francisco native always preferred the West Coast. Paul Allen, the NFL's wealthiest owner, certainly had the resources, and paid $80 million for a top-tier headquarters building/practice facility. Once apprised of the Mora mistake, Allen also didn't blink at paying Mora the $16 million owed him on the balance of his coaching contract.
Most important, Carroll would be the boss. In Seattle at the moment, there was no GM.
So Carroll agreed to talk. Leiweke and Seahawks general counsel Lance Lopes, who had been with the Seahawks since 2001, flew to Los Angeles with Bert Kolde, Allen's longtime personal friend and a member of the Seahawks board of directors. They met Carroll and his agent at a private home for dinner.
Leiweke and Lopes were already persuaded, but Kolde would be the one to advise Allen.
By the end of dinner, Carroll and Kolde liked what they heard from each other. Carroll asked for some time, and flew to Hawaii to discuss it with family. He agreed to talk with Allen by phone. Afterward came the call to Leiweke:
"I'm in."
But to get the five-year, $33 million contract, Carroll had to agree to a stipulation: He had control over football operations, but he had to choose a general manager from the list of four that Leiweke created.
The Seahawks' apprehension came largely from the full control that Holmgren was given when he was hired away from Green Bay in 1999, then had his GM duties stripped away when the multi-hatted "Big Show" wasn't working. The latter decision helped get the Seahawks to the first Super Bowl.
This time, the Seahawks were willing to give Carroll his choice, but not from among his friends.
Here's the way one source put it: "Sometimes, you have to protect these guys from themselves."
If you followed the Seahawks saga, you know the rest: Carroll was hired Jan. 10, 2010, and nine days later hired Schneider, who spent eight seasons learning football's wise ways in Green Bay.
The oddness of a coach hiring what would normally be his boss was described by the club as "a collaboration," a much-derided term in local media. So was the whole situation: Many in Seattle resented Carroll for his USC roots, and Schneider was a 39-year-old unknown to even Carroll.
Plus, there were two high-profile local casualties.
Mora, Holmgren locked out
Mora, a former University of Washington player and graduate assistant coach, a one-time hot property who was a big name for the Huskies' vacancy as well as the Seahawks', was out on the sidewalk.
Then there was Holmgren, eager to come out of semi-retirement to be the club president. He nearly got the job, but when the money and control weren't what he wanted, he took a better offer from the Cleveland Browns — but not before suggesting publicly that the Seahawks were in disarray. That didn't go over well in Renton.
Leiweke is also gone, but he left on his own terms in July 2010, becoming president and part owner of the NHL Tampa Bay Lightning, the sport that is his primary passion.
But Mora is running a premier program at UCLA, Holmgren had a couple of years in Cleveland, and most fans have forgotten the tumultuous, exasperating time that preceded the smooth ride of the last two seasons.
In New York, the Seahawks are drawing praise for the original path taken by Carroll as a teacher and a leader, as well as the talent evaluations from the "collaboration" between Carroll and Schneider that have created the second-youngest roster in Super Bowl history.
But if the most popular single word to describe these Seahawks this week is "unconventional," well, that doesn't begin to tell the story of the preposterous path from the compost pile.