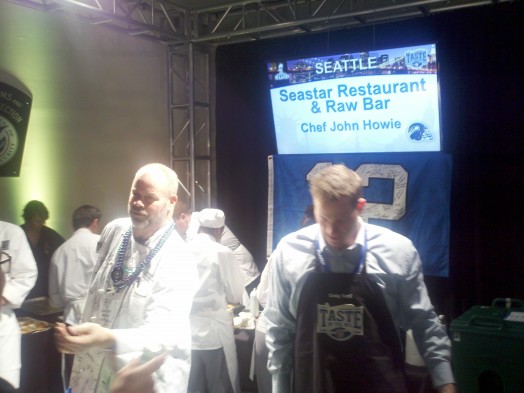 The Seahawks weren't the only big winners from Seattle in New York last weekend. In an annual fundraising event at the Super Bowl to help feed the homeless, Seattle restaurateur John Howie helped raise $83,000 to win the Kick Hunger Challenge trophy, dominating the field as much as the Seahawks dominated the Broncos.
For 23 years, The Taste of the NFL event has brought a premier restaurant chef and a retired former player from each of the 32 cities/teams to share a specialty dish and drink with thousands of ticket buyers, whose money went to local food banks. This year the event, which included live and silent auctions, raised more than $1 million.
Howie, representing his Seastar restaurant in Bellevue, has been Seattle's guy at the event for the past 10 years. He was joined by former Seahawks defensive lineman Craig Terrill (2004-2010), who helped raised money through his musical performances in the Seattle area.
For the past two years, the Kick Hunger Challenge offered a $10,000 prize from the NFL to the biggest fundraiser. Seattle has won both times. The Atlanta Falcons finished second with $21,000, although an independent food bank in Brooklyn, site of the event, raised $53,000.
The win meant $93,000 was given to Seattle's Food Lifeline for distribution to food banks throughout Western Washington.
"Our goal next year is a three-peat, and breaking six figures," Howie said after the event. The whole night went great.  CNN's Headline News said we were chosen entree of the night. We beat Denver easily too."
Howie's dish was Skuna Bay salmon with sticky rice, coconut Thai curry sauce and zucchini-carrot-cilantro-peanut slaw. Or as it was known later, in terms of eye-openers, the full Percy Harvin.
Howie handled booth duties at the gala with one arm. Four weeks ago he had right-shoulder surgery to repair double tears in his labrum and rotator cuff, plus a detached bicep tendon. Between off-season pitching to his son, a baseball player at Virginia Commonwealth, and too much exertion with a personal trainer, Howie made himself a mess and had his right arm in a sling for most of the evening.
"The surgery was supposed to take 90 minutes and it ended up four hours," he said. But it didn't keep him from the event, nor the Super Bowl the next day, where he had 50-yard line seats at MetLife Stadium.
"After Kam Chancellor made that hit on Denver's first completion, you could tell it was going to be the Seahawks' day," he said. "You just sensed Seattle had answers for everything Denver had. It became a different game when Peyton Manning saw Seattle's speed. He became afraid of making mistakes.
"You almost felt bad for the Broncos. Almost."
A big part of his football experience was tracking ESPN analyst and former player Merrill Hoge. He picked against Seattle in the first playoff game against the Saints and against Seattle in the NFC championship against the 49ers.
"I was praying he picked the Broncos, and he did," Howie said, grinning. "I knew we'd win."