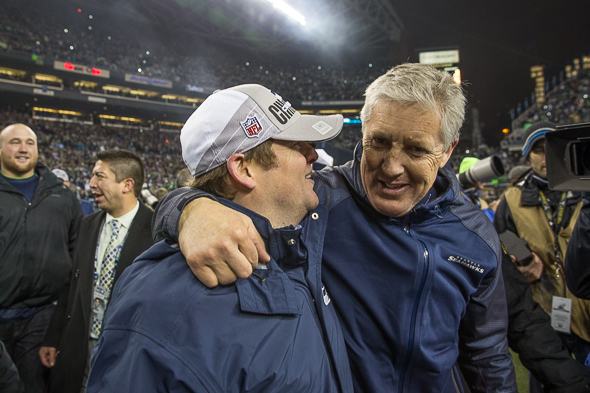 All championship teams contain seeds of their own ruin. Only a select few survive intact long enough to become dynasties. With one Super Bowl in the books and a roster whose average age is 26.1 years, the Seahawks certainly have that potential for long-term success. Even Russell Wilson stoked such conversation, saying within days of Seattle clobbering Denver 43-8 that he would settle for four Super Bowl rings.
As Wilson also said in post-Super Bowl interviews, why not the Seahawks? Indeed, why not? In him, they employ a franchise quarterback. The defense is already hailed as one of the 10 best of the Super Bowl era, and the franchise possesses a perfect pairing of passion and smarts in coach Pete Carroll and general manager John Schneider.
For the next couple of months,  their efforts will focus on manipulating resources to ensure the roster will remain as close as possible to the one feted in last week's massive parade through downtown Seattle. The Seahawks have $2.2 million worth of cap space available, hardly enough to adequately reward their substantial list of free agents and 2014 draft class.
WR Golden Tate is a top priority, given his durability, production  — he's caught 144 of 149 catchable balls thown his way since 2011, according to Pro Football Focus — and value as a punt returner. But is Tate worth a huge outlay, given that his skill set is so similar to Percy Harvin's? Or given that Baldwin and Jermaine Kearse, both of whom showed their worth in the playoffs, are still-emerging receivers. On the other hand, Harvin's frequent visits to the repair shop argue for the Seahawks retaining Tate as well as Baldwin, a restricted free agent.
Michael Bennett arrived from Tampa Bay in spring on a one-year deal and is up for grabs after an 8.5-sack season. Given his ability to play so well as an edge rusher and inside, the Seahawks will almost certainly want to re-up him, his stated preference, except for one thing. Bennett is 28 and this is likely his last chance to cash in with a huge deal. The Seahawks' future commitments — Wilson, Richard Sherman, Earl Thomas — may not allow them to offer Bennett the long-term contract he desires and deserves.
Other candidates for re-signing include offensive linemen Breno Giacomini and Paul McQuistan, defensive linemen Tony McDaniel and Clinton NcDonald, corner Walter Thurmond, kicker Steven Hauschka and linebacker O'Brien Schofield. But where's the money coming from?
The Seahawks could save $5.5 million if they cut Red Bryant, 30, who is slated to make more money next year than Marshawn Lynch. Bryant is not an effective pass rusher, but is one of the league's top run defenders, according to Pro Football Focus. Bryant's age and salary work against him.
Seattle would save $5 million by releasing tight end Zach Miller, whose production dropped again in 2013. Carroll and Schneider will have to weigh Miller's role in the run game vs. backup TE Luke Willson's relative inexperience.
Releasing James Carpenter, a former No. 1 pick, would net the Seahawks $1.4 million. It's likely that Carpenter, rated as the 10th-worst blocking guard in the NFL last season, will not be a full-time starter again.
It's difficult to imagine a scenario in which Chris Clemons returns. Carroll and Schneider favor youth and Clemons is 32. His production declined, and the Seahawks could save $7.5 million by parting ways. If Clemons returns, he will likely have to accept a huge cut from the $9.6 million he's scheduled to earn.
Releasing 30-year-old WR Sidney Rice, injured the last half of 2013, would save the Seahawks $7.3 million. But Rice is the kind of big receiver Carroll covets and would become even more important if Tate departs.
Even assuming Schneider and Carroll, who have built one of the most fascinating rosters in recent NFL history, re-allocate their resources in such a way as to avert a drop in quality, forging a dynasty is a tall order, especially considering the talent level in the NFC West.
The word dynasty used to be reserved for teams that excelled over long spans, such as the 1957-69 Boston Celtics, who won 11 championships in 13 seasons, the 1947-62 New York Yankees, who won 10 in 16 years, the 1991-98 Chicago Bulls, who won six in eight seasons, and the 1974-80 Pittsburgh Steelers, with four in six years.
More recently, the dynasty window isn't open as long. The 1992-95 Dallas Cowboys won three Super Bowls in a four-year span and the New England Patriots duplicated that achievement from 2002-05. While the Patriots continue to make championship runs, Jerry Jones has meddled the Cowboys into mediocrity.
So many things can stop dead a potential dynasty. Three examples locally:
Dynasty talk enveloped the Seattle SuperSonics after they reached the NBA Finals in 1978 (lost in seven games) and won the title in 1979. That team had a core of players that averaged 24.1 years, led by 23-year-old center Jack Sikma, 24-year-old guard Dennis Johnson and 25-year-old guard Gus Williams.
The Sonics went 52-30 in their championship season and had a more formidable roster the following year (1979-80), winning 56 regular-season games. But the Los Angeles Lakers did the one thing for which the Sonics had no answer: They drafted Magic Johnson. Soon they added James Worthy, Michael Cooper and Norm Nixon to a mix that included Kareem Abdul-Jabbar, and the world champion Sonics couldn't match up.
Seattle traded Johnson to Phoenix after the 1979-80 season and lost Williams for the entire 1980-81 campaign in a contract dispute. Two years after winning the title, coach Lenny Wilkens' potential dynasty went 34-48 and missed the playoffs — the fastest fall by a champion in NBA history. By 1985, every player, as well as Wilkens, from that title team was gone.
The 2001 Mariners, constructed largely by GM Pat Gillick, won 116 games. But three years later, Seattle lost 99 and has been irrelevant since. Every player from the 2001 team, except Ichiro, hit the road by mid-2006.
The 2005 Seahawks, losers of Super Bowl XL to Pittsburgh, also seemed to have the makings of a team capable of sustaining. That club had seven Pro Bowl players, four under the age of 30, and an average roster age of 27.1 years.
But the best-laid plans unraveled within weeks of the Super Bowl. FS Marquand Manuel, 26, jumped to Green Bay in free agency, and All-Pro OG Steve Hutchinson, 28, poison-pilled his way out of Seattle in free agency and became a Minnesota Viking.
After much deliberation, the Seahawks awarded NFL MVP Shaun Alexander an eight-year, $62 million contract, starting with $15 million to be paid the first year (2006). But Alexander missed six games with an injury, launching the fastest decline by an MVP in league history. Alexander was out of football two years after Seattle's first Super Bowl appearance.
Three years after reaching the Super Bowl with a roster built to last, the Seahawks went 4-12. By 2010, the entire Super Bowl team, except for CB Marcus Trufant, had turned over.
Schneider and Carroll performed one of the biggest roster re-makes in NFL history after they assumed command. It worked to the tune of 43-8 on football's biggest stage. Now the tinkering begins anew. While the GM and coach have clearly mastered the art of controlling moving parts, dynasty talk, while inevitable, is premature, especially given the division gauntlet they will have to run again.