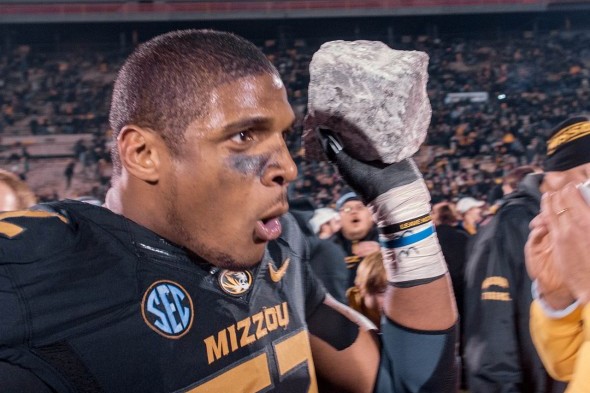 Two days ago, we knew this much about Michael Sam: As a 260-pound defensive end at the University of Missouri, he won the SEC Defensive Player of the Year award (11.5 sacks) and worked himself into a probable draft pick – perhaps as high as the third round – in the NFL draft in May.  Now, of course, we know a whole lot more about Michael Sam.
Sunday via The New York Times and ESPN, Sam told the world he is gay. He said his coach, Gary Pinkel, the one-time Washington assistant under Don James, and his teammates learned the truth the past summer.
"I'm Michael Sam. I'm a football player and I'm gay," he told The Times.
Unlike Jason Collins, who declared that he was gay last year within days of wrapping up his 12th NBA season, Sam is not yet a professional. If he sticks with an NFL team, he will become the league's first openly gay player.
According to eight NFL anonymous executives surveyed by SI.com, Sam's announcement makes his path into the league considerably more daunting than it was a few days ago. It will, the executives agreed, probably wind up costing him millions of dollars.
The consensus of the eight opinions: Sam's draft stock, and therefore the dollars he might have earned had he kept his sexual orientation to himself, will drop because clubs will not want to deal with the publicity circus that will inevitably accompany him. Nor will they want to inject Sam into the kind of locker room culture that exists today, although it didn't seem to hurt the Missouri Tigers, recent winners of the Cotton Bowl.
In fact, Sunday night, when television sets at the Campus Bar & Grill in Columbia, MO., broadcast Sam's announcement on ESPN, the place, according to SI.com, broke into applause. But that might not be the NFL's reaction.
"I don't think football is ready for an openly gay player," one NFL player personnel assistant told SI.com. "In the coming decade or two, it's going to be acceptable, but at this point in time it's still a man's-man game. To call somebody a (gay slur) is still so commonplace. It would chemically imbalance an NFL locker room and meeting room."
None of the executives, who agreed to the interviews on the condition of anonymity, criticized Sam's sexual preference or his decision to make it public. But they all were unsparing in their comments. Bottom line: Who needs the grief?
"Every Tom, Dick and Harry in the media is going to show up, from Good Housekeeping to The Today Show," one executive pointed out. "A general manager is going to ask, 'Why are we doing that to ourselves?'"
Collins, a 35-year-old free agent, hasn't signed with an NBA team since making his announcement.
"You shouldn't have to live your life in secrecy," one assistant coach said. "But do you really want to be the topic of conversation for everything without having played a down in the league?"
The assistant added that the decision to draft Sam – in which round, or if at all — will depend on a team's level of comfort in possibly disrupting the dynamic of its locker room.
Seahawks fans just witnessed a remarkable convergence of talent and chemistry result in a Super Bowl victory. The locker room dynamic obviously worked.
[polldaddy poll=7789313]