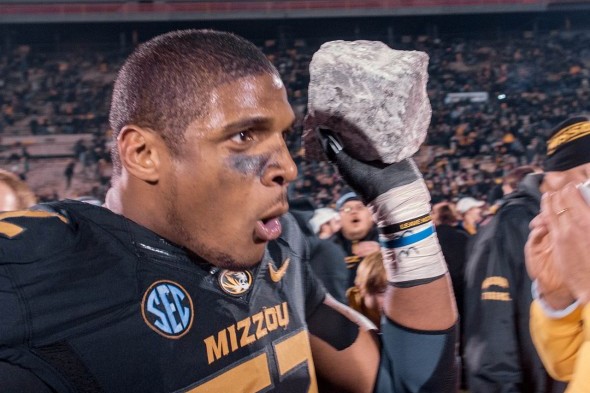 After the NFL draft in May, every NFL team that did not draft Missouri DE Michael Sam will be asked why. All of them will say more or less the same thing: "We had others rated higher at his position," "He wasn't a need for us," "We were hoping to get him as an undrafted free agent."
Um, how about the fact that he is gay? "Not a factor." "We don't care about that." "He is? We'll be darned."
Or as the crew on "Seinfeld" put it: "Not that there's anything wrong with that."
Truth is, teams are acutely aware that it may be 2014 in many parts of the country, but there's still pockets of 1950s in the locker room and many other places. Or has everyone forgotten about 49ers CB Chris Culliver and his remarks before the Super Bowl a year ago?
In a media-day radio interview with comedian Artie Lange, Culliver was asked whether there were gays on the 49ers roster.
"I don't do the gay guys. I don't do that," Culliver said. "We ain't got no gay people on the team. They gotta get up outta here if they do. Can't be with that sweet stuff . . . Nah, can't be . . . in the locker room, man."
The 49ers quickly issued a statement rejecting Culliver's remarks, his PR guy apologized for him, and Culliver followed suit with a statement that read in part, "The comments I made yesterday were a reflection of thoughts in my head, but they're not how I feel."
Huh?
I can't know how representative Culliver's "thoughts" are with him, let alone among NFL players. Nor can I know how representative were the supportive words Sam's carefully planned disclosure Sunday, to the New York Times, ESPN and Sports Illustrated, generated within the NFL and across sports and the culture.
That's because in the constrained, corporate world of the NFL, there is little money in being honest with contrarian views.
Some people may not like Seahawks CB Richard Sherman's rants against rivals, but that is merely a debate about sportsmanship, not an open condemnation of employability.
Even Mr. Awkward himself, 49ers coach Jim Harbaugh, recognized the awkwardness of Culliver's remarks.
"It's going to impact him going forward," Harbaugh said during Super Bowl week. "He will learn about himself. I hope and pray it affects him in a positive way going forward.
"That's not who he is and not what believes in. It took the incident — to hear those words being said, and to see them written on paper — to realize those were hurtful and ugly. I really believe this is something he'll learn from."
Whether Culliver, who in 2012 was the Niners' nickel DB and a valuable special-teams player, learned much is also mostly unknowable, because he abruptly fell off the pop-culture radar in August when he tore his ACL in training camp. He had surgery and was lost to the 49ers for the season.
But the rest of the NFL learned anew something old: If you can't say something nice . . .
Silence from the uncomfortable doesn't mean there won't be apprehension and even resentment. That is virtually inevitable.
But Sam's decision to come out publicly before his potential selection makes this different from anything previously done by a major pro sports team: Volunteering publicly to break a locker-room taboo.
Many have analogized the situation to the racial integration of Major League Baseball that Jackie Robinson accomplished in 1947. It's true — up to a point. The difference is that Brooklyn Dodgers president Branch Rickey shot first and asked questions later, crushing the barrier after a quiet three-year search for a game-breaking athlete whose skills left no doubt about his worthiness.
The other distinction is that homosexuality is considered a sin by some people of faith. While some will understand there is a difference between acceptance and approval, others may not. For them, it probably matters little that they have been working seamlessly with, for and around gays for years without consequence; the fear comes from the knowing, not the facts.
Despite being the defensive player of the year in the Southeastern Conference, Sam enters the draft considered a mid-round draft pick, supposedly a little too small (6-foot-2, 260 pounds) for the D-line job in the NFL. Since Sam is not seen as a game-changer, presumably there are a number of like-skilled players who could do the job as well, without bringing along the cultural microscope. That gives an excuse, times the seven rounds of the draft, for teams who want it to use it.
That brings us to the question of which team will take the chance. Almost immediately, the Seahawks went to the top of the national-media speculative list, in part because of the supportive culture of Camp Carroll met with such resounding success in 2013. The assumption is that if anyone can finesse the issues of media and locker room that presumably come with the drafting of Sam, it is Carroll, the alt-hero.
That is certainly plausible. But the selection has to come within Carroll's guiding principle: Always compete.
That isn't just an aspirational slogan: It's the tool by which players are chosen for the roster. As much as any coach ever has, Carroll mandates that the better player wins the spot based entirely on performance. That means that issues of personality, loyalty, alma mater, publicity or demands of the owner play no factor. Contract size comes into play only as a function of the salary cap, not as an obligation to play a well-paid player.
Ask Matt Flynn, the veteran former Seahawks quarterback beaten out in 2012 by rookie Russell Wilson, about that.
"No politics," said Seahawks TE Zach Miller when I asked him about it during Super Bowl week. "No politics at all. That's why players like it."
It can be a difficult but liberating methodology. If the Seahawks draft Sam, they will believe he has the capacity to make the 53-man roster. But he will be obliged to prove it in preseason, and will be retained or released exclusively because of it.
As for those players who will be uncomfortable, Carroll can simply say that Sam will make the Seahawks better. He and John Schneider each will have Super Bowl rings to prove they know a little something about talent evaluation, particularly with all the low-rounders or no-rounders who came to glory in Seattle.
Those players who don't approve of Sam can choose: Accept, or move along. If they stay, they might learn something. Unlike Culliver, it will be the easy way.