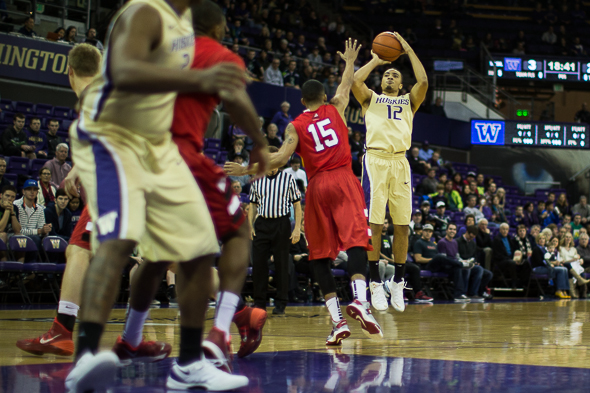 If Lorenzo Romar lists the most disappointing teams he mentored during his time at Washington, his current one is certain to rank near the top — even though it is headed for exactly the sort of finish Pac-12 media mavens predicted in October.
Washington was picked to finish eighth, ahead of Utah, Oregon State, USC and Washington State. After 26 games, the Huskies are in a tie for seventh (with Utah), but must play the Oregon schools on the road this week before closing out against UCLA, USC and WSU.
Romar's disappointment probably won't be rooted as much in the final record as in how the Huskies conducted themselves through the process, and how they could have done so much more despite problems beyond their control, specifically the early-season loss of 6-foot-10 sophomore Jernard Jarreau.
The absence of Jarreau, who tore the ACL in his right knee during the season opener, has played havoc with Romar's frontcourt rotation. Washington has been consistently overmatched physically, vulnerable to easy points in the paint. At the offensive end, the Huskies haven't been able to develop an inside game.
Jarreau would have made a significant difference in several games, notably in conference losses at Stanford, WSU, Utah and Colorado (to say nothing of the non-conference loss to the UC Irvine Anteaters at Alaska Airlines Arena in November).
Without Jarreau and, for a month, Desmond Simmons, Romar had little choice but to emphasize a three-guard offense led by senior C.J. Wilcox. But it's difficult to win in the Pac-12 when the primary scorers are guards and their shooting percentages don't measure up.
While Wilcox leads the conference is 3-pointers made (75), he ranks 10th in 3-point percentage (39.9). Andrew Andrews constantly cranks from 3-point range but makes just 28.1 percent. He's also frequently out of control when he penetrates. Freshman Nigel Williams-Goss, Washington's most consistent player over the last month, has yet to hit his stride as a scorer.
Wilcox, Andrews and Williams-Goss account for 61 percent of Washington's offense. Largely as a result, the Huskies rank ninth in the Pac-12 in scoring offense (74.2), 11th in field-goal percentage (44.0) and ninth in 3-point percentage (34.1). Defensively, the story is even more bleak.
The Huskies allowed more points per game (75.7) than any team in the conference. Their opponents make 47.7 of their shots, a Pac-12 high. Due to a lack of size, the Huskies get few offensive rebounds (11th in the Pac-12), don't block many shots (10th) and consistently lose the turnover battle (9th).
The numbers tell an obvious story. The story behind the numbers is that this edition of the Huskies has poor mental discipline and doesn't know how to handle adversity. When events turn against them, the Huskies tend to stew instead of rally.
Rewind to the non-conference schedule. As the Huskies attempted to adjust to the losses of Jarreau and Simmons, forcing a transition into a guard-oriented offense, they often seem baffled defensively – so much so that when the conference season opened Jan. 2, UW was allowing 79.2 points per game, nearly a school-record pace and by far the worst of the Romar era.
At that point, the Huskies got it together and peaked. In their first four Pac-12 games, the Huskies allowed an average of 64.4 points (down from 79.2) while defeating Arizona State in Tempe, Utah and Colorado at home and playing then-No. 1 Arizona straight up until the final two minutes.
Then UW relapsed. In nine games since Jan. 15, Washington has allowed 76.7 points per game. Against Stanford Jan. 18, Washington trailed by three with 19:57 left and permitted Chasson Randle to score 11 of the game's next 19 points, many on wide-open layups.
In Pullman Feb. 1, UW led 42-34 with 13:40 remaining and not only missed 13 of its next 14 shots, but allowed WSU to grab seven offensive rebounds in a 10-minute span. Washington went from eight points up to 11 down — to a team with one conference win.
"We blew a tremendous opportunity," Romar said after the game.
At Utah Feb. 6, the Huskies had a second-half lead but gave the Utes free run down the lane at the other end. They simply blew past the Huskies, who made little effort to stay in front of the ball. Final: Utah 78-69.
Three days later in Boulder, the Huskies fell behind 10-0 and 13-2 and lost 91-65.
"We just didn't come out with energy and focus," said Williams-Goss. "No reason. We just didn't."
In Washington's last game, a 72-59 loss to California, the Huskies raced away to a 27-15 lead. Cal followed with a 17-0 burst, during which UW committed the majority of its 10 first-half turnovers.
"We probably gave up eight points in the first half on home-run turnovers," Andrews told gohuskies.com. "We were just not taking care of the ball, rushing things, trying to go too fast."
But according to Romar, the problem runs deeper.
"We just have to be mentally tougher," he said after the recent Cal loss. "We have to be able to point ourselves in the other direction when we see that the ball's not going in the basket . . . If the ball is not going in the basket, we still need to defend. We haven't been able to shift gears mentally to do the things we know we are capable of."
They are fully capable of the kind of sustained defensive effort that characterized their 76-65 win over ASU (now 19-6) in Tempe six weeks ago. But disciplined defense is apparently not a priority for these Huskies. Why? Even Romar is mystified.
"I'm the one that, when it's all said and done, I have to go back and evaluate what I'm doing as a head coach," Romar said after Cal. "As a head coach, I just haven't, we haven't, prepared this team to be mentally tougher."
That's why, if Romar lists his most disappointing clubs, this one will receive prominent seeding. Even without Jarreau, the team that split in Arizona in January was good enough to make the NCAA Tournament. The current team is not mentally tough enough to survive the first round of the NIT.