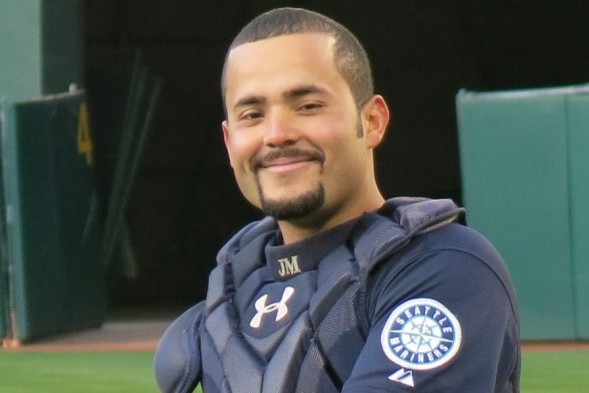 A sports fan with a long memory may recall Terry Forster, who played for five teams over 16 major league seasons (1971-86) and retired with 127 saves, the bulk of those with the Chicago White Sox in the early 1970s. Forster gained most of his notoriety not for anything he did on the diamond, but for feats at the buffet table that, in 1985, drew the attention of David Letterman.
After the 6-foot-3 Forster ballooned to 270 pounds, Letterman referred to the lefty as "a fat tub of goo" on his Late Night Show. Forster became something of a 15-minute celebrity, appearing on the program with Letterman and recording a novelty song titled "Fat Is In."
But Jesus Montero isn't likely to appear on "Letterman" or any other televised gabfest. Unlike Forster, baseball's new "fat tub of goo" has become the pariah of Mariners spring training by reporting at 270 pounds, 40 above his listed playing weight.
The Mariners expressed astonishment and dismay when they had their first gander of Montero after he emerged from a winter of face stuffing. GM Jack Zduriencik, almost always a positive sort, even distanced himself from the former highly touted prospect in unusually harsh terms.
"We are disappointed in how he came in physically," Zduriencik said in a televised interview. "It's up to him. I have zero expectations for Jesus Montero. Any expectations I had are gone."
"He's at a crossroads," added manager Lloyd McClendon. "It's time to either put up or shut up."
Credit Zduriencik and McClendon for not trying to sugarcoat the situation. But it's not like Montero inspired confidence anyway. The Mariners named him their starting catcher a year ago during spring training and he responded with 29 forgettable regular-season games that earned him a demotion to the AAA Tacoma Rainiers.
During his short stay with Seattle, Montero not only couldn't handle big league pitching, batting .208/.264/.327 with as many hits (21) as strikeouts (21), he proved himself inadequate defensively.
After he reported to Tacoma, the Mariners began transitioning Montero, a centerpiece in their expansive collection of non-hitters, into a first baseman. But a torn meniscus in his left knee scotched that plan after just eight games. Any other plan the Mariners may have had for Montero blew up Aug. 5, when he accepted a 50-game suspension for his involvement in the Biogenesis scandal.
Montero apologized, played winter ball and was supposed to report to Peoria weighing 230-235 pounds. Instead, he spent the remainder of the winter pigging out.
"All I did was eat," Montero confessed.
The problem is not Montero's bulging gut. It's the air between his ears. Had he been serious about revitalizing his major league career, already headed south due to poor work habits and lack of a position, he would have made it a priority to report to camp in the best shape of his life.
Instead, his only push ups came off the dining room table, clear evidence that Montero is not interested in doing what it takes to play baseball at the highest level.
Montero could have atoned for his involvement with Biogenesis with a solid spring and willingness to work. But he opted to compound his mistake with career-threatening apathy. At least he's not a major salary ($503,000 last year).
The best the Mariners can do is help Montero get into shape and hope they can find another club willing to take a chance on him. Trouble is, Montero, with no position, no  speed, and no chance of hitting his former weight, had become irrelevant before he added 40 pounds of flab.
Now, the only place he can star is the team's minor league cafeteria.