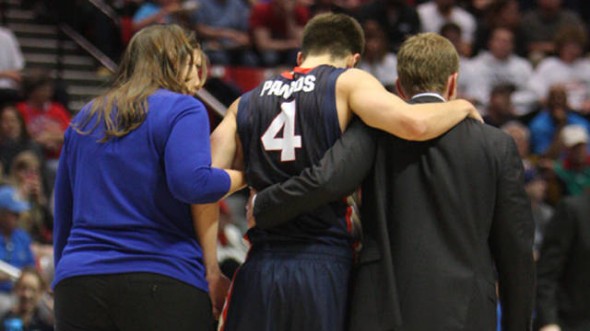 When did Gonzaga become Washington State?
Or is the better question: When did Arizona become the San Antonio Spurs?
Arizona's 84-61 obliteration of the non-competitive Zags Sunday night in San Diego was the last and final rivet that popped on the one of the most astonishing weekends in the madness of March, as defined by NCAA basketball.
Even though recent tradition had eighth-seeded Gonzaga exiting in its second game — this was the fifth tourney in a row that the Zags bowed out in the round of 32 — few, including Mark Few, expected the Zags to be walloped as if they were middle-school jayvees.
"That Arizona team we saw tonight was as good a team as we have faced, that I can remember," the chagrined Gonzaga coach said. "It was just too much for us tonight."
West Region No. 1 seed Arizona, with the nation's most efficient defense, forced 21 turnovers that led to 31 points, smashing any fantasy about a repeat of the epic game by the schools in the 2003 tourney, a two-point Wildcats win.
The Wildcats won their first two games of the Pac-12 tourney by 32 (Utah) and 2o (Colorado) before a four-point loss to UCLA, which also reached the round of 16. In San Antonio, Arizona beat Weber State by nine before the Zags takedown, in which they held Kentridge High's Gary Bell Jr., who was averaging 11.2 a game, scoreless.
Arizona and UCLA were joined by a third Pac-12 team, 10th-seeded Stanford, in the round of 16. The Cardinal, whose languid finish in the Pac-12 regular season — they even lost to Washington, 64-60 — suggested to some they didn't belong in the tourney, beat second-seeded Kansas 60-57 Sunday to advance.
The Jayhawks were the second No. 2 seed to fall, after Villanova lost Saturday to No. 7 Connecticut 77-65. But neither second seed was a match for the thud of Midwest No. 1 seed Wichita State and its 35-game unbeaten streak. All went away in a 78-76 loss to No. 8 Kentucky, which suddenly looks like Kentucky after a faltering regular season.
So the top four lines of seeds have remaining three No. 1s, two No. 2s, one No. 3, and all four No. 4s, including UCLA. And besides Stanford, two other double-digit seeds remain, Tennessee and Dayton, both 11s.
All four West Coast teams play Thursday: Dayton and Stanford meet in the round's first game, in the South Region at Memphis at 4:15 p.m., followed by UCLA against No. 1 Florida. Arizona in the West Region at Anaheim draws No. 4 San Diego State, which lost to the Wildcats by nine in the regular season, at 7:17 p.m.
SWEET 16
South Region
At Memphis
No. 11 Dayton vs. No. 10 Stanford,  4:15 p.m. Thursday, CBS
No. 1 Florida vs. No. 4 UCLA, 6:45 p.m. Thursday, CBS
West Region
At Anaheim
No. 6 Baylor vs. No. 2 Wisconsin, 4:47 p.m. Thursday, TBS
No. 1 Arizona vs. No. 4 San Diego State, 7:17 p.m. Thursday, TBS
Midwest Region
At Indianapolis
No. 11 Tennessee vs. No. 2 Michigan 4:15 p.m. Friday, CBS
No. 8 Kentucky vs. No. 4 Louisville | 6:45 p.m. Friday, CBS
East Region
At New York
No. 3 Iowa State vs. No. 7 Connecticut, 4:27 p.m. Friday, TBS
No. 1 Virginia vs. No. 4 Michigan State, 6:57 p.m. Friday, TBS
ELITE EIGHT
South Region: Florida-UCLA winner vs. Dayton-Stanford winner, Saturday
West Region: San Diego State-Arizona vs. Baylor-Wisconsin winner, Saturday
Midwest Region: Kentucky-Louisville winner vs. Tennessee-Michigan winner, Sunday
East Region: Virginia-Michigan State winner vs. Iowa State-UConn winner, Sunday
FINAL FOUR
Arlington, TX.
South champion vs. East champion, April 5, TBS
West champion vs. Midwest champion, April 5, TBS
NATIONAL CHAMPIONSHIP
South champion winner-East champion winner vs. West champion-Midwest champion winner  April 7, CBS