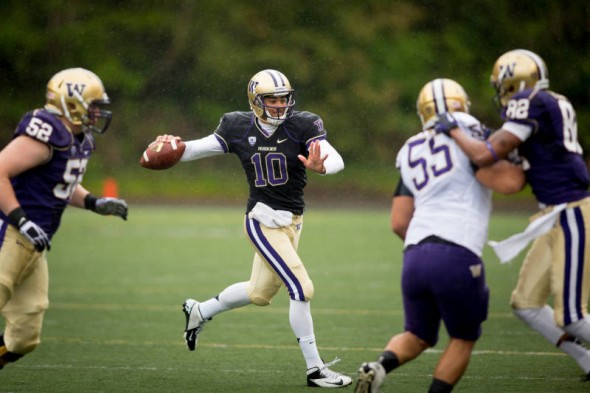 Washington quarterback Cyler Miles won't face criminal charges for his involvement in a Feb. 2 alleged assault that occurred a few hours after the Super Bowl in the the 2300 block of NE 55th Street, according to multiple reports. But teammate WR Damore'ea Stringfellow will be charged with two counts of fourth degree misdemeanor assault and one count of malicious mischief.
The malicious mischief charge is also expected to be a misdemeanor, according to a story Monday night in The Seattle Times, citing an anonymous source. Charges are expected to be filed by Thursday.
KING5.com broke the story Monday afternoon. It was later confirmed by KJR 950 AM radio's Dave "Softy" Mahler.
Can confirm @paulsilvi report: UW QB Cyler Miles will not face criminal charges. Prosecutor couldn't find enough evidence to charge him

— Dave Softy Mahler (@Softykjr) March 31, 2014
Stringfellow and Miles haven't participated in UW's spring practices. First-year coach Chris Petersen suspended the pair Feb. 6. Practices resume Tuesday after players were off last week for spring break.
As a redshirt freshman in 2013, Miles threw for 418 yards, four touchdowns and two interceptions in eight games. The Centennial, CO., native made one start late in the season, leading the Huskies to an improbable 69-27 road win against Oregon State. Before the suspension, Miles was the favorite to become the Huskies' starter in 2014.
Stringfellow caught 20 passes for 259 yards and a receiving touchdowns as a true freshman last season. His best game came in a 41-31 loss to UCLA late in the year (eight catches, 147 yards and a receiving score). Stringfellow made three starts and appeared in 12 of 13 games.