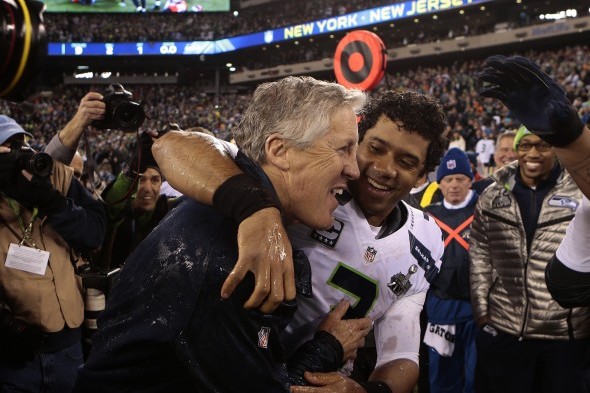 During his stay in Arlington, TX., where he threw out the ceremonial first pitch against the Philadelphia Phillies Wednesday, Seahawks quarterback Russell Wilson and a Rule V draft pick by the Texas Rangers, declared that he had a big goal in mind: Become the greatest quarterback in NFL history.
Via ESPN, Wilson asked during a TV int3rview, "Why can't I ever to be the best quarterback ever to play the game one day? I'm not right now. I've got a long way to go. But one day, you know?"
Wilson, who will remain in Texas and attend the Final Four, where he will root for the Wisconsin Badgers, a school he led to the Rose Bowl before joining the Seahawks, is a two-time Pro Bowl player and already has a Super Bowl ring in his portfolio.
"I think a great leader is consistent every day," Wilson told ESPN. "That's how I try to be in terms of my work ethic on and off the field and being the first one in and the last one to leave and all those things. But it's the same every day thing.
"There's no time to sleep and that's what I try to tell my teammates all the time. My job in playing football is to help the other 10 guys in the huddle get better. If I can do that, if I can help facilitate the ball to the right guy at the right time, I'm doing my job."
As Wilson conceded, he has a long way to go before he even enters the conversation of best quarterback of all time. During the ru- up to the recent Super Bowl, more than half the hype centered on Peyton Manning's legacy and whether he should be considered the greatest ever.
While Manning has the same number of Super Bowl rings as Wilson, Manning also has a record four Most Valuable Player Awards, 13 Pro Bowl invitations and 491 touchdown passes. That's a lot of ground for Wilson, who has also stated that his goal is to win four Super Bowls, to cover.