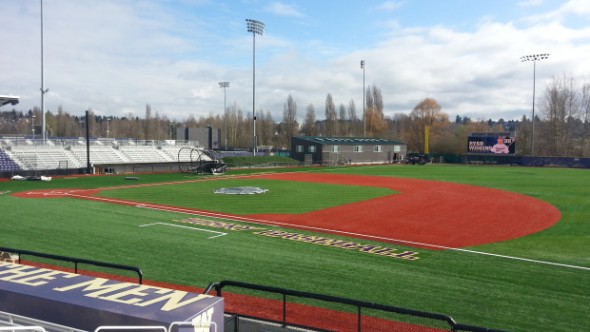 The best pitcher on the seventh-ranked Washington Huskies – indeed, one of the best pitchers in college baseball, if his eye-popping statistics are taken at face value – looks like the kid who bags groceries at Safeway.
Tyler Davis is a 5-foot-10, 180-pound right-hander with red hair, freckles, eyeglasses and a fastball that puts scouts to sleep. He also has an 8-1 record, a 1.54 earned run average and the unshakeable belief that he can beat anyone and everyone.
"If you talked to him on the phone and you didn't see him in person, he'd probably tell you he's 6-4, probably 250," Huskies right fielder Brian Wolfe joked. "He think he's huge.
"But that's why we love him. He's got that kind of heart and that kind of drive and passion. It doesn't matter what his size is; he's going to pitch his heart out."
The most surprising player on the most surprising team in college baseball is scheduled to take the mound Saturday when the first-place Huskies (14-4, 27-8-1) – picked to finish 10th in the Pac-12 in the preseason coaches poll – entertain Washington State (7-8, 17-19). The three-game series, televised by the Pac-12 Networks, begins at 7 p.m. Friday at gorgeous new Husky Ballpark on the shores of Lake Washington.
No one better represents the amazing turnaround of the Huskies – a traditional afterthought in college baseball – than Davis. One season removed from a disastrous sophomore season (2-7, 5.11), Davis is one of 50 players on the midseason watch list for the Golden Spikes Award, presented annually to the nation's top amateur baseball player.
"He's a lot like their team," Washington State coach Donnie Marbut said admiringly. "Their team doesn't care they were picked 10th, and he doesn't really give a (profanity) that he's 5-foot-8."
Marbut was joking about Davis' height, but the coach was dead serious when he said, "He can really locate his fastball away. You can tell he's got a lot of confidence in himself."
Davis's confidence took a hit when the former high school All-America selection went 4-11 as a part-time starter his first two years at Washington. At the urging of the coaching staff, Davis (an economics major from Mountain View, CA.) skipped summer ball and remained on campus to gain strength physically and mentally.
"My first two years here," Davis said, "I knew I was a good pitcher, but I didn't have the right mentality to make the jump from high school to the Pac-12, the best conference in college baseball."
Inspired by older brother Erik's arrival in the major leagues last season with the Washington Nationals, Davis renewed his lifelong pursuit of a pro baseball career with vigor. Erik is sitting out this season with an arm injury, but Tyler said his big brother continues to inspire and motivate him during a breakout season in which has struck out 34, walked eight and yielded 51 hits in 58.1 innings.
Not bad for a young man whose only other NCAA Division I scholarship offer came from UC Davis. It doesn't take a rocket scientist – Tyler's father is a NASA engineer, by the way – to figure out that Davis has beaten long odds to become a dominant pitcher on a team ranked higher this week by Baseball America magazine than any other Huskies baseball team.
"The thing we liked about Tyler, even back in high school, was just how competitive he was and how poised he was," Washington coach Lindsay Meggs said. "Even on his own team, he didn't have the best tools on the mound. He had probably the best makeup in the league."
Asked to explain his dramatic improvement this season, the affable Davis said, "I'd have to say it's my mindset of really attacking hitters. Really trying to get ahead of hitters and not trying to strike everybody out.
"I think that was an issue for me last year and the year before even. When I'd get in trouble, I was trying to be too fine, trying to nibble on the corners."
Davis is quick to point out that he's supported by one of the nation's top-ranked defenses (30 errors in 37 games) and the Pac-12's leading offense in batting average (.288) and home runs (17). The team ERA of 3.22 is rock solid, too.
The Huskies boast their share of star power, since Davis ranks second in the Pac-12 in wins and ERA, and Wolfe is second in batting (.400) and first in slugging percentage (.590). Davis and Wolfe echo Meggs when they insist that the team's balance, depth and heart is more impressive than its skill set.
"We have a good chance, every time we go out there, if we play what that chip on our shoulder like we have all year," Meggs said. "If we really think we're the seventh-best team in the country, show up with that mentality, it doesn't work for us. We're not talented enough to do it."
Meggs, who guided Chico (CA.) State to a pair of NCAA Division II national championships, said he inherited a team loaded with "entitled" players when he arrived at Washington. Dedication and ambition were in short supply, Meggs said.
"No one was talking about going to the College World Series," Meggs said sadly.
Five years later, the Huskies are grinding their way to tough wins and quietly talking about making their first trip to Omaha this season. First, however, they want to claim the Pac-12 championship and a host berth in the regional portion of the NCAA tournament.
The Huskies are eager to show the nation their $15 million ballpark. The privately financed stadium includes 2,400 seats, suites and just a wee bit more style than its predecessor, which "featured" battered wooden bleachers and port-a-potties.
"It looked like an erector set," Davis cracked.
Wolfe, a fifth-year senior from Snohomish, says he feels "blessed" to play in the new ballpark.
"It really is the donors' and the university's commitment to getting us to Omaha," Wolfe said.
The new stadium, attitude and success has produced some of the better crowds in school history. If the weather cooperates, large crowds should be on hand this weekend to watch the Huskies take on the seventh-place Cougars.
Rain or shine, Marbut won't be on hand. The fiery WSU coach is serving a six-game suspension after an angry confrontation with umpires during Friday's loss at Oregon.
Marbut insists the Cougars "won't miss a beat" with him out of commission. The Cougs have been outscored 26-7 during a four-game losing streak, however, and Marbut is well aware that the Dawgs are no longer dogs on the diamond.