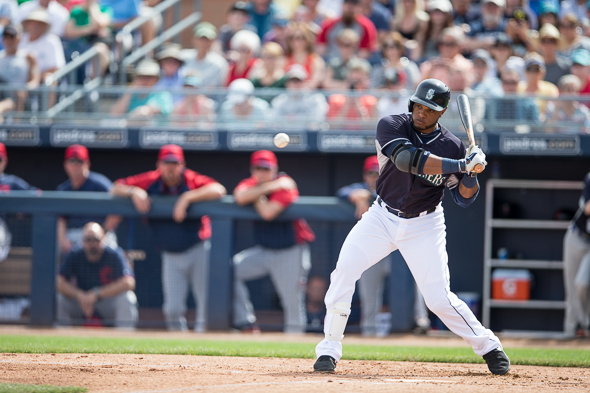 In his new autobiography, "The Closer," retired Yankees pitcher Mariano Rivera questions the competitive drive of former teammate Robinson Cano, now with the Mariners. "This guy has so much talent I don't know where to start," Rivera writes. "There is no doubt that he is a Hall-of-Fame caliber (player). It's just a question of whether he finds the drive you need to get there."
Rivera writes about how much affection he has for his former teammate, according to the New York Daily News, but writes, "I don't think Robby burns to be the best . . . You don't see that red-hot passion in him that you see in most elite players."
In the book, published Tuesday and written with Daily News sportswriter Wayne Coffey, Rivera put a rival second baseman, Boston's Dustin Pedroia, "at the top of the list" of players he admires, adding: "Nobody plays harder, gives more, wants to win more. He comes at you hard for twenty-seven outs. It's a special thing to see."
He later writes, "If I have to win one game, I'd have a hard time taking anybody over Dustin Pedroia as my second baseman."
After Rivera retired to much acclaim last season, Cano left the Yankees in free agency to take a 10-year offer of $240 million from the Mariners. The deal was three years longer and $65 million more than the Yankees were offering to Cano, a player many MLB observers considered the best everyday performer on the Yankees roster in the last couple of years.
In the clubhouse before Tuesday's game, Cano was sought out by reporters.
"I don't have no comment on this," he said, via the Seattle Times.  "I hope you guys understand. My focus is this team. I'm here. We're winning. That's about it. I was over there already. Now I'm here. Now I'm focused on my team. I don't want to be a distraction for my teammates. I'm just looking forward to tonight's game."
Manager Lloyd McClendon, perhaps in deference to the regard in which Rivera is held, took the high road too.
"The last nine years he's been the best second baseman in baseball – offensively and defensively," McClendon said. "The awards and the numbers back it up.  You want to see a guy with passion? I think when you play 162 games a year and you don't want come out of the line-up, I think you have some pretty good passion for the game of baseball."
Rivera took the second public shot at Cano from the Yankees camp since his departure. In spring training, Yankees coach Kevin Long had a similar criticism about Cano failing to run hard to first base on some obvious ground outs.
"If somebody told me I was a dog," Long told the Daily News, "I'd have to fix that. When you choose not to, you leave yourself open to taking heat, and that's your fault. For whatever reason, Robbie chose not to."
A couple of days later, McClendon fired back in defense of Cano.
"Last time I checked, I didn't know that Kevin Long was the spokesman for the New York Yankees," he said in Peoria, AZ. "That was a little surprising. I was a little pissed off, and I'm sure (Yankees manager Joe Girardi) feels the same way. He's concerned with his team and what they're doing, not what the Seattle Mariners players are doing."
"I wonder if he had any problems with Robbie when he wrote that book ("Cage Rat") proclaiming himself as the guru of hitting."
McClendon also said he understood when major leaguers occasionally don't run out a ball 100 percent, just as long as Cano and his other players do their best overall.
"I just need Robinson to be Robinson," he said. "Like all the rest of my guys know, just don't dog it. Am I expecting you to give me 110 percent down the baseline every night? No. I'm expecting you to give me a good effort."
Cano was booed heavily last week at his first return to Yankee Stadium as a Mariner, but he and his teammates had the last laugh, sweeping the two games around a rainout.
Another New York writer, Andrew Marchand of ESPN.com, took Mariano to task for the Pedroia comparison.
Perhaps the matter comes down to the fact that Rivera is too nice guy to use tales of Alex Rodriguez's (self) love life to spice up book sales. But he had to say something controversial, so he chose a guy and a subject that is unlikely to backfire on him, given how long it takes wagon trains to deliver books to Seattle from New York.