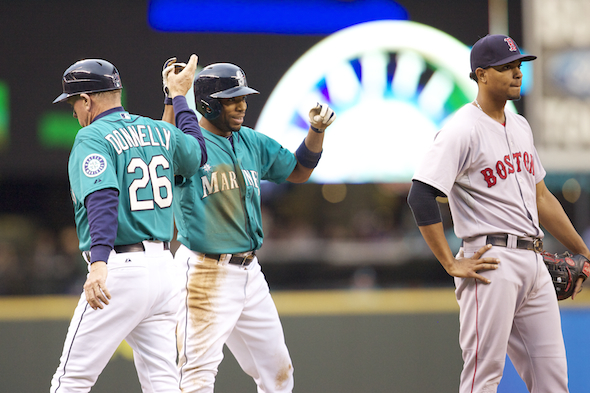 After scoring 20 runs in two games, winning five in a row, reaching a seasonal high point of six games above .500 with the best June record (15-8) in the majors despite a hefty chunk of the roster on the disabled list, it is becoming possible for reasonable people to take the Mariners seriously.
There. I wrote it. Mock me as you will, and predict an eight-game losing streak. Life is most intense on the edge.
After seeing 3B Kyle Seager's exclamation point — a towering shot smashed against a window on the Hit It Here Cafe high enough that Bud Selig's backward signature won't be washed off for weeks — it is time to consider the rest of his statement.
"There's a really good feeling in the clubhouse," Seager said. "I think we'll be able to sustain it."
Such optimism can be dismissed as youthful exuberance following an 8-2 victory over the Red Sox Tuesday that followed a 12-3 win over the Bostons Monday, which followed three wins on the road against a Kansas City team that previously won 10 of 11. Experienced observers will say young teams with some talent can make nice runs here and there, but will swoon just as quickly.
All true. What also must be considered is that aside from Oakland, much of the rest of the American League is flawed and injured too, like Boston, the defending champs. Additionally, all of baseball is overwhelmingly dominated by pitching, to the point where Mariners offensive shortfalls aren't as relatively consequential as in previous years. And Seattle's pitching can match with any foe.
Then there's the sense that Seattle is, after a fashion, finally getting a little personnel luck (starting pitcher Chris Young and centerfielder James Jones) to go with getting a little crazy (Robinson Cano, $240 million).
Add it up and it comes to 42-36 and residence in the first days of summer in the AL's fifth and final playoff spot. That position is well shy of the World Series, but well ahead of where the Mariners have been in recent years.
There's also this notion offered up by manager Lloyd McClendon regarding Seager.
"He's an accomplished hitter, and I know what he can do at the plate," he said. "He's not a .260 hitter. There's big room for improvement. He has another step to take."
That points up the idea that Seager, as well as several others, are not playing out of their minds to reach this modest team pinnacle. They are merely playing better, yet shy of potential.
"I like that he's on me (to do better)," Seager said. "I have to start using the whole field and eliminating holes (in his swing)."
Construction is underway. The big dinger was a three-run shot and part of a four-run fifth that stuck Red Sox starter Jake Peavy with his sixth consecutive loss. Seager has driven in a club-record 2+ runs in five consecutive home games and has driven in 51 runs in his last 56 games.
Contributions in the win streak are numerous. Endy Chavez, on no one's radar in spring, went 3-for-3 and had triples in consecutive games. Mike Zunino homered Tuesday and in three his past four games. After a 4-for-4 night Monday, 1B Logan Morrison drove in a run with a sacrifice fly and stunned the park twice — a bunt single and a lunging spear of a hard line drive to his right.
Even though regular 1B Justin Smoak is eligible to return from the disabled list this week, it's hard to imagine him hitting balls harder and farther than Morrison, who benefited greatly from an 18-game rehab stint in Tacoma to regain form.
"I knew he had power, and I like what I see," McClendon said of Morrison. "He even bunted, so he made everybody happy. Those are the kind of things you have to do to beat the shift."
Even No. 5 starter Erasmo Ramirez did his quirky thing again — despite lapses of control that created five walks, he extended his scoreless-inning streak three more to 19.2 before Brock Holt hit two-run homer in the fourth. He lasted only one more hitter before McClendon called on four relievers to shut out Boston the rest of the way.
Despite the win, McClendon didn't like Ramirez taking 93 pitches go 4.1 innings.
"You can't tax the bullpen like that night in and night out," he said.
Yet even the down note had an upside — Taijuan Walker, the rehabbing rookie prodigy expected to be in the rotation out of spring, pitched a complete-game shutout in AAA Tacoma Tuesday and was in total command.
Whenever the Mariners have questions these days, they seem able to locate answers.
Notes
Jones stole two more bases for 14 this season in 15 attempts. The leader last season was Michael Saunders with 13 . . .  The bullpen has allowed one run over the last 15 innings and is 3-0 with a 0.60 ERA with a .204 opponent average . . .  Mariners farmhands Gabby Guerrero, a 20-year-old outfielder from the Dominican Republic (World), and 1B D.J. Peterson, 22 (USA), have been selected to play in the the All-Star Futures game game July 13 in Minneapolis. Peterson, the 2012 first-round draft pick, has been promoted from High A High Desert to AA Jackson after hitting .326 with 18 homers runs and 73 RBI in 65 games. His June: .392, eight homers, 32 RBI.