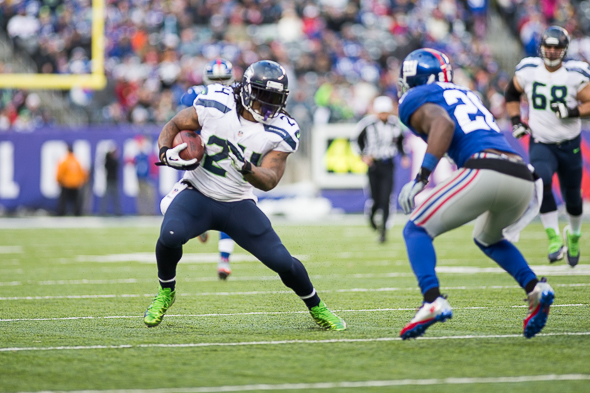 RENTON — For those of you whose most recent visual memory of Marshawn Lynch was swigging Fireball atop a parade vehicle downtown after the Super Bowl win, we have fresh news: He is ready for the NFL season that begins at 5:30 p.m. Thursday, when the Seahawks and Green Bay Packers both declare victory, merely having made it to the Clink through rush hour/game traffic.
In his first interview since the NFL-ordered, excruciating inquisitions in New York, Lynch was asked Tuesday at his locker at the Seahawks practice facility what his goals are.
"To have fun," he said. There was no elaboration. Even if there were, he set his locker audio player on stun, so that his words were rendered almost inaudible except to the most sensitive NSA equipment. Mostly, recorders were picking up a rich variety of profanity from the rap song that poured out of the speakers.
Clearly, Lynch's virtual stiff-arm was already in midseason form, and he was having fun, judging by all the giggles from teammates who were enjoying Lynch's workaround of the NFL's mandatory interview rules.
In fairness, Lynch was conversational about his Fam 1st Family Foundation, which promotes literacy, athletic and financial training for at-risk kids in the Bay Area. But when a reporter asked if growing the foundation's assets was part of the motivation for his eight-day holdout at the start of training camp, Lynch stared at him with a gaze that would have melted steel.
It was a good sign for Twelves looking for clues in gauging the Seahawks' readiness for one of the most formidable feats in team sports, defending an NFL championship. The Seahawks, it would seem from the preseason and this week at practice, as well as Lynch's truculence with media, have not lost their edge.
The 2-2 preseason record was meaningless for teams such as Seattle, which had few positions available, so were free to pursue the aspiration of all successful teams in exhibitions: Don't get hurt.
In fact, the time allowed some to get healthy, such as LB Bruce Irvin, the former 2011 No. 1 draft choice who had surgery June 1 to repair a torn hip labrum that he said he played with the entire 2013 season. Monday was his first full-tilt practice.
"I ain't supposed to say this," he said, grinning, "but yeah, I'll be out there Thursday."
The Seahawks are itching to get back to real work, because the experience of the last few years under Pete Carroll has been so unswervingly salutary. CB Richard Sherman, the anti-Lynch when it comes to loquaciousness, is smitten with the imminent joy of collisions.
"When you're a true ballplayer and you love what you do, coming to the field and being in the building and being around your teammates is like being at home," he said. "It's like a fish being dropped in the water. It's great being back in the building, it's great being with your teammates.
"You kind of feel awkward and weird when you spend extended time (away from playing). You don't have anything; you kind of lose yourself for a second. You go on vacations and relax for a second and you're like,'Where is my schedule? I don't have things to do.' I'm not looking forward to that part of my life."
That part of his life is a long way away. Of more immediate intrigue is what will be rolled out Thursday by the Seahawks. Watching practice and the preseason, it was screamingly apparent that the offense, the kid brother to the defense last year, is ready to pull more than its share.
Much of that enthusiasm comes from the commanding work of QB Russell Wilson, who now exhibits the seasoned calm of the battle-hardened. In 13 possessions of the preseason when he and most of the No. 1 unit were on the field, the offense scored 11 times, including nine touchdowns.
Sherman, who had a direct view of Wilson in practice, said this:
"I think he's being incredibly decisive this year. He knows who he is, he knows what he wants to do and he's doing it. He's not wondering what he's going to do going into plays. I think he goes into plays anticipating what he's going to do, dictating what the defense does, and executing. I think that precision is going to take him a long way."
Wilson owns up to the fact that he sees the game, as the great ones do, in a different way. He now knows what's coming.
"My goal is still to take the ball to the right guy at the right time, and I'm getting so quick on my reads," he said. "I'm reading the coverage so quickly, and (our) protections. I've really grown a lot."
Then he said words that were, to Seahawks fans' ears, a flutter of angels' wings.
"I'm only going into year three."
For this team, possibilities grow to the far horizon. The Packers are certainly an adversary of sufficient stoutness to put a wrinkle in that horizon, but the Seahawks have shown no sign of losing their edge. Like Wilson, they know what's coming.
Spencer Ware arrested on suspicion of DUI
Former Seahawks running back Spencer Ware, cut the past Saturday, was booked into jail early Tuesday morning in Kent and arrested on suspicion of DUI in Maple Valley.
The Seattle Times reported it was the second DUI arrest in nine months for Ware, who was cited Jan. 12. That case was dismissed in July after a judge ruled that the officer lacked reasonable suspicion of DUI at the time of the traffic stop. The judge suppressed all of the evidence gathered thereafter, including the BAC test.
Ware, a sixth-round pick in 2013 out of LSU, played two games for the Seahawks last season before suffering an ankle injury that sidelined him for the rest of the season.