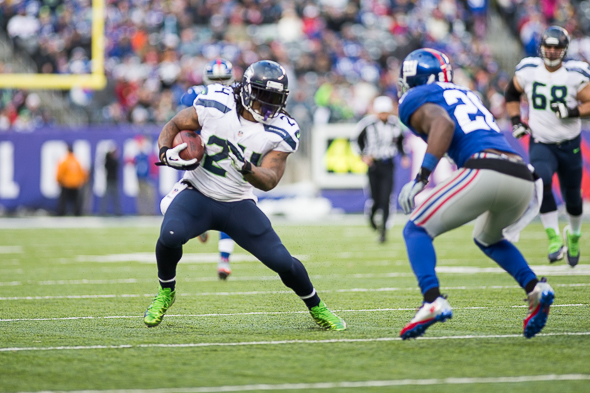 RENTON — The Seahawks will stay committed to the run game after RB Marshawn Lynch rushed just 10 times for 61 yards Sunday in a 30-23 loss to the Cowboys at CenturyLink Field.
Coach Pete Carroll is adamant about it. 
"We don't ever want to play a game where Marshawn carries the ball 10 times," Carroll said Monday.  "That's not enough and that's not the format that we're trying to build from."
The lack of a consistent ground attack was chief among the reasons Seattle registered a lone offensive touchdown against a mediocre Cowboys defense that entered Sunday allowing an NFL-worst 6.4 yards-per-play. Lynch had two carries for eight yards in the first half and never found a rhythm afterward — sans a 32-yard run on the Seahawks' opening drive of the third quarter.
"We tried to get back to it in the third quarter and it just seemed like we never really caught up with the way we liked to manage the game," Carroll said. "We don't feel very good about that."
Lynch's workload was reminiscent of the Seahawks' 30-21 road loss to the Chargers in Week 2, when the bruising back had six carries for 36 yards and the Seahawks ran 40 plays.
Against the Cowboys, Seattle managed 48.
"We tried to do what we normally do and get the (right) proportion of the run to the pass," Carroll said. "It just didn't quite fit right and happen the way we wanted it to."
Nothing really went right offensively. WR Percy Harvin was bottled up, finishing with three catches for zero yards and running the ball three times for a net loss of one. QB Russell Wilson, fresh off winning the NFC Offensive Player of the Week award, completed 14 of 28 passes for 126 yards, no passing touchdowns and an interception.
Like the San Diego game, the Seahawks were dominated in time of possession (37:39-22:21), in part because the defense couldn't get off the field. Both the Chargers and Cowboys went an identical 10-for-17 on third downs.
But if the Seahawks are going to re-establish their identity, it begins and ends with the run game, which as of Monday still ranked second in the NFL with 149.8 yards per contest.
"Whenever we're running the ball a lot, then we're fine  . . .  that's really important to the make-up of our team," Carroll said. "So when it's not there, we all felt it."
Carroll not mad at Baldwin
Carroll fell short Monday of condemning WR Doug Baldwin's behavior during and after Sunday's loss.
FOX television cameras captured Baldwin shouting at Wilson on the sideline in the second half. Then, after the game, he gave a profanity-laced interview expressing frustration with the offense's lack of production.
"If I didn't know who he was, how Doug is, and the kind of competitor he is, then I might wonder what the heck is going on," Carroll said. "He was just frustrated and he was fired up and he wanted to do something to help. He wanted to get it going and as it didn't happen. He just vented some."
What happened between Wilson and Baldwin on the sideline?
"He was talking to Russell (Wilson) on the sideline about stuff and trying to get everybody fired up, so there's a fine line in there," Carroll said. "He's just frustrated about it — as we all were. That's the way he expressed it."
Okung hurting?
Seahawks left tackle Russell Okung is apparently dealing with a torn labrum in his shoulder, according to a report Monday from Q13-FOX's Aaron Levine, though Carroll a few hours later downplayed the injury's significance.
Okung had to leave the Week 3 win over Broncos with a shoulder injury but eventually returned to the game. During the last two weeks, he's drawn five penalties.
"When you sprain your shoulder your labrum's involved and there's some stretching and stuff in there," Carroll said. "I don't know how far that went, but he came right back from it. He's at full strength in support in all that so he's ok."
Wagner, other injury news:
MLB Bobby Wagner has turf toe and the Seahawks don't know the significance of the injury. Wagner had to leave early in Sunday's game but returned to play in the second half.
CB Tharold Simon (knee) will practice this week and could be available to play Sunday. Meanwhile, CB Jeremy Lane (groin), who currently fills a injured reserve/designated to return spot, could begin practicing next week, which would make him eligible to play Nov. 9 against the New York Giants.
Carroll said CB Byron Maxwell has a calf strain, but wasn't sure if Maxwell will be available Sunday.
C Max Unger is day-to-day with a foot injury, while TE Zach Miller (ankle) isn't expected back this week.
Next Up: The Seahawks face the St. Louis Rams on Sunday at the Edward Jones Dome. Kickoff is set for 10 a.m. PT and the game will be broadcast on FOX.