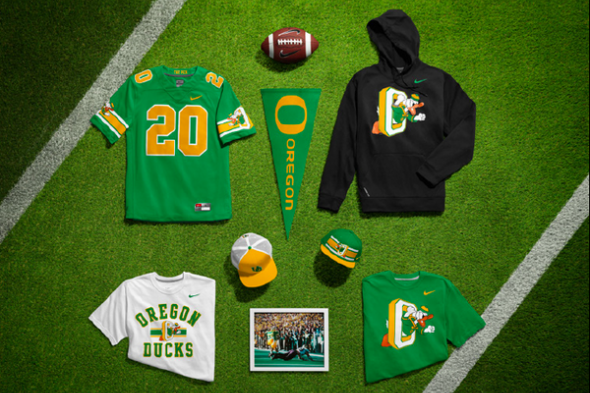 Apparently, one play can change everything. Consider the improbable event that occurred late in the fourth quarter (a minute to go) of the Washington-Oregon game Oct. 22, 1994, in Eugene. The Huskies trailed 23-21, but quarterback Damon Huard drove his team to the Ducks' eight-yard line. Riding a five-game winning streak following a season-opening loss at USC, No. 9-ranked Washington seemed poised to improve to 6-1.
Facing first and 10, Huard threw a quick out pattern to Dave Janoski. Catastrophically for Huard and the Huskies, that was exactly what Kenny Wheaton of the Ducks figured they were going to do.
A 5-foot-9 freshman cornerback from Phoenix, Wheaton, by his own post-game admission, had no historical sense of the Washington-Oregon rivalry, saying, "I had no idea that this was a big game."
But Wheaton, in watching film, noticed whenever the Huskies were inside the 20, they almost always ran a quick out.
"I went with my instincts," said Wheaton, who was in single coverage on Janoski. "It was a gamble, but a gamble I felt I had to take. If they ran anything else, it's a touchdown."
It was a touchdown – for Wheaton. He picked off Huard at the three and took it 97 yards for the clinching score. Elated Oregon fans tried to rip down the goal posts in Autzen Stadium, but couldn't get them down.
"This is the most depressing loss since I've been at the University of Washington," said star running back Napoleon Kaufman. "In fact, this is the worst loss I've ever been involved in. We're supposed to beat Oregon."
Wonder what Kaufman would say now.
From 1975 through 1993, spanning the entirety of the Don James era and the first year of Jim Lambright, Washington went 16-3 against the Ducks. Since the Wheaton touchdown, now famously known as "The Pick," the Huskies are 4-15 against Oregon, including 10 consecutive losses by almost unfathomably lopsided scores.
The Oregon program didn't spin north on a dime immediately after Wheaton's shocking score, but the Ducks went to the Rose Bowl after the 1994 season (for the first time since 1957) and many will argue that "The Pick" served as the catalyst. Nike, the chief underwriter of University of Oregon sports, even makes this claim on its web site: "The play that brought the Oregon football program to power."
Even if it didn't, even if the Oregon renaissance is really about ex-coach Chip Kelly, this much is true: Before Wheaton, the Ducks had an all-time record of 359-336-34, a .495 winning percentage. Since Wheaton, Oregon is 177-65, or .731.
It's the last 10 years that particularly gall purple passionistas, who have enviously watched Oregon's rise to national prominence as their own program lapsed into irrelevance before slowly emerging from the murk.
This is the stark contrast between the schools since Washington's last win, a 42-10 decision Nov. 10, 2003 at Husky Stadium when Keith Gilbertson presided over the UW program:
| Category | UO | UW | Skinny |
| --- | --- | --- | --- |
| Total points in series | 436 | 173 | Ducks have scored 40 or more 7 times |
| Average score in series | 43.6 | 17.3 | Biggest Oregon win 53-16 in 2010 |
| Conference titles | 3 | 0 | Ducks finished first in 2009, 2010, 2011 |
| Overall record | 103-31 | 45-76 | Ducks have had 3 coaches, UW 4 |
| 10+-win seasons | 7 | 0 | Includes 3 12-win years (2010-12) |
| Bowl victories | 5 | 2 | UO's last 3: won Rose, Fiesta, Alamo |
| Years in final AP Top 25 | 8 | 0 | 5 times in Top 10; best No. 2 in 2012 |
| Consensus All-Americas | 4 | 0 | Last for UW: OL Olin Kruetz, 1997 |
| Conf. players of year | 7 | 0 | Includes offense, defense and freshmen |
| All-conference players | 32 | 5 | Bishop Sankey last for UW in '13 |
| Players drafted by NFL | 49 | 18 | Currently 27 Oregon, 14 Washington |
| No. 1 draft picks | 5 | 2 | Oregon will have a sixth in QB Mariota |
Nov. 10, 2003. Saddam hid in his hidey-hole. Ichiro had just concluded the third of his 10 seasons with the Mariners. The SuperSonics had five more seasons in Seattle before decamping to Oklahoma City. Felix Hernandez was two years away from throwing the first of his 31,478 pitches to 8,425 major league batters. That's how long it's been since Washington defeated Oregon.
If a rivalry is defined as hotly contested games with wins and losses falling fairly evenly on both sides, Washington-Oregon has ceased to be one. But the Ducks intend to treat it as such Saturday when they will rub Washington's noses in the historical turn of fortunes by the two programs by wearing special "throwback" 1994 game jerseys to commemorate the 20th anniversary of the Wheaton pick six.
Of course, Washington should be thoroughly insulted. But can the Huskies do anything about it? Oddsmakers say no way, favoring the Ducks by three touchdowns to extend their winning streak to 11.
Both are 5-1, Washington's loss coming against No. 23 Stanford, Oregon's vs. No. 16 Arizona. Coach Chris Petersen, once an Oregon assistant, twice defeated the Ducks when he coached Boise State. Still, no one is foolish enough to say the Huskies have caught up with the Ducks yet. But has Washington progressed to the point that an upset Saturday is possible?
Given Washington's 10-game losing streak, the 106-game span of the rivalry, and with Oregon favored by 21, an upset would rank among the biggest regular-season wins in UW history, probably even eclipsing the 1994 Whammy in Miami, in which the Huskies ended the Hurricanes' 58-game home winning streak.
But is a Washington win over Oregon the local sports feat you would most like to see?  Choose from the list below. Comments are encouraged.
Oh, and in case you wondered: After a short pro football career that ended with a knee injury, Kenny Wheaton became a personal athletic trainer, based in Dallas.
[polldaddy poll=8376679]