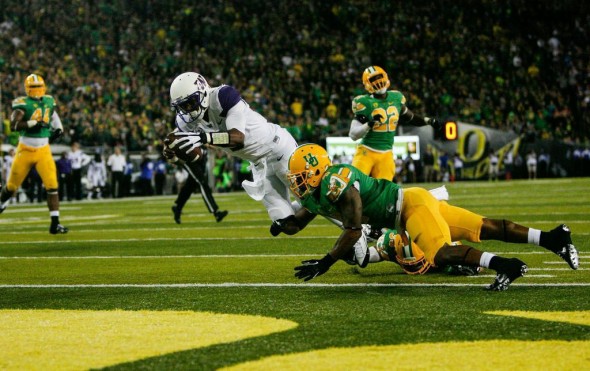 After years of watching the rare treats of Chris Polk and Bishop Sankey gnaw off great chunks of opponent defenses, most Huskies fans figured a dropoff in Washington's run game production was probable. But the plunge in 2014 is steep enough that a parachute is recommended for anyone who wants to sneak up to the edge and peer down.
After three Pac-12 Conference games, Washington is averaging 108.3 rushing yards per contest. Sankey had that much going to his car every morning. The figure is 10th in the conference, but only because Washington State isn't even trying (48 ypg) and California is only pretending (100) to run.
The Huskies look a little better in the seven-game compilations, averaging 183 yards, but that is still only seventh in the conference and 56 less than they finished with a year ago when UW was third at 239 yards. And the Huskies have no more Breakfast Barn College opponents on the schedule.
Making matters worse, the Huskies go into Saturday's tussle with 14th-ranked Arizona State at Husky Stadium – be aware that the 7:45 p.m. start is only 6:45 in Anchorage and 4:45 Honolulu – with the top two rushers, Lavon Coleman and Dwayne Washington, hurt from the pounding at Oregon. Their availability might be a game-time decision, which cannot be said for fellow RB Jesse Callier, already out for the season.
But the void is less about the backs and more about the guys up front.
In senior LT Micah Hatchie, junior LG Dexter Charles, senior C Colin Tanigawa and senior RG James Atoe, the Huskies were believed to have large, experienced, unpleasant young men with which to beat the hair product off of opposing lines. A fifth, senior RT Ben Riva, was to have helped, but a bum knee has given the job for now to redshirt freshman Coleman Shelton of Pasadena, the one kid in the crowd.
But experience, usually of prime importance on the O-line, isn't getting it done for UW coach Chris Petersen.
"I don't think it's all about just experience," he said. "I think you'd like to take the next step, think you've got the talent to take the next step. I think when we struggle, I think we've played some pretty good defenses, some pretty good D-lines.
"But yeah, with the guys that we have in there — we've got one freshman in there — the rest of the guys have played a lot of snaps. You'd hope to take the next step."
That's an only-slightly-subtle jab at the UW unit that was, on paper, the one that could be most counted on this fall. Taking the next step appears crucial Saturday, because the one experienced QB, Cyler Miles, is recovering from an apparent concussion and his status is uncertain.
If he is held back, redshirt freshman Troy Williams would get his first career start. That's pressure by itself. But he could be handing off to Deontae Cooper, who began fall camp as the fourth-string running back. A team hero returning after three ACL surgeries, Cooper, a senior, has 20 carries for 105 yards and nine receptions for 80, but he isn't quite the runner he was pre-surgeries.
"You're always just rooting for him to do well," Petersen said. "He's just a great guy to be around. You just like to coach guys like that, and you want him to do well. And I thought he did play well."
Sentiment, of course, goes only so far. To supplement, the Huskies have plans to include LB Shaq Thompson and WR John Ross in the ground attack. Thompson has nine carries and Ross five, but rather than using them as the pastry portion of the meal, both may be meat and potatoes.
Compared to the ground game Saturday in the standard 45-20 pounding administered by the Ducks, the Huskies looked feeble. UO mashed for 218 yards in 50 plays, the Huskies 133 in 36. The three longest rushing plays were by Ross, Miles and Williams, either scrambles or gadget plays. Plays between the tackles were snuffed steadily.
"I look at what Oregon was doing and I thought their O-line did a really good job," Petersen said. "And that back (Royce Freeman) is big, fast and runs hard. That's what you'd like it to look like.
"I don't care how many yards they throw for. It's always going to start right there. If we can't run the ball and the team we're playing can run the ball really well? It's going to be trouble for us."
Arizona State isn't quite the same powerhouse as Oregon — although any Huskies fan who recalls the 53-24 rout at Tempe a year ago will beg to differ — but Petersen, having seen the high end of Pac-12 play last week, was blunt in his assessment of the talent left by his predecessor, Steve Sarkisian.
"I think when you play a team like Oregon you get exposed in some ways; you really do," he said. " You can really see where your issues are. You can see how you match up. (Oregon) is what you want your team to look like, talent-wise.
"I think you can get exposed on your attention to detail. Because even if the talent's not right, are you doing your technique and your assignments just right? If you're getting whipped physically, hey, you shake their hand and move on."
The third element seemed to bother Petersen the most.
"Competitiveness," he said. "Are you going to back down at all? That's much easier for me to talk about it, because you're there to win the game. There gets to be a point sometimes where there's frustration. Can we get anything done here?
"Most human beings have a tendency to back off, not keep playing like the game's on the line. That's a hard thing to train. I think we had a lot of guys that did play very hard until the end. But I don't think everybody did. I'd be surprised if everybody did, because that's the first time we've been in a situation like that. I think that's a very hard thing to do."
Beating ASU will require all units delivering a season-best effort, not just the offensive line. But everything begins with the big uglies. If they don't deliver early and often, Huskies fans should hang tight to the ripcord.