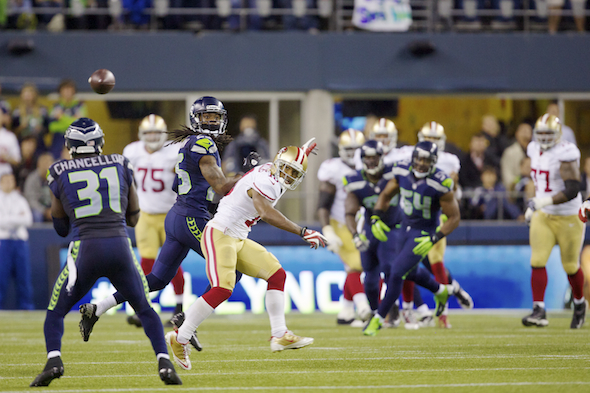 The injury list grows chubbier each week. Make sure you start there when assessing why the Seahawks aren't as good as a year ago — their health luck has run out. Four starters are out for Sunday's game against the Oakland Raiders and four more are questionable — SS Kam Chancellor (groin), LT Russell Okung (calf) and both centers, Max Unger (foot) and Steven Schilling (knee). 
Most odious for the Seahawks is the continuing inability of Chancellor to get healthy. Beset by bone spurs in both ankles and a hip problem, he developed a strained groin muscle.
"He's banged up," coach Pete Carroll said Friday. "He'll be worked out on game day. We'll see what happens."
Every NFL team has some key players missing by midseason, but the 2013 Seahawks' casualties were fewer and not clustered so much by position. Chancellor's backup, Jeron Johnson, did not pass the concussion protocol, leaving the Seahawks with backups DeShawn Shead and Steven Terrell, the latter going back and forth from the practice squad.
The secondary will also miss CB Byron Maxwell (calf), forcing virtual rookie Tharold Simon to start a third consecutive game. Simon had some knee soreness in practice, and he figures to be the Raiders' No. 1 target. Richard Sherman sat out Thursday with a sore back, but will play. CB Jeremy Lane won't return until next week.
Among linebackers, Bobby Wagner remains out (toe) and is joined by Malcolm Smith (strained groin), meaning rookie Brock Coyle will start at middle LB while K.J. Wright returns to the outside. Another rookie, Kevin Pierre-Louis, will get significant playing time.
Coyle had "a terrific week, and really, KPL did as well," Carroll said. "Those guys are ready to play for us. Brock played a lot of football for us. He started games for us in the preseason, got a lot of comfort with being on the field, making the calls, and adjustments. We raved about his ability to do that so early."
At center, Carroll said he expects Unger, out since Oct. 6, and Schilling will dress from the game. Unger making it through a week of practice was "a real good sign." Even though he said Schilling did a good job as an emergency fill-in — he never played center before this season — Unger has been missed.
"You miss his leadership and his connection with (line coach) Tom Cable," Carroll said. "His ability to communicate, adjust, and do the things in the middle of a game that experienced pros can do. It's hard — there's no other way to get that but through the years of working together."
Okung has a new calf injury to go with a sore ankle and sore shoulder. If he can't go, second-year man Alvin Bailey in the next man up. At center, Patrick Lewis would start if neither Unger nor Schilling can't. Lewis played five snaps against the Rams two weeks ago.
The collective absences also impact special teams, where mistakes due to inexperience killed the Seahawks against the Rams. A key man on special teams, FB Derrick Coleman, has been lost for the season.